Marketing Evolution Reaches the Right Audience with New Website
---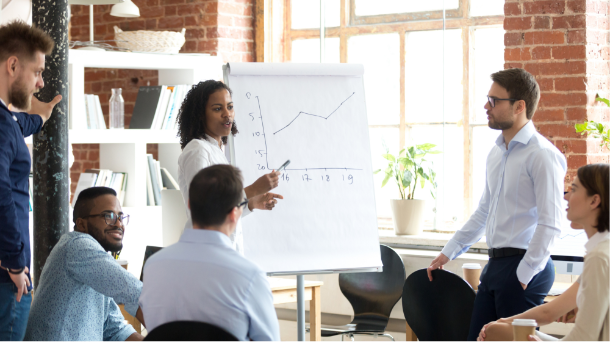 The Client
Marketing Evolution provides solutions to companies who want to measure and optimize their media spend online and offline. Before partnering with us, the organization felt that many of their online visitors didn't fully understand what they did or what they provided.
They wanted to get the right message in front of the right people at the right time. When they reached out to us in December 2018 to discuss a complete website overhaul, we were eager to help.

The Need for a New Website Design
By January 2019, both our team and Marketing Evolution's knew we needed to work together to create a functional website with a stunning design, excellent user experience, with search engine optimization (SEO), and inbound marketing opportunities-built in.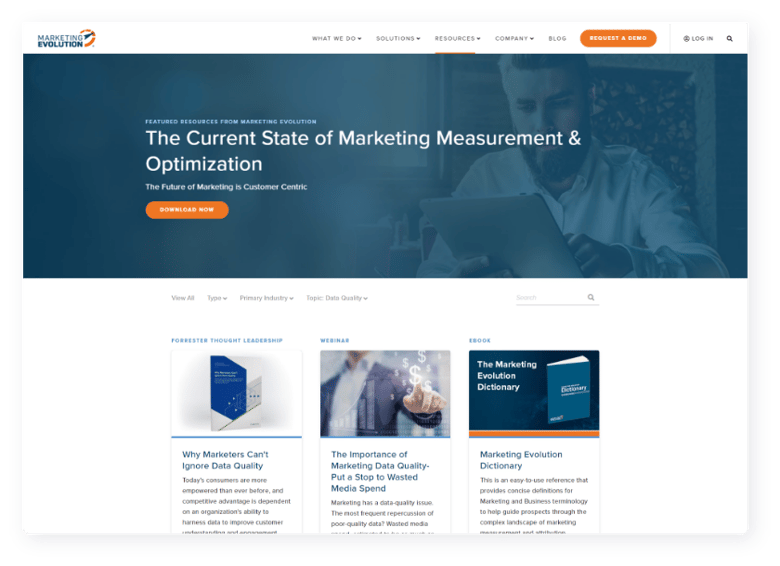 We asked them to outline the challenges they faced with their current design and what they hoped to achieve with an updated look and functionality. We also discussed their buyer personas, and described the fundamental principles that would help make their redesigned site more successful:
Designing a site with a frictionless user experience
Positioning the site to match how users interact with search engines
Driving leads with content that appeals to personas
With a deeper understanding of their business, we began our full website redesign process:
Defining a keyword strategy, including title and meta tags
Building a sitemap to uncover, then fill any content gaps
Creating wireframes to guide the design process
Working through edits to achieve a functional, beautiful design
Writing content to appeal to buyer personas at every stage of the customer journey
Our team then spent time testing the site, looking for any bugs and errors that could negatively affect a visitor's experience. Once completed, we launched in June 2019.
The new site features:
Hero images featuring unique graphics
New detail pages for solutions that include clean design, custom icons, and CTAs
Better segmentation for content and forms across the entire site
Separate areas for their blog and their premium resources
More targeted awareness, consideration and decision forms for better conversion
On-page SEO and keyword strategies built-in title tags, meta descriptions, and targeted keywords for each page
Updated content across the entire site that appeals better to buyer personas
More persuasive and educational copy
Fewer options in their navigation bar to help reduce user friction
In-page navigation so users can jump to the content they want quicker
Thoughtful use of white space to contrast with Marketing Evolution's brand colors
Custom-made icons and graphics placed throughout the homepage and other site pages
Enhanced mobile-friendly site for visitors accessing the website on their phones
The Results
The new design, along with the accompanying strategy, has generated good results for Marketing Evolution. Their users have positively noted the updated appearance of their site.