Multnomah Group Expands National Presence While Sticking to Local Roots with Redesign
---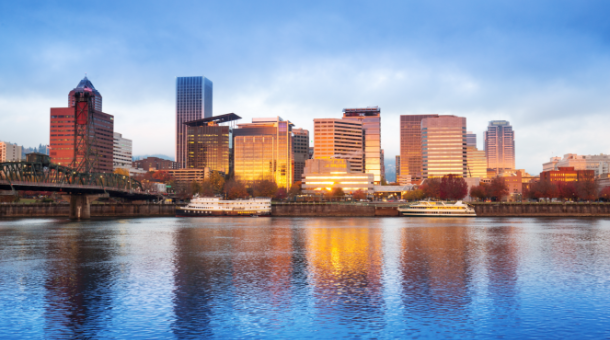 The Client
Multnomah Group, founded in 2003, is a 100% fee-for-service independent retirement plan consulting firm who serve their clients as fiduciaries to their plan. They help educate and inform plan sponsors to make smarter decisions backed by data. Multnomah Group is located in Portland, and Multnomah Falls and the Oregon woods inspire their branding.
Despite being a small business with a single office location, Multnomah Group provides expertise to clients throughout the country on aspects of retirement, investment, and other financial planning.

The Need for a New Website
Multnomah already had an existing site, but they felt it made them appear like every other retirement and investment firm in the market. Their team also felt their website made it seem as if they could only work with plan sponsors in the Portland area, which wasn't accurate. Not only did they want to appear like a more significant business, they also wanted to stand out completely, so they reached out to our team to help with a website redesign. They knew their site needed to be clean, user-friendly, and reflect their name and branding's inspiration -- Multnomah Falls.
The marketing team at Multnomah Group came to us with a wishlist of design and functional items, including smoother navigation, an updated resource center, a less confusing homepage, and a portal for their personal advisory service clients. Additionally, they provided us with their brand style guide and recommendations of Multnomah Falls.
Excited to get to work, we began our typical website redesign process which entailed working on:
Strategy to ensure a website site that looked great and offered inbound marketing opportunities
Site mapping and architecture to fix the issues related to their navigation and homepage
Wireframes and designs for the homepage, interior page (About Us, FAQ, Contact Us), solutions page, registration page, webinar page, blog roll, blog post page, and landing page -- with two rounds of revisions to nail down the templates and style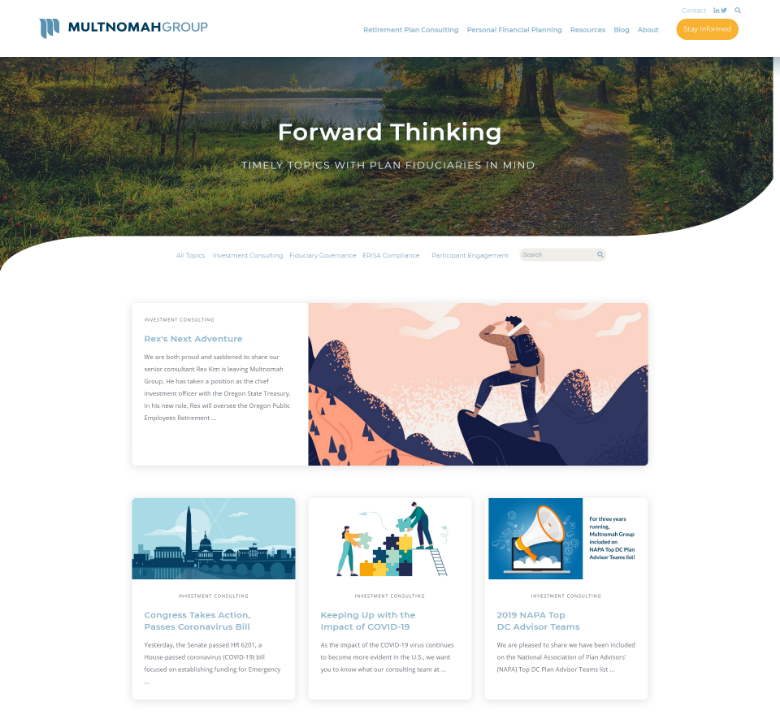 The Results
With Multnomah Group's approval, we designed and developed a stunning website. Upon landing on the homepage, visitors are instantly taken on a "path" to better retirement and investment planning, illustrated by a unique homepage design. Other distinct features:
Streamlined resource center
Custom iconography on the homepage and other interior webpages
Contrasting colors backdropped against beautiful stock imagery of Multnomah Falls
Real-life photography of Portland
Responsive design
Engaging CTAs
Purposeful whitespace off-set by branded colors
Social media promotion
Flexible templates for future blogs, whitepapers, and webinars
Multnomah Group's new look and functionality resonated well with their audience. They benefit from better website analytics, most notably:
Increased organic traffic with 50.6% making up all of their traffic
30% of new customers coming from organic traffic
5.28% of new visitors converting to contacts
Love the design and the results? Contact Lynton to get your project started today.