In a perfect world, every visitor would pick up the phone and make an appointment—but we know that doesn't happen. And there's a reason it doesn't.
Each of your website visitors has a different need when they find you online. They're not all ready to call you right away. Some want information, some are trying to decide how to solve a problem and others are looking for a new doctor. Your goal is to meet each of these varying needs so that when they're ready to choose a healthcare practice, they'll choose you!
Achieving that goal takes an optimized medical website, a strong marketing strategy and a clear understanding of the marketing funnel.
But first, answer this question: Do you know where your visitors are in their buyer's journey?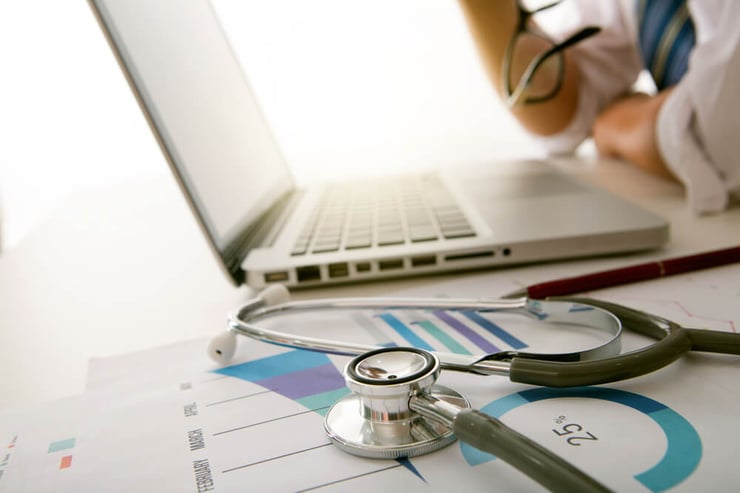 Meet the Medical Website Marketing Funnel
The buyer's journey describes the process people go through as they choose the right practitioner for themselves and their families:
Stage One: Awareness
At the top of the funnel, the visitor becomes aware of your service. She finds you on social media or through organic search, and she comes to your website for information. She doesn't know what her problem is, and she's unaware of the solution. She might read your article and immediately leave. Or she might stick around to learn more about solving her problem.
Stage Two: Consideration
Visitors who stick around move into the second stage of the buyer's journey: consideration.
In the consideration phase, the visitor knows what his problem is and wants to find answers. He begins researching to find all the solutions available to him. He wants more information before he makes a decision.
Stage Three: Decision
The final stage of the marketing journey corresponds to the narrow bottom of the funnel. At this point, the visitor has done her research, and she's ready to make a decision. She makes a list of organizations that offer the solution she wants, and she's ready to do specific, careful research so she can narrow that list down and make her final choice.
In the marketing world, we illustrate this journey with a funnel. People at the top of the funnel aren't ready for narrow, specific information about your services. They want broad content that discusses topics they find interesting. As the visitor moves through the funnel, the content narrows, becoming more specific to match their increasing need for details.
The number of leads you need to generate at each stage will also narrow as you move through the buyer's journey. Visitors will drop off at each stage, so the number of people who reach the decision stage will be much smaller than the number who found you in the awareness stage.
Master the Three Stages of the Buyer's Journey
Your website should provide an excellent experience for visitors at every stage of the buyer's journey. In the healthcare industry, the buyer's journey might look like this:
Awareness Stage: My child has a stuffy nose, a fever, and keeps pulling his ear. What's wrong with him?
Your goal: Help her become aware of what the problem is. What could be causing these symptoms?
Consideration Stage: Oh no! He has an ear infection! What are my options for treating this problem and helping him feel better?
Your goal: Aid in her consideration. What options does she have for getting treatment?
Decision Stage: I can go to a pediatrician, a general practitioner, an urgent care clinic, or the ER. The ER costs lots of money and there's a long wait, but it's the weekend and the pediatrician isn't in her office. Should I try urgent care instead?
Your goal: Make it an easy decision. Show why choosing your practice is the best choice she could make for helping her child find relief.
The key to filling your appointment book with people who want your services is knowing how many leads you need to generate at each stage of the buyer's journey.
Run the numbers by working backward through the funnel:
Segment current contacts into awareness, consideration, and decision phases. How many website visitors do you estimate at each stage of the buyer's journey?
Decide how many new patients you need. Based on annual revenue or available time slots, determine how many conversions you need to reach your goal.
Calculate the conversion rate when someone moves from one stage to the next. How many awareness visitors move on to consideration? How many move from there to the decision stage? And how many of those book an appointment?
Determine how many leads you need at the bottom of the funnel to reach your new patient goal.
Work backward through the funnel to see how many leads you need at each stage of the buyer's journey.
Because visitors will drop off at each stage, you need to fill the top of the funnel (awareness) with a lot of leads if you want to increase your actual appointments (decision).
And that's the secret to filling your appointment book and keeping it full.
Do you need additional help with your medical website marketing strategy? Leave a comment below or call us to talk about updating your website to reach your goals!