What if I told you that over 80% of your patients will conduct online research before they decide whether or not to use your practice? It's true, and more people also want to take care of other business from the comfort of their laptops and smartphones. Studies show that interaction with brands has increasingly shifted online, and more than half of all bills in the United States are paid online.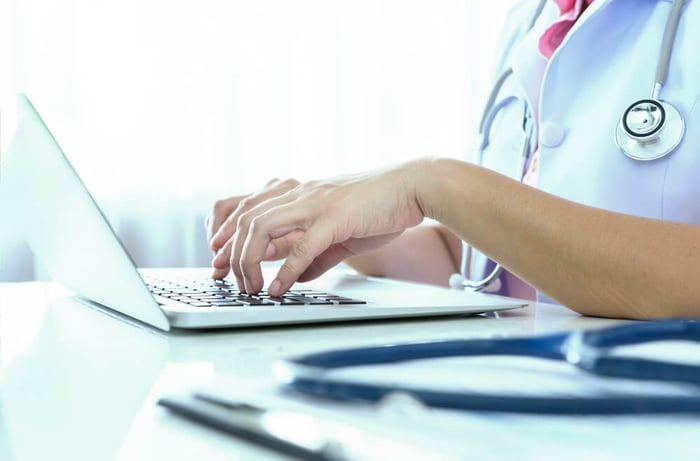 That brings us to the real question: Do your online resources for patients—your website, blog, social media, and patient portal—meet the growing demand for digital access?
It's a Digital World
Even if you run your practice with some "analogue" techniques—spreadsheets, paper files and print marketing—your patients should know they can find you online when they need you. Online resources for patients help bridge the gap between the traditional marketing you may be comfortable with and the fast-paced digital world that increasingly dominates consumer attention.
If you're meeting resistance from colleagues or managers, here are four benefits of digital vs. print that may sway them:
Your website serves as a centralized hub of information. All of your other online activity—your blog, social media posts, SEO efforts and paid ads—serves to direct traffic to your website. Your website is also the best way for people to find out essential information about your practice, like your hours of operation, services and insurance policies.
You can update digital resources in real time. When you change a policy, post your holiday hours or offer insight about seasonal health concerns, you can get that information immediately into the hands of your patients and followers.
Digital information is available 24/7. Your practice isn't always open and your print ads may not be on hand, but patients can access your website any time of the day or night. Putting essential information online gives patients the reassurance they need for those after-hours health concerns.
Digital resources reach patients at every stage of the buyer's journey. In marketing, the buyer's journey refers to the process of moving a potential customer from discovery of your brand to becoming a loyal fan. For healthcare providers, the audience consists of patients, not customers, but the concept is the same. Your online resources address the needs of patients at every stage of the buyer's journey and help them take the next step.
Essential Online Resources for Patients
Once you've convinced management that digital makes sense for your practice, the next step is deciding what to put on your website. Do you really need all those widgets and buttons? Do patients need a six-page health survey before they make an appointment? What, exactly, are your patients looking for? Here are a few goals to get you started:
Engaging patient experience. If your website doesn't appeal to patients, they'll never read your content. Visitors won't stick around long enough to learn about your practice if your page loads too slowly or they can't figure out how to find what they're looking for. Design your website around patient experience to keep visitors engaged.
Patient portal. Patients appreciate having access to their health information online, but it's vital to protect the security of this sensitive data. Make confidential documents and resources available through a secure patient so only the intended patients can access sensitive documents.
Blog. Why do healthcare practitioners need a blog? Because your blog, as part of a robust inbound marketing strategy, is one of the best ways to generate traffic and build your online presence. It also lets Google know that your site is fresh and relevant, which will boost your search ranking.
Call to action. What do you want visitors to do once they reach your site? Make an appointment? Fill out a form? Request more information? Every page of your site should have a strong, clear call to action that moves patients to the next step in the conversion process.
Does all this information mean print resources no longer matter? Not at all. Digital assets work hand in hand with print materials. If you've been blogging or you've created downloadable content (such as a health guide or flu season poster), consider translating those into print form for patients who want to connect with your content that way.
We know making the switch from print to digital is a big step. That's why our healthcare marketing consultants make it their business to understand the healthcare industry and give you the very best guidance on how to bring your practice into the digital age. Give us a call to schedule your free consultation today!