Let's get right down to it: your healthcare organization needs a blog. Perhaps you're skeptical? Or need some convincing? Allow us to present our case.
A healthcare blog allows you to publish important medical facts and advice;
Blogging helps establish your organization as a leader in the healthcare field;
You can feature what makes your healthcare organization unique, such as your services and delivery of care;
Blogging provides immense value in engaging patients and attracting new ones; and,
The search engines will give you a boost, allowing more patients to find you online.
Setting up a successful healthcare blog can be achieved in a number of ways, but we've often found that the first step – setting up a blog – can be the most intimidating. We hear it all the time: what would I blog about? Who should write the content? How do I write online? Don't worry we can help!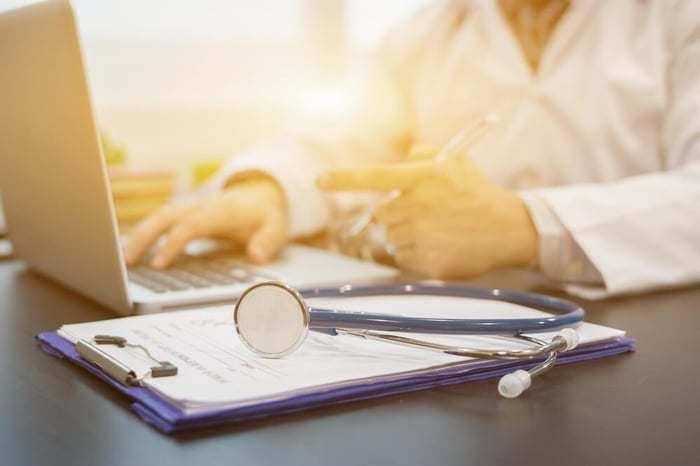 Here's what you need to do to get started.
Brainstorm Blog Content + Ideas
Don't skimp on brainstorming blog content! Take some time to brainstorm a variety of topics, and then create an editorial calendar with publishing dates. To help get your creative juices flowing, consider these ideas:
Trending healthcare topics (tap into current medical studies)
A focus on your specialties and services
Medical advice, tips and Q&A's
Cover timely topics (i.e. national health months)
Lists (lists are proven to heighten engagement)
Identify Blog Authors
Look at your internal staff, and aim to identify at least three blog authors. Authors can include:
Physicians
Team members
Technicians
Patients
Other esteemed professionals in your field
Writing + Designing For The Digital Space
When it comes to creating content, and designing your blog, both are important elements. Essentially, one cannot succeed without the other. When it comes to writing, you want to hone in on the topics you cover, write in an active voice and include CTA's. For design, you want to make sure your healthcare blog is user friendly, isn't cluttered and visually appealing. Your blog should also reflect your organization's brand and personality. If you're looking for a platform to host your blog, or your website for that matter, look no further than the HubSpot platform.
Healthcare Organizations That Blog
Have we convinced you that a healthcare blog is indispensible for your organization? Awesome. Now, for some inspiration, let's take a look at some healthcare organizations that are owning the digital space.
Why we like it: Tampa Bay Hospital does an excellent job of offering an array of content: patient features, helpful medical tips, lists, healthy recipes, and that's just naming a few. Not only is their content valuable, but also the design is extremely user friendly and visually appealing. Truly, there is something for every patient on this blog.
Why we like it: Rothman Institute specializes in orthopedic care, which is made obvious by the content they share. You can click on a number of thumbnails for the latest on orthopedic injuries, how to prevent injuries, or tips offered by guest authors on a plethora of topics. Another awesome feature: you can easily filter through the blog content. So, if a patient is looking for specific information on sports medicine, rehabilitation, orthopedic trauma (and so on), it's extremely easy to do.
Why we like it: This Chicago based practice averages three posts a month (an excellent place to start), and has covered multiple topics, such as: crossbite correction and treatment, pregnancy and dental health, how to eat with dentures and so much more. If you look to the left of the blog, there are numerous tags. Click on a tag, and you are automatically directed to all blog posts that contain the tag. We love this friendly user feature!
Why we like it: When it comes to the latest and greatest nutrition and food safety information, we can guarantee consumers are turning to Food Insight. Immediately attractive to the eye, and with blog titles that grab the reader's attention, we're willing to bet readers are sticking around to peruse Food Insight's content. Readers can also easily comb through content by clicking on a category at the top of the page.
Why we like it: Kevin Pho, MD, has created a blog that engages all those who intersect in healthcare: physicians, patients, policy makers, insurers, healthcare tech and so on. The blog features content, video, graphics and endless resources. Web visitors can opt in to receive free updates, search the site and are also kept up to date with medical news from outside sources.
Still have questions about blogging for your healthcare organization? Allow us to help! Reach out to one of our healthcare marketing experts today, or take a look at our free guide: Understanding The Digital Patient's Journey.