You know keywords are important for your medical SEO strategy. But finding the right keywords and tracking them effectively takes a lot of time and creative energy. That's why you need to fill your toolbox with SEO tools that will take the guesswork out of keyword lists, search authority and getting found online.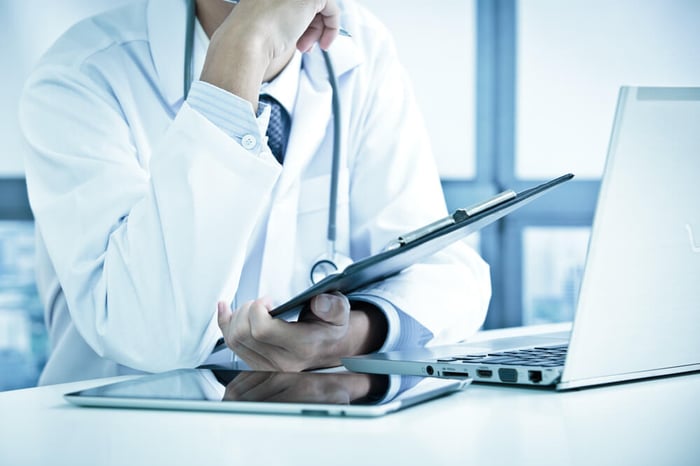 To give you a head start, we've put together a list of our favorite keyword tools. Try them out and see what kind of difference they make as you optimize your website for organic search.
#1: Google Analytics
Cost: Free
Top Tip: Use Google Analytics to keep your eye on how visitors interact with your site. The tool offers plenty of data insights, so take advantage of those metrics to understand which pages move visitors toward conversion and which ones aren't doing their jobs.
Google Analytics is the go-to keyword research tool for most marketers, so you're probably familiar at least with the basics of what it can do. It's one of the best ways to get data on how the various components of your website work together. Build a custom dashboard with the metrics that matter most to you, and then dig deep with historical analysis of visitor actions.
#2: Google Search Console
Cost: Free
Top Tip: Run A/B or multivariate tests when you're rolling out changes to your website and use Google Search Console to track which version drives the most traffic.
Google Search Console helps you understand how Google interacts with your site and how your content will appear in search results. You can use it to check your search performance, manage sitemaps, create better titles and snippets, monitor search analytics, check your site's mobile user experience and much more.
#3: HubSpot Keyword Tool
Cost: Free trial, then 3 plans ranging from $200/mo to $2,400/mo
Top Tip: Look for long tail keyword opportunities by monitoring search volume and ranking difficulty of short keywords.
Use Hubspot Keyword Tool to find keywords, research the keywords your competitors rank for and get SEO tips to boost your search relevance. Monitor key metrics like ranking status and difficulty, number of visits, organic traffic over time, monthly searches and more. The best part about Hubspot's tool is that it includes so many rich features in one place. You don't have to bounce around to different tools looking for the data you need.
#4: SEMrush
Cost: 3 plans ranging from $99.95/mo to $399.95/mo
Top Tip: SEMrush includes a website auditing tool that identifies errors and problems with site performance. Look for things like duplicate title tags, duplicate meta descriptions, missing alt text and no-follow attributes in your links.
SEMrush gives you deep functionality you won't find in the free tools. It is especially useful for competitor research (both organic and paid), traffic sources and competitive positioning. If you're looking for comprehensive marketing data to build a targeted SEO strategy, SEMrush is a good option.
#5: Moz Keyword Explorer
Cost: Free 30-day trial, then $149/mo
Top Tip: Use the SERP Features function to monitor 16 different features including snippets, local teasers, reviews, site links, Adwords, videos and knowledge graphs. The tool will also display a difficulty rating and an opportunity score based on your results.
Moz Keyword Explorer offers 2 free searches per day, but if you want to benefit fully from the total package you'll need to invest in Moz Pro. With Moz Pro, you can import and export keyword lists, monitor search visibility, track local keywords, analyze your target keywords and monitor performance.
#6: Keywordtool.io
Cost: Free, with 3 upgrade options ranging from $68/mo to $358/mo
Top Tip: Use the tool to perform keyword analysis without paying for a lot of extra functions.
Generate long tail keywords, extract Google keyword suggestion, and analyze autocomplete predictions with Keywordtool.io. If you upgrade to the paid versions, you can view double the keywords, track Google Adwords competition, and explore suggested bids. You can also export data, sort and filter your keywords and analyze cost-per-click data.
Need help planning your medical SEO and keyword strategy? Our experts will answer your questions and give you the support you need to get started. Call us to set up your free consultation today!