Do you struggle to come up with social media content for your healthcare practice? If so, you're in good company. Social media marketing for healthcare holds excellent potential, but it can also eat up hours of your week, especially when you're not sure what content will get the results you want. And that leaves many healthcare professionals wondering whether it's worth their time at all.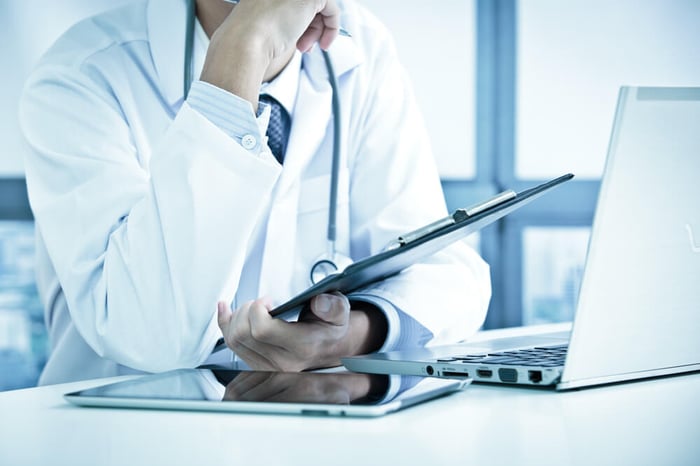 We've all been there: scrolling through social feeds, randomly posting a photo, clicking the "Like" button, or retweeting an article—and wondering whether any of it is making a difference.
But it doesn't have to be that way. You can breathe new life into your social media marketing strategy when you implement daily routines and habits designed to achieve specific goals.
3 Reasons You Need Social Media Marketing for Healthcare
Maintaining an active presence on social media is more important for the healthcare industry than you might think. Here are three reasons why:
People are looking for you on social media. More than three-quarters of social media users look specifically for health information. Almost half want to know more about a particular doctor or practice.


Social media can boost your revenue. By engaging with followers and directing people to your website, social media can help you discover and serve new patients.


Social media helps you build trust. Ninety percent of 18-24 year olds say they trust medical information they find on social media. And more than 40% of all consumers say that health information shared on social channels influences the decisions they make.
The goal of any social media marketing campaign is to position you as a trusted source of information and increase your visibility among the people you want to reach. But how do you achieve those goals when you're still struggling with what to post?
6 Habits for Successful Healthcare Social Media Managers
If you want the kind of results that boost profit and bring in new patients, you'll have to do more than ask an intern to post a few photos when they think about it. You need a strategic plan, and you need to act on that plan every day.
Let's look at 6 habits that set successful social media managers apart from garden-variety dabblers:
Log in every day. This might seem obvious, but the fact is that busy health professionals don't always make time to be active on social every day. When you leave your social channels unattended for days at a time, however, it will be difficult to connect with people in a meaningful way.


Respond to social mentions quickly. People expect quick responses on social channels—sometimes within an hour. That doesn't mean you have to sit around waiting for people to Tweet about you, but it does mean you should monitor for mentions of your practice or target keywords so that you can respond, especially if the feedback is negative.


Post strategically. Create a plan that includes a variety of content aimed at different kinds of followers. For example, include information about your practice, introduce your team, pictures and key takeaways from the recent conference you attended, health information, answers to questions you regularly receive, posts from your health blog, and articles from other sources that you recommend. The key here is that content shouldn't focus primarily on sales. Remember, your goal is to become a trusted source of information—and that means fewer sales posts and more helpful, interesting content.


Respond to interactions. When someone interacts with you, take time to reply. Thank your followers for shares and likes, respond to comments, and favorite tweets that mention your practice. The more quickly you respond, the more favorable the impression you create.


Point people to your website. One of the benefits of a successful social media campaign is increased traffic to your website. Use strong calls to action, interesting blog posts, and relevant information about upcoming events to entice people to click. Once they arrive, draw them in with a user-friendly online experience and strong landing pages.
Monitor results. The "post and pray" method (post something and pray you get results) rarely works for social media. Instead, take time to monitor key metrics like new followers, interactions, reach, and site traffic. If what you're doing isn't working, adjust your strategy.
When you're first starting out, these six habits may seem like a hefty time investment. But the truth is that once they become an integral part of your daily routine, the results you achieve will be well worth the time you spend.
Do you want more ideas for enhancing social media marketing for healthcare? Looking for tips on how to improve? Download our social media community manager playbook for a step-by-step success strategy!