What if I told you that you could boost your patient conversions simply by using the telephone more? Would you be surprised?
Don't worry, I'm not talking about telemarketing. No one likes to be cold called or pressured. But telemarketing isn't the only telephone strategy available to you.
If using the phone to drive conversions sounds counterintuitive in an age of online marketing and social media, then grab a coffee and get ready to take some notes. In this post, I'm going to show you not only that it can be done, but also how to do it.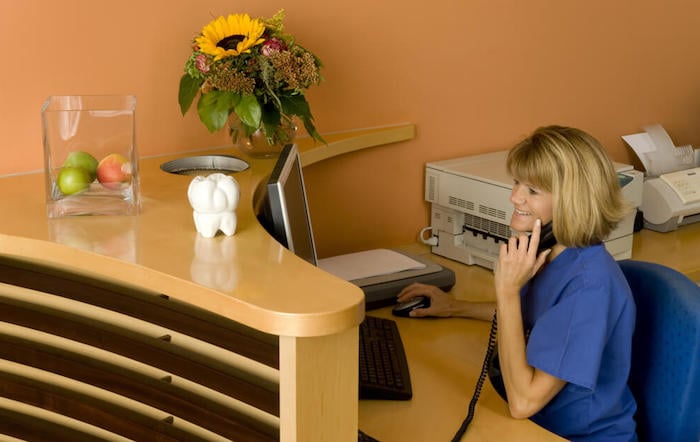 Why Patient Calls Still Matter for Healthcare Marketing
In our age of digital transformation, marketing strategies often lean heavily toward website development, digital ad creation and social media. Television, radio and print advertising also make it onto the radar, but telephones? They're going the way of the dinosaur, right?
Wrong. Studies show that 88% of doctors' appointments are scheduled by phone, and less than 3% are scheduled online. That doesn't mean you should get rid of your online scheduling app (online scheduling is growing in popularity), but it does mean you can't ignore the good old-fashioned telephone just yet.
Here are two reasons telephones are still valuable for your healthcare marketing strategy:
Patient Conversion—If 88% of patients schedule their appointments by phone, then it makes sense to measure those patient calls as conversions in your marketing metrics.
Patient Retention—Patients report feeling more trust for a provider when they receive patient care follow-ups, and most prefer automated phone messages over texts.
How Do You Make the Most of the Telephone?
The real question most of us have, however, isn't whether telephones matter. It's how we can use them most effectively in the context of our other marketing efforts. Let's talk about seven ways to do that:
List your phone number as the call-to-action. Promote it on web pages, PPC ads, directory listings, and social media campaigns. Encourage your patients and prospects to pick up the phone and call you about appointments, questions and feedback.
Use clickable phone numbers for direct dialing. Almost 70% of health searches are performed on a mobile device. When you make your phone number a clickable link, people can initiate a call with a single touch. It's a great way to remove barriers to conversion and encourage immediate action.
Track call data metrics. Keep tabs on where each call comes from with a call tracking solution. Monitor which channels produce the most phone calls and integrate that data into your healthcare marketing strategy.
Integrate phone data with your CRM. Create a workflow for patient follow-ups, even if you use pre-recorded messaging. Automated appointment reminders, feedback requests, seasonal information and payment reminders help you stay in touch with your patients without overtaxing your office staff.
Invest in interactive voice response (IVR). IVR gives patients access to information 24/7. You can use it after hours to help patients determine whether they need to make an appointment, or you can use it to conduct surveys and direct callers to the right department.
Use a phone service. Use a phone service to manage incoming calls during busy times, after hours or during holidays.
Keep testing. Not every market will respond the same way and different patients may prefer different kinds of interaction. If your patients prefer online booking, don't keep pushing the telephone on them. However, if you serve a demographic that prefers phone calls, it's important to make that option is easily accessible to them. How do you know? Keep testing and see which call to action produces the best response.
Do you encourage patient calls or use telephone initiatives as part of your patient retention strategy? Let us know what works for you!
If you need help designing your website or developing optimized landing pages, set up a free consultation with one of our healthcare marketing experts!