Ever heard the old saying, "You get what you pay for"? Of course you have. And it's just as true for websites as it is for blue jeans and lawn services.
You've probably seen those "Create your own website for $300" ads, right? What those services all have in common is that they are cookie cutter designs. In that context, customization means being able to change the colors and add your logo. It has nothing to do with designing a website around your needs.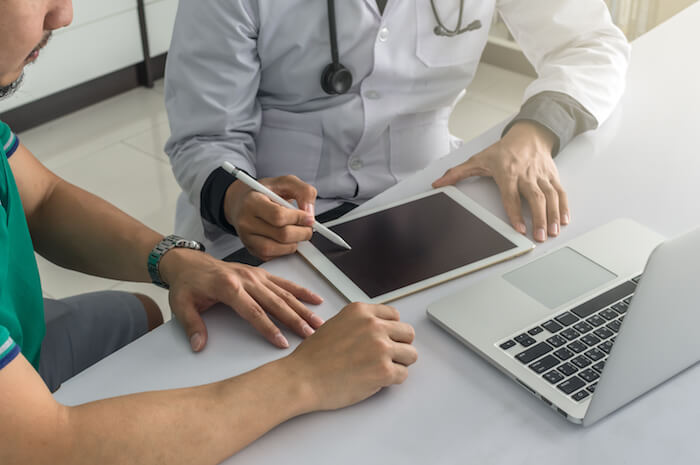 Out-of-the-box websites may work initially for a starter project, but they will only take you so far. In the healthcare industry, you often need custom functionality from your medical practice website design, such as a scheduling app, patient portal, or chat automation. You may also need custom landing pages, a physician directory, and other essential website pages.
And you need it all to engage your target personas.
Why Custom Medical Practice Website Design Is So Valuable
Custom website design gives you more options for building out specific functionalities and designing a professional, converting website around your buyer personas.
Let's take a look at the benefits you get from custom design:
Flexibility—Layout, colors, aesthetic choices, number of pages, functionality—with custom websites you can design everything around your practice and the needs of your patients rather than having to squeeze into a predetermined format.
Persona Targeting—Personas are a key pillar of inbound marketing. Inbound strategy designs content, social posts, email campaigns, landing pages and every other marketing endeavor around the key personas you want to target. But all of that falls apart if you have to work with a cookie cutter website. With custom web design, you can infuse persona targeting into the form and function of your site for improved engagement and conversion.
Cutting Edge User Experience—Outstanding online patient experiences can move your prospects closer to conversion and eventually help you develop long-term relationships with delighted, loyal patients. Custom web design helps you achieve this goal with features like chat tools, intuitive navigation, online tools to help your patients find what they need, custom aesthetics and engaging content.
Mobile First Design—Responsive websites were once considered cutting edge. Now they're standard (or should be) and many out-of-the-box website companies promote responsive design as a key benefit. But there's a difference between a responsive website design and one that is truly mobile first. Mobile-first design puts the mobile version of your website at the heart of design strategy so that patients using mobile devices enjoy an engaging, delightful experience. Then it builds out more complex versions of that design for larger screens. In other words, it's a strategy shift rather than a technical workaround. And it's only possible with custom design.
SEO From the Ground Up—When you begin with a pre-determined design, you have to go back through every page of the site to add structural SEO components and on-page elements. But wouldn't it be great to start with an SEO-optimized structure from the ground up? Custom web designs make the most of SEO strategy to increase your visibility and help your ideal patients find you online.
Tech Support—This may be the most underrated aspect of web design, but when your website is down tech support will become the most important consideration in your toolbox. Many out-of-the-box web design services offer minimal support, and even those that maintain a tech support line may not be able to give the in-depth support you need when something goes wrong. Custom web design services can get you back online quickly and painlessly with professional troubleshooting expertise and technical know-how.
Designing a Website That Works For You
If you're still on the fence about custom medical practice website design, consider the pros and cons of each option. The best website is the one that does what you need it to do, serves your patients well, and promotes engagement that leads to conversion.
What's the best way to create a site like that? Work with a designer who understands you and your practice and who can create the online experience that will serve you best.
Do you have more questions about website design for your medical practice? Get answers from one of our healthcare marketing experts! Set up your free consultation today!