What's the secret to getting your boss on board with content marketing? Simple. It's demonstrating results.
But how to do it? Not so simple.
Before we talk numbers, let's look at a broader measurement of marketing success: patient engagement. Patient engagement is a hot topic these days. Even your boss knows that engaging the right patients with your healthcare marketing content is key to a winning strategy.
Again, though, the question is: how? How do you grab attention in the content-saturated environment of the web and connect with more patients online?
Answer: content marketing.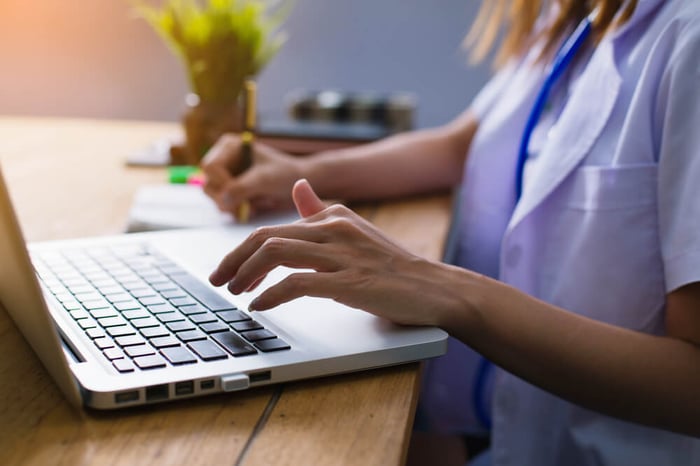 Why Content Marketing Is the Key Element of Your Patient Engagement Toolkit
At its core, content marketing is the art of creating useful, relevant content designed to spark interest in your healthcare practice. By communicating value to a specific target audience, you can gain the attention of that audience and persuade them to act.
We've all seen successful content marketing in action. It happens anytime a brand shares a blog post on social media, creates a brilliant patient experience on their website, or gives away an ebook in exchange for an email address. But why does it work?
Today's consumers have become ad-blind. Sales pitches and direct advertising aren't cutting it anymore. The fact is, nobody has to look at an ad if they don't want to. They can simply click away, scroll past or close the popup. That's why content marketing works. Using interesting, valuable or entertaining content, content marketing engages prospects, holds their attention and gives them something they want—all while building awareness of and engagement with your healthcare practice.
Read More: How Inbound Marketing Can Provide Long Lasting Benefits to Your Medical Practice
Proving the Value of Content Marketing With ROI
Let's go back to our original question: How do you convince your boss to get onboard with content marketing? You have to build a business case that demonstrates return on investment (ROI). It's not enough to say your strategy will increase patient engagement. You have to show the numbers.
Let's look at four steps to getting it right.
What will we do?
This is where you define exactly what your content marketing strategy will involve. What specific actions will you take in terms of content development, content promotion, engagement and reporting?
How much does it cost?
Next, determine how much the strategy will cost. Look beyond the dollars you will spend and consider the cost of not spending those dollars on other marketing strategies. This is known as opportunity cost, and it's an approach that will make your boss sit up and pay attention. Demonstrate that you understand the cost of your proposed strategy as compared with the cost of current marketing efforts before moving on to your next point.
How much will it earn?
This is where things sometimes get tricky. It's not always easy to demonstrate that the results you're seeing are directly tied to your content marketing strategy. That's why it's important to lay out exactly what you plan to do in Step #1, showing how your new approach is different from what you were doing before. Based on that information, you can track key performance indicators such as new leads, conversions, website visitors, page views, social media click-throughs and more. These numbers can be translated into potential revenue.
What do we have to lose?
The final piece of the puzzle is demonstrating what you could lose by not investing in content marketing. For example, take a look at your current organic search traffic numbers and consider how much more revenue you could bring in if you increased that traffic with content marketing.
The key to convincing your boss to invest more resources in content marketing is demonstrating its financial value. Metrics are essential, but they aren't enough to make a convincing case by themselves. Remember, your boss is most concerned about the bottom line. If you can show him the money, you'll win your case.
Need more ideas for your healthcare marketing strategy? Download your free patient engagement toolkit or set up a free consultation with one of our healthcare marketing strategists to ask your questions!