Having an online presence for your healthcare practice doesn't just mean having a website for your medical or dental office. Whether it's Instagram, Twitter or Facebook, most of your current and future patients are living in their social media channels.
Social Media Defined and How it has Evolved
Simply put, social media is the use of websites and applications where users can socially connect online and share content. Social media has come a long way thanks to evolving social technology and user trends. There are five social media platforms that dominate the online social scene, and they are: Facebook, Instagram, Pinterest, LinkedIn and Twitter.
Here is a quick look at user stats for each of the leading social media platforms:
79% of Internet users (68% of all American adults) use Facebook
32% of Internet users (28% of all American adults) use Instagram
31% of Internet users (26% of all American adults) use Pinterest
29% of Internet users (25% of all American adults) use LinkedIn
24% of Internet users (21% of all American adults) use Twitter
Practical tip: if your healthcare practice is new to social media, we recommend starting with Facebook, LinkedIn and Twitter. Take your time in building your online presence and broadening your reach before looking at other social platforms. You don't have to be everywhere at once, just start!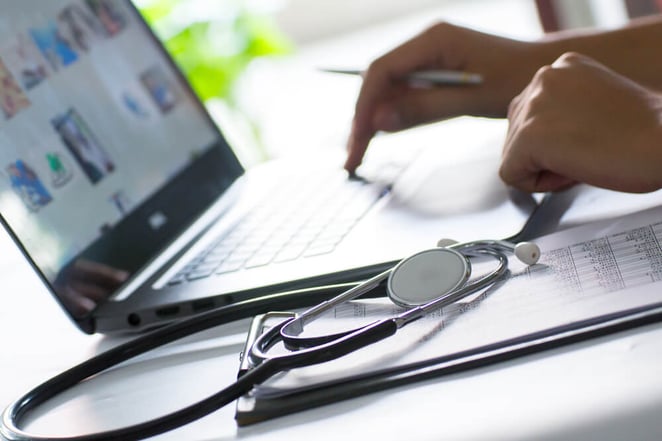 Why Social Media Matters for your Healthcare Practice
Has your healthcare practice avoided using social media? We understand if your answer is yes because the healthcare industry is so highly regulated. However, many organizations have now opted to engage because they recognize the opportunity to better serve and connect with patients and physicians, while at the same time building awareness for their brand.
When it comes to healthcare social media, did you know that…?
Some of the most engaged social media users are individuals coping with a disability or chronic condition such as heart disease, cancer or diabetes;
Information shared on social media platforms can have a direct influence on patients' decisions to ask for a second opinion or choose a specific provider; and,
74% of Internet users engage on social media, and of that number 80% of those users are specifically looking for health information, and nearly half are searching for information about a specific physician or health organization.
*For more compelling facts and statistics for healthcare social media, please click here.
Bottom line: healthcare social media matters because it's where your patients and prospective patients are. If you want to build your practice and credibility, you need to have a strong online presence.
How Social Media Can Help your Organization Boost Revenue
Social media can help you boost your revenue, it's true! Here are three ways to do just that:
Engage with followers. Providing personalized care is your goal, and social media is the perfect channel to provide that. Engaging with patients on your social sites, asking questions and responding to their comments allows them to feel heard and connected to you. Bottom line: if you treat your social followers well, they in turn will become your biggest online advocates.


Provide outstanding patient care through social platforms. Social users expect excellent customer care and a quick response. If a patient leaves a negative review or an angry comment online the whole world can see it. But it's how you choose to respond that makes the difference. Handling a negative comment in a helpful way leaves a lasting positive impression.


Direct followers to your website. Use your social platforms to generate awareness and interest that can link back to your website. Sharing unique content, news, blog posts, valuable promotions or offers are all great tools to stay active on social media and direct patients back to your site.
Bottom line: build your reputation by connecting and interacting with patients online and reap the benefits of free advertising and word-of-mouth referrals.
Final Thoughts
When engaging in social media it's important to keep compliant with privacy laws and HIPAA regulations. Namely this applies to protecting patient electronic records, and ensuring they are secure. We love Hootsuite, a social media platform that is designed to help you manage all of your social networks. Bonus: they understand the regulations you face in healthcare, and as such are compliant with those regulations while also helping you to improve the patient experience.
We know we have covered a lot of information when it comes to social media, and why it matters for your healthcare practice. Have questions or want to dig a little deeper? Please contact one of our experts for an evaluation, it's free and easy!