As a medical provider, patient engagement is your goal. We recognize this is a broad term, so simply defined patient engagement is when the provider and patient work in collaboration to improve the patient's health. And why is this so important? Research continues to show that the greater the patient's engagement in healthcare, the better the outcomes and the lower the cost. This is why many healthcare organizations are now implementing strategies to better connect with their patients, offer educational resources and do a better job of keeping their patients fully informed when it comes to their care.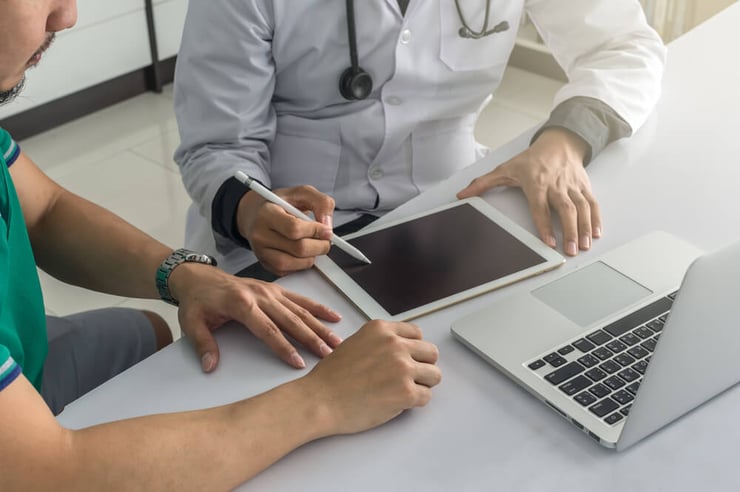 Are you wondering how your medical website can help drive patient engagement? Great question! Let's dive in.
#1: Know your Patients
In order to provide excellent care, you have to know your patients. An easy way to achieve this goal is to offer surveys or questionnaires on your website. By utilizing short online surveys you can learn more about their lifestyle, from diet to exercise and personal hygiene to family history. But, in order to get accurate responses, you have to ask the right questions. Here are some great general guidelines to keep in mind when offering an online survey:
Keep your surveys short, simple and to the point;
Aim to ask at least three questions and no more than 10;
Ask one question at a time; and,
Include one to two open-ended questions.
Here are some sample questions that can help you get started in creating your own survey:
Currently, what's your biggest challenge when it comes to your health?
What are your top questions when it comes to your health and well-being?
Is there a product, service or tool that could provide a solution for your healthcare needs?
#2: Provide Easy Access to Patient Portals
Your patients are looking for user-friendly features in one spot: your patient portal. Including tools that allow new patients to register, schedule appointments, pay bills online and have access to secure messaging makes it easier for your patients to engage with you. In addition to offering excellent support and greater access for patients, your portal should also include these design and functionality elements:
Customized with features that reflect your organization's brand;
Balanced in offering online, live and automated services;
Integrated with your EMR and billing services; and,
The portal should be easy to locate on your main website.
#3: Have a Modern Design
Incorporating the right design elements that can be supported on all devices is key in having a modern website design. Some modern design elements that can ensure your site is innovative and responsive include:
Unique typography that utilizes different sizes, colors and fonts;
The use of ribbons to highlight important text and grab the attention of your web users;
Background patterns that use subtle textures and patterns; and,
The use of short videos that is both informative and visually appealing.
#4: Optimize your Site for Mobile
So here's the deal: 80% of people own a smartphone, and 47% of people own a tablet. This matters because people are using these devices to search the Internet. Have you ever come across a website that wasn't optimized for mobile when using a digital device? If you have, chances are you abandoned that website in search of one that was more user-friendly. If your medical website isn't optimized for mobile, you will inevitably lose patients. This is why optimizing for mobile is no longer optional. Not sure if your site is mobile friendly? This Google Tool will help.
#5: Make sure your Site is User-Friendly and Interactive
Your goal is to provide every prospective and current patient with a great experience on your website, which means it needs to be user-friendly and easy to navigate. There are a number of interactive features you can implement on your website to do just that, including:
Offer a live chat option with a care representative;
A customer service section that's easy to use; and,
A FAQ section with a search function so patients can easily locate the information they're looking for.
Your website not only has the power to drive patient engagement, but ultimately help you build your practice by delivering exceptional online service. Talk about a win-win! If you're not sure where to start, or still have questions, let's chat. One of our experts is always available, and your first evaluation is free.