Did you know email is still one of the best medical practice marketing strategies to reach and engage your audience? That may come as a surprise considering the number of promotional emails most of us ignore everyday. Overflowing inboxes notwithstanding, however, email still reaches more people than social media. It also prompts more people to click. That's because almost everyone still logs in to email every single day—both social media addicts and those who haven't even jumped on the Facebook bandwagon yet.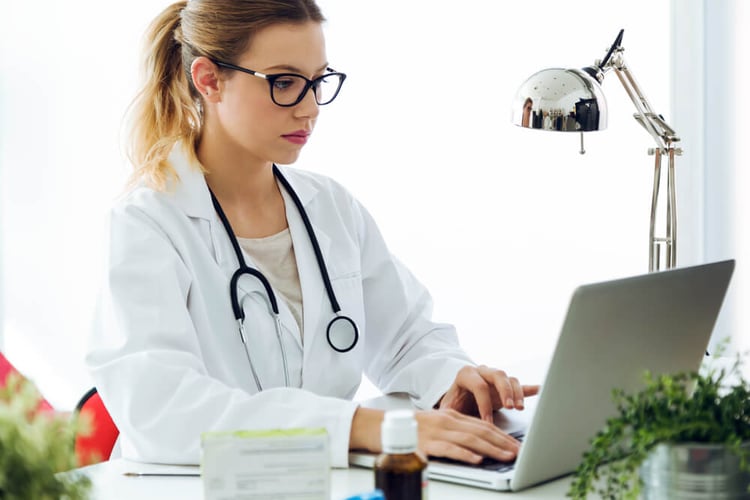 But what about all those unopened emails sitting in your inbox? Aren't they proof that your email newsletter will just be ignored? Not if you know how to do it right.
Tips For a Thriving Medical Marketing Newsletter
The difference between a successful newsletter and a flop is knowing how to write something people want to read. Take a look at our top tips:
Segment Your Audience. Your potential patients aren't all the same. Some may be interested in pediatric information while others want to know about allergies or elder care. Segmenting your contacts makes it possible to focus in on the primary topics of interest for each type of patient. And studies show that it can improve your open rates by almost 40%.
Decide What To Talk About. Your content should be about 90% informational and 10% promotional. Your patients see hundreds of advertisements every single day, so give them something different. Talk about topics they care about like nutrition or ways to prevent the flu. Your newsletter is also a good place to promote special offers or events, but don't make it one big sales pitch.
Include a Call to Action. Your ultimate goal is to persuade readers to click through to your website. Pick a single call to action that promotes your primary offer and make it a prominent element of the design. You can include other calls to action (like blog posts or downloads), but don't give them equal billing with your main offer.
Link to a Dedicated Landing Page. Your call to action should take the reader to a dedicated landing page that uses the same wording, visual elements and color schemes as your call to action. Never send visitors to your home page. They'll feel disoriented when they don't immediately see the information they were looking for. A well-designed website will make it easy for prospective patients to take the next step.
Choose a Clean, Attractive Design. Ugly designs make you seem unprofessional. By ugly, we mean designs that don't follow best practices like including ample white space, keeping text to a minimum, using attractive visuals and making sure fonts display consistently throughout the newsletter. Newsletters tend to feel cluttered by their very nature, so use short paragraphs and headlines to communicate your message clearly and concisely.
Use Your Subject Line Well. The goal of the subject line is to get your email opened right away. Even though people have requested to receive your newsletters, that doesn't mean they will automatically read every one. You have to make them want to. Avoid using the same subject line every time; instead, write something creative and engaging that will seize your reader's attention and earn a click.
Optimize for Mobile. These days, people read as many emails on mobile devices as they do on desktops or laptops. And that means they're experiencing your newsletter in an entirely different way. Tailor your email to the smaller size of a mobile screen with larger buttons for easy finger clicks, concise content and keywords placed at the beginning of your subject line to accommodate shorter preview snippets.
Use Alt Text for Images. If images take up a lot of real estate in your newsletter–and there's no reason they shouldn't–make sure you include alt text so your message still gets across if recipients have images disabled. This is especially important if your call to action is embedded in an image. Make sure readers still know where and why they should click!
Pick an Email Client. There are plenty of tools you can use to create and send your newsletter. MailChimp, iContact, Constant Contact and HubSpot are among the most popular, but you will want to choose one that meets the specific needs of your newsletter list and objectives. For example, some tools require a deeper knowledge of coding and include more customization potential while others have a simple drag-and-drop design template.
Why Email Newsletters Work
Email newsletters only work when you have taken the time to consider your audience, target your message and follow best practices for content and design. But when they're done well, they can be a brilliant tool to engage your audience, bring traffic to your website, increase blog subscriptions and reach other marketing goals.
Do you need help planning your medical marketing strategy? Talk to one of our inbound marketing specialists about how you can make the most of your resources!