When it comes to website design, we can all use a little inspiration to get our creative juices flowing. This is where taking a look at other provider websites in the medical field is valuable. Not only can you get inspired and determine what you like, you can also see what you don't like and what not to do.
Whether you're in the market for a new website design, a refresh or even just some simple changes, let's take a look at three provider websites that we find to be awesome. Hopefully, this will give you some medical website inspiration of your own.
Why we like it: For starters, this provider utilizes a clean responsive design, is functional and easy to navigate. They also do a great job incorporating compelling visuals, engaging content and linking to their social media platforms. If you spend some time clicking through the site, you'll see they offer educational resources (e-books for downloads), feature their local practitioners and helpful information on their blog, as well as a full list of events the organization participates in nationwide. As we've talked about, the more engaging content and resources you include on your medical website, the better the chances are you'll engage and connect with your patients.
Why we like it: This design is not only responsive and functional, it's visually appealing. The design utilizes a neutral color palette (a new website design trend this year), and utilizes simple, beautiful photography. This site gives you the ability to scroll through the homepage, or click on a drop down menu where you'll find six navigation tools. Patients have the ability to make an appointment online, subscribe to their email list and connect on social media. There is no getting lost on this website, it's very user-friendly!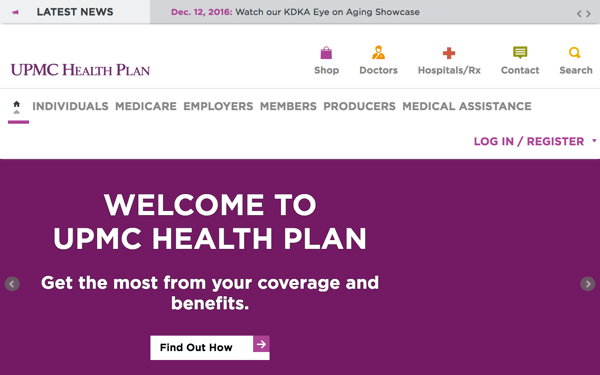 Why we like it: This responsive design is organized, incorporates scrolling graphics, a clear header and user-friendly navigation tools. Additionally, the organization offers multiple ways for their subscribers to stay in touch and in the know through a variety of engaging blog topics, short videos and the ability to download their mobile app. Also linked on the site are their social media platforms, community partners (which is a great way to feature local content), and a special login feature for members.
While each of these medical websites have a slightly different look and feel, perhaps you noticed a few common trends? All of these sites have a responsive design, are well organized and easy to navigate. Incorporating these design and functionality elements is a critical piece in engaging with your patients and growing your practice. The better service and care you can offer through your website, the easier your job becomes!
After taking a look at the website examples we've highlighted, what are your favorites? What other websites in the medical field would you add to our list? We would love to talk with you about your medical website inspiration, or answer any design questions you might have, so
contact our experts for a free evaluation
. We're here to help!