A well-designed website is your first step toward success for your plastic surgery practice in a digital world. But it's not the only step. Your website can't do its job without a solid SEO strategy. So pour yourself another cup of coffee and let's talk about how SEO is your second key to online success.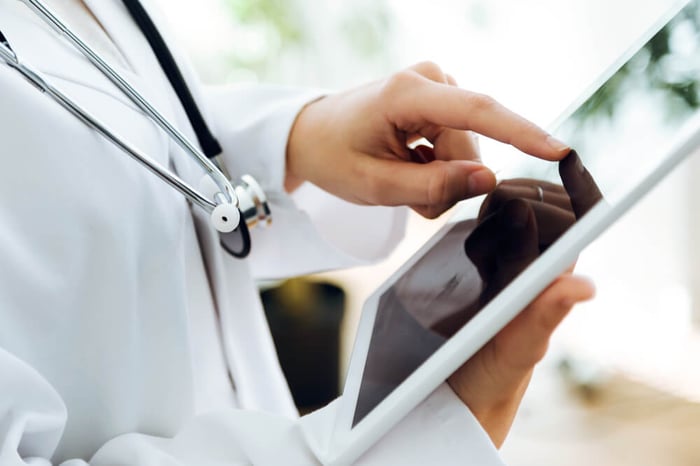 Why Your Plastic Surgery Practice Needs SEO Marketing
If you think of your website as your "home" on the web, then SEO is the roadmap people use to get there. Without SEO, no one will ever find you and all your beautiful design and content might as well be wall art.
SEO involves a lot more than sprinkling a few keywords through your pages. That's why we've put together this checklist to give you a jumpstart on optimizing your plastic surgery SEO marketing.
SEO Basics
Think of these basics elements as the foundation for your SEO house. You have to put them in place first, before you start worrying about keywords and meta tags, or you won't get the results you want.
Choose a robust CMS (like HubSpot). HubSpot's COS platform gives you both the support and the flexibility you need to give your patients and prospects a customized, relevant online experience. It helps you optimize your SEO efforts with keyword-rich content, image tags, headers, landing pages and more. There is even a dynamic and helpful checklist to make sure you're fulfilling all your On-Page efforts.


Install analytics software and track. You need a way to monitor visitor behavior and determine whether your website is doing what it's supposed to do. Track key metrics like bounce rate, conversion rate, time on site, traffic sources, user flow and visitor demographics.


Check site speed.

You have mere seconds to load your page before your visitor backs out. Google Page Insights will give you a score for mobile and desktop so you don't lose your visitors before they ever reach your content.




Upload a site map. A site map tells search engines what content you have on your website and provides information about updates and new pages. That makes it easier for Google to find and index your content for search results.


Create a robots.txt file. The robots file tells a search engine which pages it should crawl and makes sure it doesn't crawl admin or member-only pages.


Run an SEO check. Your SEO check should look for things like errors in your rich snippets, HTML improvements, coding problems, blocked resources, page errors and responsive design problems. To get started, you can use a free tool like SEO Site Checkup.
On-Page SEO
With a solid foundation in place, on-page SEO deals with keyword structure--the frame of the house. Of course, that means you need a list of relevant, targeted keywords to begin with. Get started with these steps:
Make a keyword list. Start with a keyword tool like Google Adwords Keyword Planner to find commonly searched industry keywords. Broaden your scope with long-tail keywords that give search engines clues about the context and depth of your content.


Incorporate local keywords and content. Local SEO uses geographically targeted keywords and content to drive people to your physical location. That's especially important for medical practices, because many of your prospective patients will search for you online before they make an appointment in person.


Optimize your title and meta description. Both titles and meta descriptions should include your primary keyword for the page. Limit titles to about 60 characters and meta descriptions to about 155 characters so that they will display optimally in the search results.


Include alt text for images. Because Google can't crawl images, you'll need to include alt text for each image to provide content the search engine can read.


Optimize H1 and H2 tags. Include keyword-rich H1 and H2 tags to give search engines additional clues about the most important content on the page.
Content Optimization
The final component of your SEO house—the walls and furnishings—is quality content. It's not enough to have keywords in all the right places. You also need original, valuable content that answers key questions about your plastic surgery practice or the specific services you provide. Follow these tips for the best results:
Write for humans, not search engines. Remember, your primary audience consists of patients and prospects, not search engines. Use a natural tone and don't sacrifice readability for the sake of adding in keywords.


Keep it simple. Most people who land on your site will be skimming for main ideas. That means you should keep both your writing style and your structure simple and easy to absorb. Use bullet points and short paragraphs to break up content and avoid using scientific or industry jargon.


Answer real questions. People use search engines because they have questions about a particular topic. Give them helpful answers that will keep them engaged with your site and give them a reason to come back.
Give Your Plastic Surgery Practice a Fresh Start
As a plastic surgeon, you're in the business of fresh starts. SEO marketing can do the same thing for your practice. The goal is both to build a technically sound structure and to create content—text and images—that appeals to your patients and prospects.
Ready to learn more about how to launch an SEO marketing initiative for your plastic surgery website? Our healthcare marketing experts will help you get started. Call us today for your free consultation!