Whether folks are talking to Alexa, Siri, Cortana or other digital assistant, people are talking. Voice search is on the rise, with 41 percent of adults and 55 percent of teens already using it more than once a day. Voice search accounts for 20 percent of all searches on mobile apps and 10 percent of all searches in general.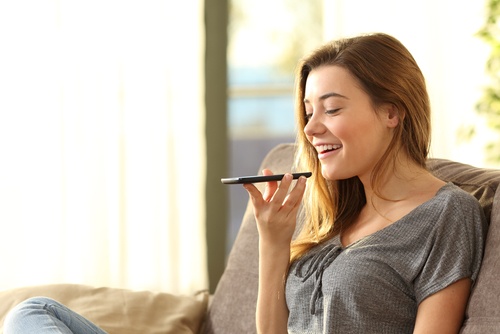 By the year 2020, voice search is expected to make up 50 percent of all searches – for a total of 20 billion searches per month. To ensure your organization gets found by voice searchers looking for medical providers and information, it's crucial to prime your healthcare inbound marketing accordingly.
Uses for Voice Search
Speed, accuracy and voice search's ability to follow-up and understand complex queries are the top reasons people are turning to voice search. They're mainly using it across four different categories.
General Information: Thirty percent of voice searches are aimed at gaining general info, such as news, travel, stock market and recipes.
Personal Assistance: Twenty-seven percent of voice searches are associated with shopping lists, reminders and tasks lists.
Entertainment: Twenty-one percent are for entertainment purposes, such as finding videos, music, movie times, TV shows and sports schedules.
Local Information: Twenty-two percent are seeking local info, such as local business addresses and hours, weather, traffic and food delivery information.
Impact of Voice Search
Voice search has an impact on both the way searches are made and how results are found. Understanding this impact is integral for aligning your medical inbound marketing.
Change of Language
People conduct voice searches differently Impact of Voice Search on desktop than they do on mobile. Desktop voice searches typically contain a few short words or phrases, while mobile voice searches involve natural language in the form of a question.
Keep common questions in mind when developing your content, and produce content that answers those questions in a conversational, straightforward tone. Rather than focusing on specific keywords, focus on providing quality information users are likely to be seeking.
Content Topics
Since natural language processing (NLP) has become more integrated into Google mobile search algorithms, search engines are looking for general topics that answer user queries. That means your healthcare inbound marketing needs to build content around those topics, providing info on things users are searching for.
The more details and valuable information you can provide on commonly searched topics, the more likely your site will be found by search engines and patients alike.
User Intent
Take heed of the way your users are phrasing their questions, and what they are aiming to find. Understanding the intent behind users' questions is vital to determining how you and search engines can deliver the most accurate results.
Creating a FAQs page that answers common questions about your healthcare practice and procedures is a solid addition to your medical inbound marketing.
Data Structure
Data structure refers to the format for organizing and storing data, and you can make it easier for search engines to crawl and asses your site with structured data and schema markup. Make the most of both by including breadcrumbs, rich snippets and a Sitelinks search box.
Context
Spoken queries differ from written queries. The same question can also mean a variety of different things based on who's asking it, as well as how and when they're asking.
When queries are made on smartphones or using digital assistants, devices can fill information that includes location and search history. This provides search engines with clues to ensure they deliver results most meaningful to the user.
Optimize your healthcare inbound marketing for context by mapping out a potential patient's journey to your website, considering user intent, question phrasing and the results that will be most useful. Use long-tail keywords at every stop along your map to catch users at each stage of their healthcare research and decision process.
Location
The bulk of voice searches are made on mobile devices, with search engines consistently presenting results relevant to the user's geographic location. Review your local listings for accuracy across social media, Google and other search engines, and review platforms such as Yelp.
Since different voice search services use different business aggregator sites, you also want to set up a comprehensive business profile on as many platforms as possible.
While voice searches change several factors, one website element will always remain the same. No matter how people are searching, they're aiming to find quality, well-written content that provides the answers they're seeking. Make sure you're giving website visitors what they want through the entire marketing funnel with our free Patient Engagement Toolkit.