Congratulations! You're redesigning your medical website! It's an exciting process and we know you're ready to get the ball rolling—yesterday.
But it's a big project. Before you rush in, you need to establish the right expectations both for the agency and for your internal team. You need to know where you're going, how you'll get there and how you'll know when you've reached your destination.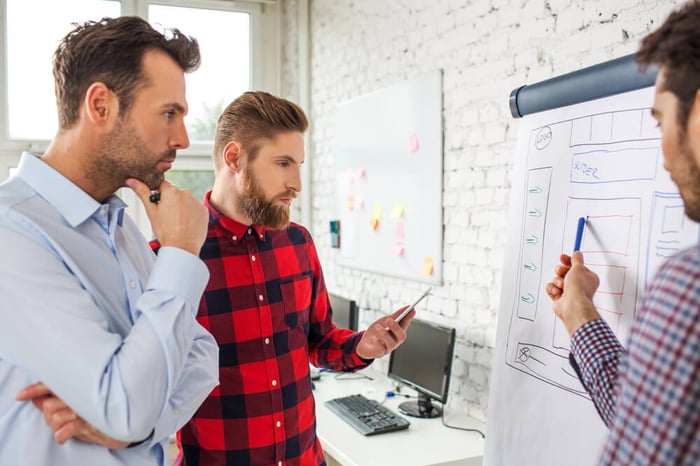 In just a moment, we'll walk you through the process we use to answer all of those questions. But first, let's take a quick look at how this information will help your team.
What You Need to Know Before You Start Your Medical Website Redesign
The planning stage is designed to help you think through the project before you start so you know what to expect as you establish your strategy. Before you move forward ask yourself these questions:
Why are we redesigning our website? Has the website's purpose changed? Is it outdated? Is it difficult to update? Not responsive?
What is our timeline? When will we start? What is our launch date? How much time can we commit to each project phase?
Are all stakeholders on board? This may be a tricky question, but it's not enough for one or two stakeholders to be gung ho for the redesign if there are others who haven't committed. You need everyone pulling together in order to achieve success.
Does our team understand the process? An intentional change management process helps bring your team on board with the project and boosts user adoption rates.
How to Get the Most Out of the Medical Website Development Process
Your website is special. It represents your unique brand and it has to speak directly to your ideal patients. Cookie cutter designs aren't going to do it for you and we get that. That's why we've designed a website development process that draws out those unique elements and helps you make the most of your design investment.
Even though every project we tackle is unique, we can still follow a basic roadmap as we walk through the design process. Here are the four phases you can expect when you work with our team:
DISCOVERY — This is the "first date," so to speak. We're getting to know you and you're getting to know us. Our purpose in the discovery phase is to understand your goals, get to know your audience and build a strong foundation for your site. During this phase we'll ask lots of questions about:
Your ideal patients
Your current website
Your expertise and content needs
Which keywords you should rank for
How your site should function
How your site should look and feel
What kind of patient experience you're looking for
CREATION — Now that we have the bones of your website in place it's time for the fun to begin! During this phase we will collaborate closely with you to create templates, develop specific page designs, set up a content organization system, and talk about best practices for the healthcare industry. The inbound marketing methodology forms the framework for site design and content creation, so we'll be talking a lot about how to:
Attract visitors to your website
Convert them into leads
Close the deal and book the appointment
Delight them so they remain your patients for the long haul
RELEASE — It's time to tell the world about your new website! We'll get you ready for the launch process with training, documentation and quality assurance. Then we'll help you spread the word with:
Emails
Press Releases
Blog Posts
Videos
Traditional Media
IMPROVE — Don't worry; we won't leave you hanging once the site has been launched. We understand the need for ongoing maintenance and improvements to keep your site relevant and attractive to your patients. From testing and reporting to addressing unique challenges that may arise, we've got your back. And while you're celebrating the website launch, don't forget about:
Ongoing content creation
User testing
A/B and multivariate testing
Tracking metrics
Personalization
Marketing campaigns
We're more than a website design agency. We're your partners for the long haul. When you're ready to take the next step, call and set up your free consultation with one of our healthcare marketing experts!