Chances are you've seen a chatbot on a website recently – maybe even today! By the end of this year, Outgrow predicts 80% of businesses are expected to have some chatbot capability. On top of that, Global Market Insights predicts that the chatbot market will exceed $1.3 billion by 2024.
So, if you thought chatbots were a potentially fading trend, think again. Instead, they continue to rise in the digital sales and marketing sphere as viable options for automated communication. And while they can put more time back in your teams' day, effectively boosting productivity, there are certain mistakes to avoid when setting them up.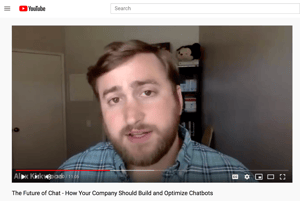 For advice on how to get started with your bot, including ideas for optimization, check out our first episode of LyntonCast, where our own Alex Kirkwood and Roman Kniahynyckyj take a deep dive into the topic.
Here's a look at three common chatbot faux pas.
Leaving Out Details
Online users typically engage with a chatbot because they're seeking more information on your solution or because they have an issue they need resolving. They also gravitate toward them because they believe using a bot will answer their question quicker than reaching out for human support. That's why it's critical to provide quality details, depending on what the person is looking for.
Sure, this may mean a little more finagling on the backend, but it will pay off. Providing vague or unrelated information will send users running from your chatbot, but giving them the answers they seek will encourage them to interact with you more frequently. Other information you should include to promote engagement: a name for your chatbot (think: LyntonBot) and an unsubscribe option.
Bombarding People with Information
Have you ever gotten on the phone with a customer service representative looking for a fast response only to listen to them ramble? You probably felt the urge to hang up – and you might have even done so! If you've had a negative experience like this, don't let your chatbot follow suit. Even though it's a bot, your goal should be to establish a two-way conversation. A chatbot that sends full paragraphs of text without letting a user get a word in edgewise will leave your online visitors feeling uninvolved – and send them packing.
To ensure this doesn't happen, keep your bot's response brief, and allow your users to participate by giving them time to respond. You can also incorporate buttons or quick replies to move the conversation steadily forward. Not only will this please your readers, but you'll also be able to gather and store that data in your automation platform, which can be used to increase your bot's intelligence.
Not Making Any Updates
One of the main objectives of a chatbot is to offset some of your service, marketing, or sales teams' work through an automated process. However, once you've built your chatbot, you shouldn't forget to check up on it. Part of an effective strategy is to optimize your bot after you've spent time building out your initial plan. Just like other inbound efforts, you'll eventually need to make some updates to promote improvements. That means regularly tapping into the data your chatbot stores and testing. Examine your bot's performance by carefully looking at:
Conversation length – if it's taking too long for someone's issue to be resolved, that could be a problem
Message rate – generally, the higher, the better
Potential bottlenecks -- anything that's causing users to leave your chat flow before it's finished
New subscribers – if you're trying to generate new leads or subscribers with your bot, measure this
User satisfaction – if your chatbot has an exit survey, this shows how satisfied your users are with their experience
Bounce rate or abandoned conversations – like a website's bounce rate, this metric shows how quickly users navigate away from your chatbot after prompting an initial conversation
Any direct feedback your teams have received - the clearest indicator of success or failure
Summing It Up
If you currently have a chatbot or are thinking about implementing one, remember that practice makes progress. These errors are not uncommon, and can easily be fixed. Your teams simply have to put forth the effort into creating and monitoring your chatbot -- and we can help!
For advice on how to get started with your bot, including ideas for optimization, check out our first episode of LyntonCast, where our own Alex Kirkwood and Roman Kniahynyckyj take a deep dive into the topic.