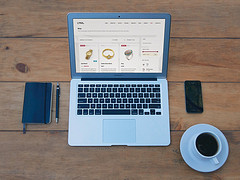 Salesforce is one of the most well known CRMs on the market. This CRM offers many tools for storing and organizing your company's sales and prospecting data. Yet this data could be even more valuable when integrated with your corporate WordPress website. Below we offer six valuable ways to synchronize your Salesforce and WordPress data.
1. User Management Made Easy
Syncing your WordPress users to your Salesforce CRM is crucial for maintaining a cohesive user database. You can setup core WordPress functions, like site registration, to create new leads in your Salesforce database that come from WordPress. You can also sync fields between the two applications so that your company departments all have access to the same data set.
Do you run a membership related website or host specific data on your website that is only visible to your customers? With a Salesforce to WordPress integration you can keep your users' account status synced dynamically. This lets you tag your leads as customers in Salesforce and have them automatically updated with a customer tag. In turn, giving them access to 'customer only' areas of your website. Automated prospect to customer updates lessen your sales teams' workload (no more manual updates) and they'll look like geniuses to their newest customers.
2. Convert Form Submissions into Leads
If you need to convert WordPress form submissions into leads, you'll need to integrate your site more fully with Salesforce. WordPress hooks and filters let you send form data to Salesforce and track your form's performance in your CRM. Knowing the forms that convert better will help your inbound marketing team tune the forms that don't work as well.
3. Track 'Logged-In' User Activity
To identify the most trafficked areas of your website, you can set up 'logged-in' user page tracking to push user page history into a custom Salesforce Object. If you're hosting your WordPress site, be warned that tracking users at this detailed level requires a good deal of computing resources. And depending on how your web hosting provider charges you - could turn into an expensive proposition. A more reliable and efficient way to track customer activity - and a way to gather intelligence about a visitor before they become a lead - is through HubSpot and a HubSpot Salesforce Integration.
4. Build a Product Catalog or Ecommerce Store
There are many ways to import your product database into your Salesforce CRM, but there are few ways to keep that data synced up with an external eCommerce store. There are some out of the box solutions available, which are products designed to work with as many Salesforce setups as possible. Yet these off-the-shelf solutions may nullify any customizations to your eCommerce workflow or database. A custom integration solution could include a product catalog. It could even include a full eCommerce solution that records all stock quantities, sales and other sales data in your Salesforce database. Having previous purchase data in Salesforce is helpful when targeting customers for new products, promotions or marketing campaigns.
5. Tack on Campaign IDs to WordPress Actions
Do you want to associate any core or custom WordPress actions with your Salesforce campaigns? Attaching WordPress actions to Salesforce lets you associate users who register on your Wordpress site with a sales campaign. You can also add anyone who submits a specific form to a given Salesforce campaign ID. You can even target specific website activities you want tracked. For example, you can add a WordPress action that keeps track of the number of blog posts a user views in each product or service category. If they hit a certain metric (i.e. number of blog posts read) you can associate them with a campaign ID that corresponds to that category. The number of custom actions you can create and track in this manner is endless. So be sure you have a specific marketing or sales goal in mind you can align these custom actions to.
6. Custom Object Integration
Salesforce is extremely extensible with the right developer on your team. You can create entire Salesforce objects dedicated to your website (isn't that sexy?). Another example - if you want to build a website that helps keep track of your rental properties and store their data in Salesforce, then a custom integration with custom Salesforce objects and tracking is what you need. You can even keep track of tenant rent due dates, amounts and payments right inside of your Salesforce database but allow your tenants to pay their bills on your WordPress website.

There certainly is a lot you can do with Salesforce and WordPress and even HubSpot. Just be sure you have all your customizations and configurations tied to your business goals and priorities. Otherwise you'll just be spinning your wheels on cool tech that ultimately has no benefit to the bottom line and proves little ROI.

If you need help integrating your WordPress site and Salesforce portal, click here to speak to an expert now.

Photo Credit: ZERGE_VIOLATOR via Compfight cc