Providing personalized customer interactions is an important aspect of customer service, but it can be a tough feat to achieve without the proper tools. Customers may refer to past conversations they've had with team members, but those conversations may be stored in scattered areas across your system, if they were even stored at all.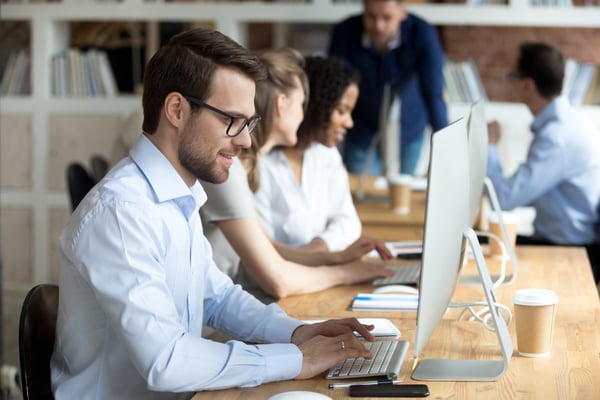 Making the customer repeat everything that's already been discussed can waste time and create unneeded frustration. But it's not something your customers need to do if your company uses HubSpot Conversations.
What is the HubSpot Conversations?
HubSpot Conversations is a customer support tool that provides a universal inbox where all of your team conversations with customers are stored and organized in a single place. The conversations tool gives you a list of every conversation a contact has had with any member of your team, whether that conversation took place via email, a chat widget on your site or originated from a bot.
The tool allows to you assign tickets to specific team members, filter out irrelevant messages to find those you need, and otherwise get a snapshot of past interactions that took place with each contact. As long as users are included as a team member on the inbox, they can use the tool.
Read More: Making the Move from Reactive to Proactive Customer Support
Using Conversations for Better Customer Service
Using HubSpot Conversations can help you provide optimum customer service, especially if you employ these six tips.
1. Sound Like a Human
In addition to immediately establishing your name to back up the fact that you're a real live person when responding to a request, explain what you're doing on your end to help with their issue or concern. Use kind intonations, be expressive and make small talk to further humanize the experience.
2. Reply Promptly
Accepting a chat request as soon as you receive it is crucial, as customers become annoyed when what's supposed to be an instant form of communication comes with long wait times. Target the customer wait time at 20 seconds or fewer.
Continue Reading: The Importance of Engagement in Customer Success
3. Apologize and Acknowledge Mistakes
If your company made a mistake, admit it and apologize. HubSpot reports 96 percent of customers would still purchase from a company that made a mistake, as long as the company apologized and took measures to make things right. Actually say you're sorry, instead of trying to dodge an apology or deflect blame.
4. Give the Customer Multiple Channels to Provide Feedback
Optimum customer service comes from gathering and acting on customer feedback, so you want to make it as easy as possible for customers to provide that feedback. Offer several different options, including SMS customer support, so contacts can choose a channel that's most comfortable and easiest for them.
5. Follow-Up after Requests
Sending a transcript of the completed conversation is an ideal way to follow-up with customers, as is sharing other related documentation. Providing customers with additional resources relevant to their request not only shows you are more than eager to help them solve their problems, but it arms them with the knowledge to help themselves going forward.
6. Send Your Customers Reminders for Action Items
When customers have an appointment or other action item they need to take, HubSpot Conversations makes it easy to send reminders. Rather than disrupting busy schedules with phone calls or sending emails that often go unread, scheduling an SMS reminder in HubSpot gives customers a quick way to confirm their appointment with a simple reply.
In addition to providing a detailed history of all customer interactions, HubSpot Conversations gives you and your team a useful tool for meeting and exceeding your customers' needs. HubSpot Conversations is part of HubSpot Service Hub, which is equipped with many other features designed for keeping customers satisfied. Learn more about what HubSpot Service Hub can do for you; schedule a consultation with LyntonWeb today.