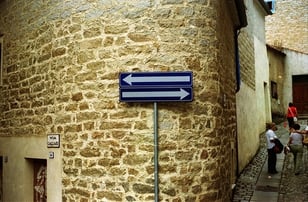 As a believer in inbound marketing, you probably know that your website needs to do more for you than an online brochure. It is an investment that needs to continually drive sales.
How it drives these sales typically fits into one of two categories: demand generation or lead generation. These terms are often used interchangeably, but when it comes to your website, they are two very different goals.
Lead Generation
Lead generation is about getting as many people's contact information as possible. To get a prospective customer's contact information, you ask them to sign up for a newsletter, download an eBook or register for a webinar in exchange for filling out a form. The goal of acquiring this information is to build a relationship with that contact through emails, lead nurturing campaigns, and even phone calls. We want to nurture that lead any way possible.
When lead generation is the goal, you might use a tactic like this: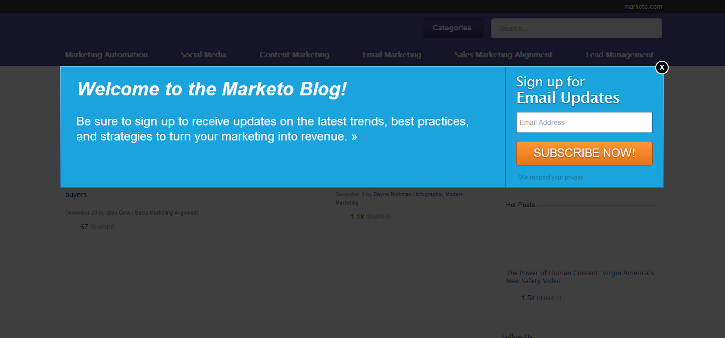 Marketo has a smart team. I suspect they are doing this because a popup can dramatically increase the amount of form completions they receive. This is a great lead generation tactic.
Demand Generation
Eric Wittlake in his article for Chief Content Officer Magazine says "Demand generation focuses on changing or shaping your audience's perspective in order to create demand for your category or your specific products or services."
While a tactic like a popup newsletter signup may result in a form completion, it is not shaping the audience to think positively about the product. In fact, it will likely cause people to think more negatively about the product. I mean, people typically hate popups boxes. They are sometimes filling out the form just to make it go away.
Demand generation is not worried about capturing a contact's information. Instead demand generation wants to sway the contact's opinion. A demand generation focus on your website may mean removing your web form from some of your meaty, high value pieces of advanced content. This allows people to see how great your brand is without any cost.
Which is more important?
When making decisions on your website, it is important to weigh these two goals against each other. Your goal you should be to build a website that works well for both, but when they are at odds with one another, which one will you choose?
Your business should choose lead generation when:
You have the time and/or resources to nurture leads
Your content is so valuable people would pay for it if you asked
You have a long sales cycle
You are in an industry that is comfortable completing forms on the internet
Your business should choose demand generation when:
Being a thought leader in your industry is your highest priority
You have a unique product/service
Branding is more important to the long term success of your company than leads
Both lead generation and demand generation help you accomplish your website's goal - to drive sales. It is important to do both as much as possible. If you're still unsure what to focus on, consider your product, industry, and weigh both options to determine which is more important to the success of your website.
Photo Credit: piermario via Compfight cc