As remote work becomes more of the norm, many businesses wonder how to adapt and create an environment of collaboration, trust, and transparency. At Lynton, we also faced these obstacles but found a solution in Gather. Gather helped us create a virtual office that allows our distributed team to come together in ways reminiscent of real-life office settings.
What is Gather?
Gather is a video chat platform designed to make virtual interactions more human through the solution's "metaverse," or a virtual layer over the physical world where people can work, socialize, and learn. All kinds of industries can use Gather for virtual learning, parties and social events, conferences and tradeshows, and of course, remote offices.
Building Lynton's Virtual Office with Gather
The team behind Gather believes remote work shouldn't be isolating – and Lynton's leadership agreed. We found Gather in our search to build an inviting online office space that our team could use for meetings, happy hours, and the occasional wandering of the halls and thoughtful discussions at the water cooler.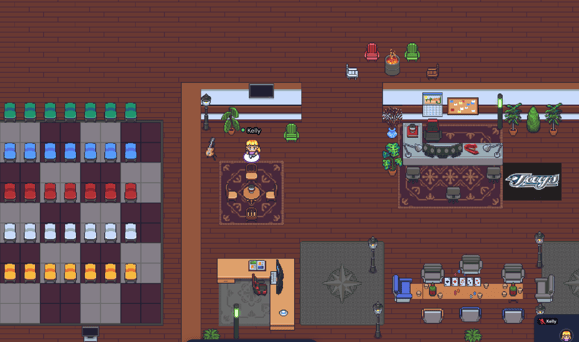 We built a unique office map with Gather's functionality that includes everything from a rooftop bar to conference rooms and smaller work areas. Additionally, we created:
Private spaces where people can have 1:1 conversations
Game rooms for people to relax and have fun together
A company-wide meeting hall
A beach for socializing
Coffee and café settings for quick chats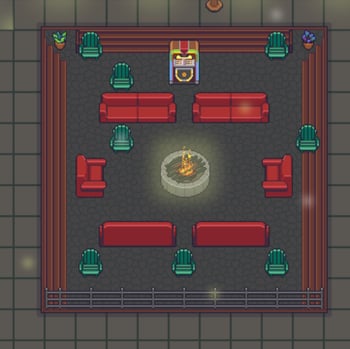 Gather's object builder lets our team get creative with their personal spaces and the entire Lynton map. We can also design our avatars to truly reflect our personalities, allowing our coworkers to get a better sense of who we are. The map makes it easy to move around, locate people, and find new areas to explore for work-related conversations and breaks. With such a user-friendly online setting, we've been able to:
Conduct personal meetings
Stop by each other's desks for one-off conversations
Meet with managers for professional development and feedback
Hold an all-day Hackathon
Host lunch and learns to showcase our team's varied skills
Have bi-weekly happy hours to let off steam and connect
Introduce new team members to everyone
Organize a completely remote, full-day company retreat
Run a Fantasy Football draft to encourage friendly competition
Emulate the collaboration typically reserved for in-person settings
The Impact of Having a Customized Virtual Office
The Lynton team has been remote since 2015. Because our team has grown so much in the past year, not every person had the chance to closely interact with everyone else. Gather has only helped foster stronger communication across different departments and teams. It's facilitated true transparency because it's where we hold all our company-wide meetings and leadership is always available to answer a question.

We've also replicated the ability to stop by someone's desk and ask a quick question or get verification on a project – which only helps us better serve our clients. Private mode allows us to keep our heads down and get work done on these projects but Gather still opens up opportunities to foster a genuine work-life balance by encouraging friendships with coworkers. This also helps our team have more fun at work and de-stress. The ability to decorate and redecorate our spaces also helps the team decompress.
---

"Gather has been so great for getting to know our teammates as our team expands. It lets us express our personalities through our avatars and decorated desks, as well as an easier way to socialize than through Slack or Zoom." - Kelly Groover, Agency Marketing Manager
Most recently, Gather has enabled our team to navigate the pandemic and the post-pandemic world more efficiently. We've onboarded several new employees and have been able to meet and see their faces, learn about their interests in and out of work, and provide them a fun, safe place to grow.
Have Questions About Gather?
It's safe to say that our team couldn't recommend Gather enough. If you do have any questions or would like to learn more about remote work in general, feel free to reach out at any time!