Squadron has helped car, airplane, ship, and military modelers build their passion since 1968. They provide the most detailed modeling kits, accessories, and tools needed for the entire building process. With some very unique models available - anything from World War II aircraft to modern F-35 jets to replicas of famous muscle cars - Squadron has created an extremely loyal fan base.
However, despite the large fan base, Squadron didn't know much about them or how to reach them. There was no set way to gather in-depth customer contact information. For the customers they could email, the communication they had was sparse, and didn't touch on the most critical aspects of their business. They wanted to know more about their community - growing and nurturing them along the way. In September 2018, they began working with Lynton and started implementing inbound marketing strategies to achieve specific objectives:
Increased leads
Gaining a deeper knowledge of both existing and prospective customers
More consistent email offers and communication
Read More: Use Our Free Reverse Funnel Calculator to Meet Your Revenue Goals & Keep Your Sales Pipeline Full
Our Solutions
Integration of E21 with HubSpot
Squadron came to Lynton wanting to increase leads and sales and looking to integrate Enterprise 21 (E21) - their order fulfillment system with HubSpot. With E21 integrated with HubSpot, data flows into HubSpot instantly after a customer makes a purchase. HubSpot integration allows Squadron to segment and email customers by recent order, product interest, or a variety of other criteria.
For example, with a HubSpot integration, Squadron can see who buys what and when. If someone consistently buys military tank models, Squadron can then customize the information that customer sees in emails better. The E21 integration with HubSpot allows for better email segmentation and more focused content, which result in customers received only the product information most valuable to them. With purchase information coming into HubSpot, Squadron has learned more about their fan base and use this information for future email segmentation and communication.
Lead Generation
One of the first things we implemented on Squadron's website to attract new leads was installing a pop-up asking users to sign up for their newsletters. Because of Squadron's loyal fan base, this was an easy win. We only required them to enter their email address as well, to make it as simple as possible. After someone filled out that microform, another pop-up asked visitors if they wanted to receive Squadron's mailed catalog.

If they said yes, they were brought to a landing page we created and optimized. The content laid out of the page highlighted the novelty and exclusivity of the catalog, making it more appealing. This helped attract users to fill out the form, which was loaded with fuller information including first name, last name, email, and mailing address. The landing page's form was created and integrated through HubSpot, so the detailed information collected synced immediately into their platform.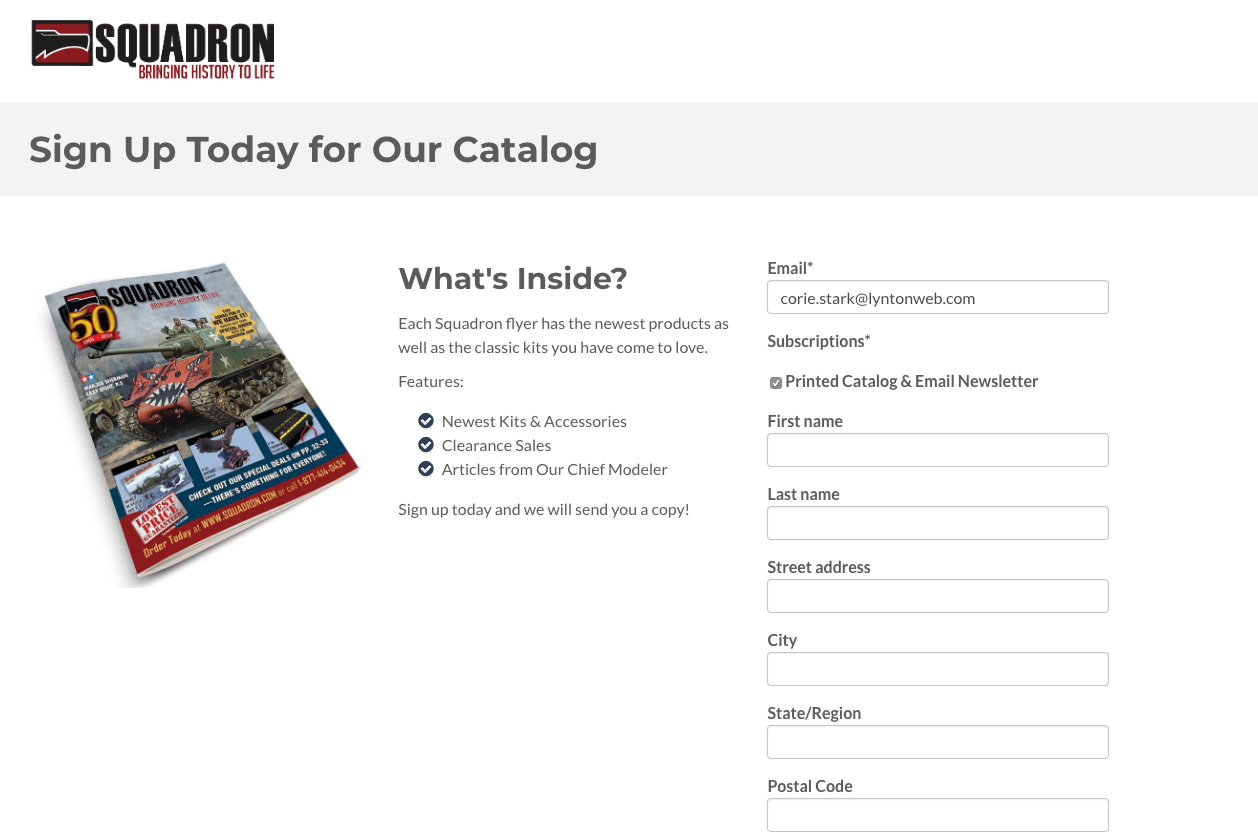 Facebook and Google Ad Campaigns Integration
Creating a social presence helped Squadron with overall brand awareness. Creating conversion Facebook ads increased the amount of contacts Squadron received from Facebook. In November, we placed an ad to gather customer information in exchange for Squadron's physical catalog. November's Facebook ad saw great results, including:
3.7% CTR
31,975 Impressions
1,180 Clicks (with a $.026 CPC)
750 Contacts (with a $.041 cost per conversion)
A total of $304.97 spent, equalling a 269% ROI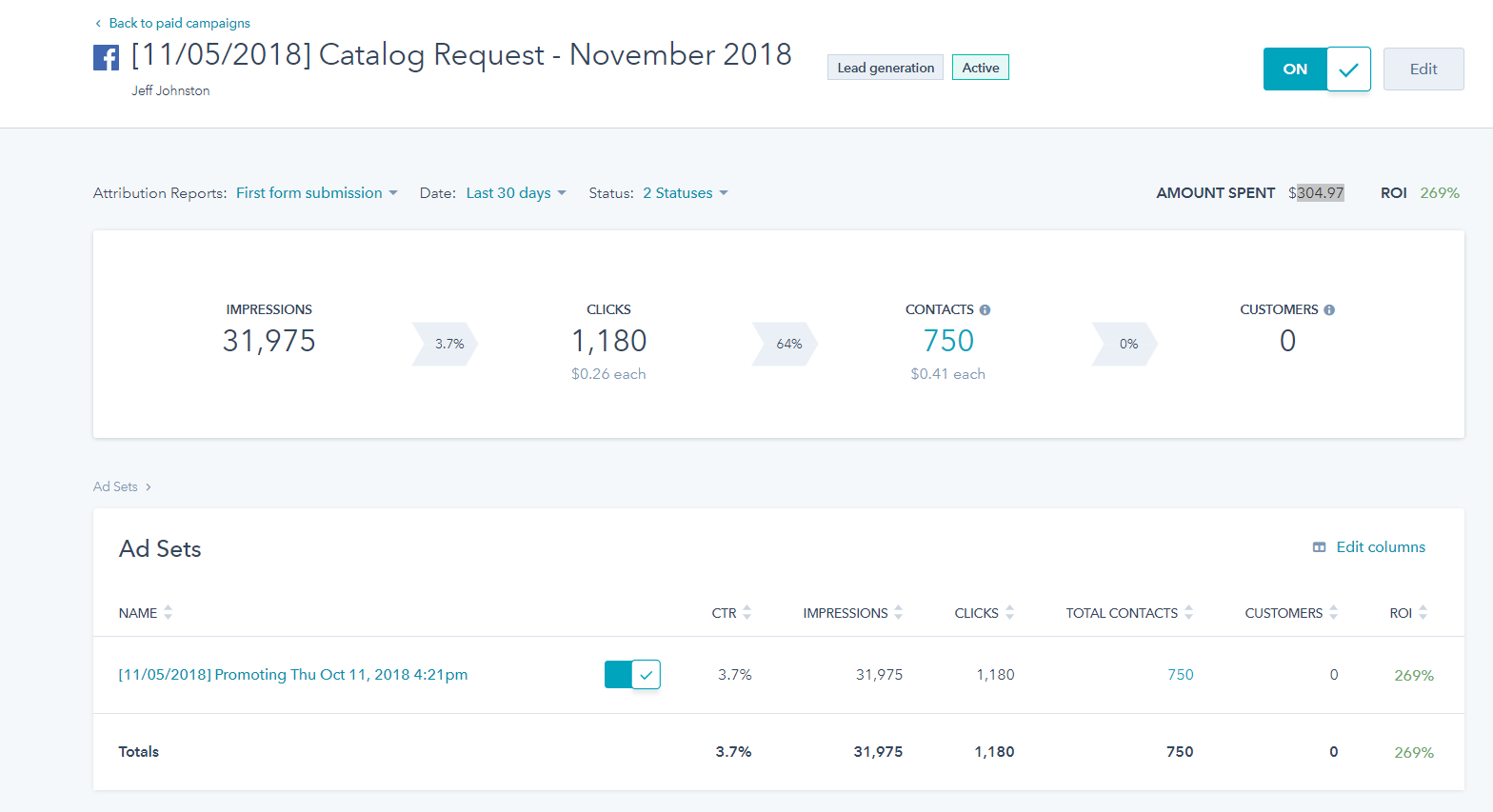 Social media accounts for 3.4% of all traffic leading to Squadron's website or roughly 51,000 visitors each month since October. Paid social ads have earned 2,074 contacts since October. Paid social ads attracted 153 new contacts in the first 11 days of December - a rate of almost 14 per day.
We also helped Squadron through various Google Search Ad campaign. Working with them, we devised a set of keywords to target, including branded keywords. Successful ad group campaigns (for last 30 days) include:
Squadron Mail Order (branded search) - 32.28% CTR
Squadron Catalog (branded search) - 23.81% CTR
Squadron Hobbies (branded search) - 13.42% CTR
Successful keywords include:
Squadron sale - 100% CTR
Squadron aircraft models - 100% CTR
Squadron hobby shop - 66.67% CTR
The total impressions of all keywords and campaigns for the last 30 days were over 132,000, with 80 conversions. The value of those conversions amounted to $8,272.42. A fuller look at the performance of their Google ad campaign is captured in the screenshot below.

Email Marketing Through HubSpot
Before working with Lynton, Squadron sent emails sporadically - generally once a week. With our advisement, Squadron now sends daily emails to their contacts. We work closely with Squadron to devise content ideas, centering primarily around sales and model kit offers. Squadron's new email campaigns celebrate their customers through large discounts and special perks.
Their emails center around a theme, such as a holiday, with a matching design created by Lynton's team of graphic designers. We also created email templates within their HubSpot portal for them to easily clone for new campaigns.
Open rates skyrocketed from 30-60% due to eye-catching subject lines, with a highly targeted Black Friday email achieving an 88% open rate. Aesthetically-pleasing designs and large, call-to-actions result in CTRs ranging from 5%-13% on average.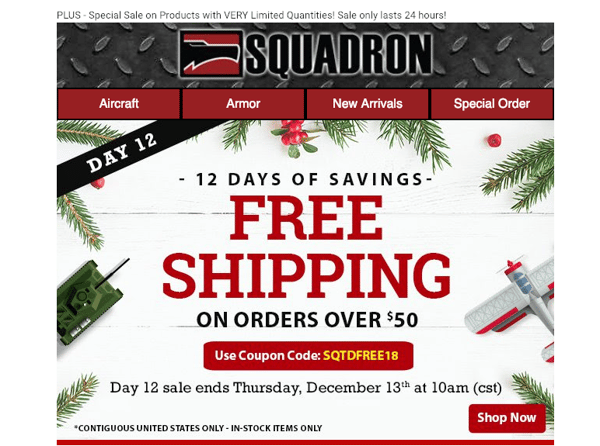 Results
We generated 9,984 new leads since October 1 through all the inbound strategies discussed. Overall traffic to the website increased 27% through the help of paid social, email, and PPC campaigns. Sales are up 20% since October.
Exit rates went down due to the lead generation elements (newsletter pop-up and catalog landing page) implemented throughout the site. Contacts converted to customers at a rate of 33.9% in November.
However, the most significant impact for Squadron was getting to help their loyal customers find and purchase the model, model kits, and accessories most relevant to their interest. Without the use of HubSpot integration to E21 and the inbound strategies put in place, this would not have been possible. The use of all the tools made available to Squadron through Lynton and HubSpot helped a beloved model-kit company genuinely connect with their customers.
In the video below, Squadron's CEO Gwynne Gorr discusses Squadron's results in working with Lynton and the future online growth she anticipates.
Squadron's Take