Another year, another successful HubSpot INBOUND. From September 3 – 6, 2019, over 26,000 inbound marketing enthusiasts gathered in the Boston Convention Center for action-packed days full of events, industry thinkers, and educational sessions.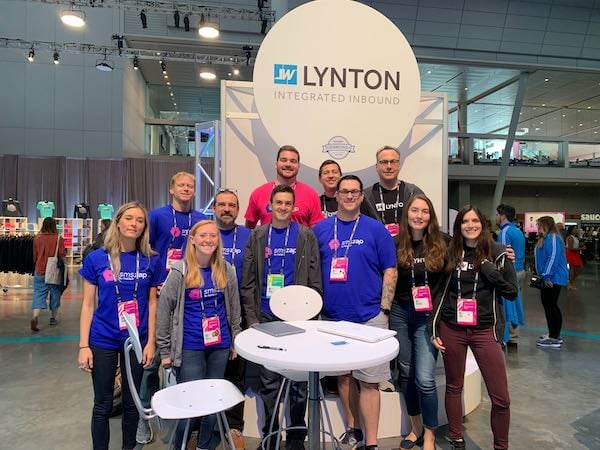 At LyntonWeb, we benefit from INBOUND in two ways: as a sponsor and vendor and as attendees. This dual opportunity allows our company to grow professionally while expanding our business by networking with people in need of integrated inbound help. Here are highlights from INBOUND 2019.
Keynotes
HubSpot is known for attracting big-name and break-out speakers, and this year was no different. Award-winning novelist Elizabeth Gilbert kicked off the conference retelling her experiences and home restoration geniuses Joanna and Chip Gaines ended the event recounting what it took to create their successful Magnolia empire.
Other inspiring keynote speakers were sprinkled throughout the week as well. The LyntonWeb team had the opportunity to see many of them speak, either separately or together. Many of us were left inspired by visionaries and legends like Alexis Ohanian, Jennifer Garner, Katie Couric, Josh Foraker, and more. As HubSpot lovers ourselves, we were all thrilled to see co-founders Brian Halligan and Dharmesh Shah give keynotes on the impact of "experience distributors" and the importance of facing your fears. After each speech, our notebooks and heads were full.
Sessions
With over 250 sessions to choose from, there's a seemingly endless opportunity to learn at INBOUND. Our group of four who attended INBOUND solely for these sessions decided on a variety of sessions to sharpen their skills in areas that related to their job and areas of personal interest. As a remote agency, we took the chance to attend some sessions together that would impact our marketing department as a whole. We also saw the value of splitting up and learning as much as possible. Once back in the office, we were able to share notes and express what we enjoyed the most to our entire team.
Some sessions that stood out to us:
10 Things I've Learned from Putting on 500+ Webinars
Crafting Your Why: A Facilitated Session on Finding Your Why
The Future of Branded Content Is Podcasting
Live Video Content Marketing: How to Boost Website Traffic with Facebook and Instagram Live
Magical Content: 7 Secrets to Content That Generates the Greatest Results, ROI, and Lasting Impact
How to Generate Revenue with Content Marketing
Don't Just Create Content, Create Experiences!
How to Grow (Your Organic Traffic) Better
Building Mindful Client Relations
How to Craft a Winning Social Video Strategy
---

"INBOUND consistently gathers some of the brightest minds to share their knowledge with the rest of the HubSpot community. This year was no different. I left Boston with pages on pages of ideas for how to improve our agency's marketing, as well as our client's marketing." - Kelly Groover, Internal Marketing Manager
Networking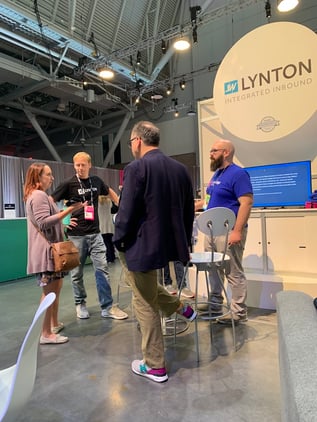 As a sponsor of INBOUND, we're given a booth where our sales and business development representatives can field questions and address people's integrated inbound needs. This year we snagged an advantageous spot – right next to HubSpot's merchandise area. Here, we were able to have conversations, scan badges, and hand out our branded koozies and shirts.
Two of integration experts answered the more technical questions, while everyone else engaged in almost non-stop conversation. In addition to having the chance to speak with prospects and clients, we were able to engage with like-minded agencies whose booths were nearby. We also hosted our first HubSpot Agency Partner happy hour the first night of Inbound to help strengthen these relationships.
To get a real sense of the impact of our booth, here's Director of Agency and Integration Sales Rob Bowles's experience in his own words:
---

"My INBOUND experience was awesome and quite different from the previous four that I attended as a direct HubSpot employee. Getting to work the booth and interact with so many different HubSpot prospects, customers, and agencies was a great chance to gather both perspectives and hear more about all the different needs and wants people are looking to solve for in the HubSpot world. We got great traction at the booth and met so many other awesome people that we are looking forward to either working with or continue our relationship with.

I took away a lot from a sales perspective, most notably that there was a strong presence of existing HubSpot customers with a desire to get more creative means of SMS texting built into their HubSpot ecosystem."
Another benefit of our booth was having a space to meet one-on-one with clients. Because of this accessible location, we were able to sit down with multiple current clients and make personal connections. We answered questions, gave out tips, heard their experiences, and even talked about their lives outside of work.
Team Building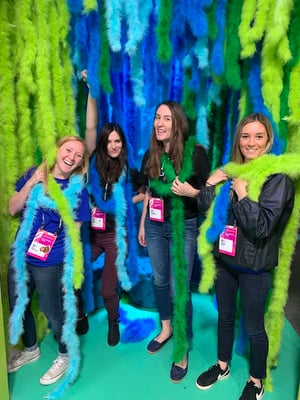 We probably say this a lot, but LyntonWeb is an all-remote company. This offers advantages and disadvantages – like the inability to socially and professionally connect in a real-life setting. Thankfully, INBOUND gives us the chance to do just that. The EXPO and vendor hall offered several areas where our group could stop, chat, or take fun photos.
Outside of the Boston Convention Center, our group came together Wednesday night of the conference for a four-hour dinner that involved great food and getting to know each other. We even came up with several strategies to implement back at work while gathered around in our living areas.
Looking Ahead
After these four days of knowledge, networking, and fun, our integrated inbound skills are elevated. And we're ready to put them to good use. While INBOUND 2020 is in the distant future, we can help you with a project today. Drop us a line here.