Last year, HubSpot introduced CMS Hub Professional and Enterprise to marketers worldwide, removing the typical technical limitations users face when creating websites. Now, they've launched CMS Hub Starter to bring the same effortless functionality to marketers in small businesses and those new to website building.

Here's an overview of CMS Hub Starter and its features.
What is CMS Hub Starter?
CMS Hub Starter is the newest tier of HubSpot's simple web content management system for small businesses (1-10 employees) that want to leverage the functionality of HubSpot's CRM while building fast, secure, and reliable websites. Built on the HubSpot CRM platform, CMS Hub Starter aims to help teams better understand how customers use your website and what content drives your growth.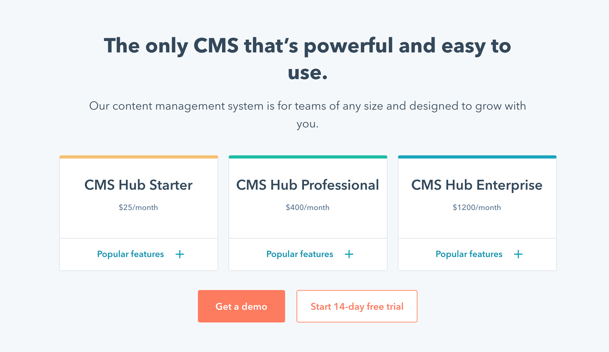 Why Use CMS Hub Starter?
CMS Hub Starter is a low commitment way to get up and running with HubSpot. With migration services available from HubSpot, it's easy to move off your legacy CMS as well. If you're new to the HubSpot ecosystem, it's simple to use. Other great benefits it offers:
It's secure and handles maintenance on its own.
A traditional CMS puts the security, speed, and reliability of your website up to chance. They also typically require you to have an IT staff on hand. But for small businesses or those looking to grow, that's usually not available. Fortunately, CMS Hub Starter manages the maintenance of a website with standard security features like SSL, firewalls, and a globally hosted CDN with 99.9% uptime. Additionally, CMS Hub Starter is an all-in-one solution, meaning there is no need for third-party plugins. Updates will happen automatically, and HubSpot monitors threats 24.7.
It's great for marketers and developers.
CMS Hub Starter lets developers use the tools, technologies, and workflows to create flexible themes for marketing teams. Then marketers can take over and use the simple drag and drop editor to update the look and feel of the website as needed. There are also great themes available on the new asset marketplace, like Spark by Lynton, for teams who don't have developers and want to hit the ground running.
It's connected to the HubSpot CRM.
When your CMS and CRM aren't communicating, your team can run into communication breakdowns and silos. HubSpot built CMS Hub Starter as a part of the CRM platform to avoid this. That means you'll not only have the tools to make a great-looking website but the ability to leverage customer data to inform your web strategy and push out content that converts.
It's scalable.
CMS Hub Starter is a solid entry point for you to get started with HubSpot. At $25/month, you get access to powerful features that let you build up to 15 optimized web pages. But as your business grows, you may need more CMS power. That's where CMS Hub Professional and Enterprise come into play. They come with all the same features you'll get to know with Starter but expand on them to take your website to the next level.
Check out CMS Hub Starter Today
CMS Hub has offered a better way to build and manage great websites for over a year. Now marketers at smaller, growing businesses can get in on the action with CMS Hub Starter. At just $25/month, you'll be able to unlock the power of robust editing, flexible themes, and all the other great features outlined here. If you'd like to learn a little more about CMS Hub Starter, check out CMS Hub Starter Features We Think You'll Love. You can also reach out to our team at any time!