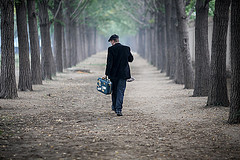 Happy 2014 inbound marketing nation!! It's that time of year - what resolution will you break make in 2014? My personal resolutions include running a mile a day every day of 2014 and wearing only khakis (or corduroys) throughout the year (my small protest against the pajama/sweats/jeans wearing crowd). For some, their New Year's resolution may include quitting Facebook. And for business owners - well they may just use the start of 2014 as a trigger to give up on Facebook or other social platforms that just don't seem to be 'working' for them. Whether you're a person or business owner - here are some thoughts to consider before you cut the Facebook cord.
If you're a person leaving Facebook...
Sure, there are legitimate reasons to leave Facebook. Many users who leave cite privacy concerns and lack of control of the content they create. Some are just plain depressed by it. Around the holidays, it's especially hard for some to see the regular stream of engagements, family get togethers and happy couples. I, for one, love that stuff - I want people to he happy and wish them nothing but the best. I also find myself using Facebook more and more as a news reader by liking brands and other content outlets. Ultimately, Facebook doesn't define you or make you miserable - you define you - whether it's on Facebook or anywhere else - you get back what you put out there. There are those that feel Facebook is a time suck. That can be true - but again that's up to the individual. Discipline yourself - spend only 10 minutes a day on Facebook in the morning or evening just to catch up with your friends and news. Again, Facebook doesn't have any magical powers to control your time.
And don't forget the power of your personal brand. Whether you're a nurse, marketer or professional football player, they are ways to harness Facebook whether it's for inspiration, motivation, or promotion. Just look at Tim Tebow or Chris Penn.
And if you're worried about privacy - stop. Nothing is private. Your emails can be tracked, your IP address can be tracked and pictures you're in (but not tagged in) will still show up even once you leave Facebook. Your best bet - assume no privacy and don't post anything you wouldn't mind seeing as a headline on the New York Times. Be good, do good, assume good and you'll be ok.
If you're a business leaving Facebook...
Maybe you have a Facebook page that you haven't really updated or one that hasn't brought you the results you expected. If you're a small business struggling with Facebook or some other social platform consider speaking with an inbound marketing agency about strategies and tactics you could implement to change your current outcomes. The last thing you want as a small business owner is a Facebook page you haven't updated since July of last year. Social media can be a key ingredient in your inbound marketing recipe and a useful way to humanize your brand. In fact, if you are committed and consistent. All you need is a one person inbound marketing team.
Finally, before you leave Facebook or any other social media platform, look at your buyer personas and your target market and make sure you're on the right social platform for your business. Remember, Facebook, like life - is what you make of it.
Photo Credit: pamhule via Compfight cc