It doesn't take a marketing whiz to realize consumers want as much quality information as they can get. Thanks to the internet's natural fast pace and increased use of social media, they also want it instantly. That's why more businesses are turning to live chat and bots to supplement their marketing and customer service teams.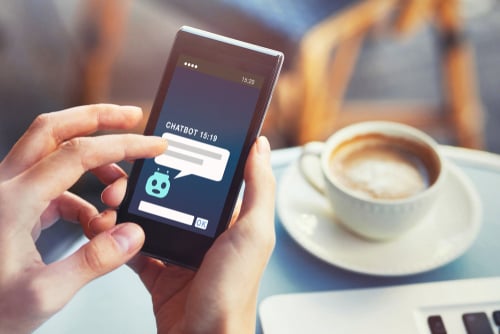 With either in place, you can connect to your website visitors in real time, converting leads faster and fostering your customer support. Both offer a consumer the chance to start a conversation on his or her terms.
How Live Chat and Bots Benefit Your Team and Consumers
Live chat and chat bots can help to eliminate phone support that takes people through long option menus before they even speak to a human. The wait time for help almost completely disappears. People find businesses with these services more credible, and leave consumers satisfied. A recent study by Acquire showed chatbots resolved 80% of consumers' most-burning questions. Econsultancy revealed 73% of customers prefer a live chat experience over a more traditional one.
These software programs benefit your teams as well, saving time, providing personalized experiences for customers, and alleviating pressure on your support teams. However, live chats and bots are not the same. Here is a breakdown of HubSpot's Bots and Live Chat options.
Also see: Why Your Website Needs a Chatbot

HubSpot Bot
HubSpot Bot is a chatbot program used to automate conversational tasks and more. It's useful for companies who lack developed support teams or can't manage a live chat.
HubSpot Bot requires no coding experience. You can start with a template based on your pre-set goals to quickly launch your bot experience. After that, it's simple to customize the look and feel of the bot to adhere to your brand standards.
Edit the copy, create your questions and answers, and before you know it you have a bot all your own. HubSpot Bot allows you to create targeted welcome messages for different pages of your website, or messages that reflect a particular persona. If you don't want to use a template, you can use HubSpot's bot creator and achieve the same results.
Powered by artificial intelligence, HubSpot Bot understands complex questions and provides personalized responses. Integrating your bot with Hubspot's CRM system enhances these features by pulling already-known information about a contact. Any new data is stored back into your CRM under the right contact.
As they learn over time, the interactions and experiences improve. So just because your chatbot is technically a robot, you won't come off as one. With the correct information, you can configure your bot to pass the conversation to a sales or account executive when necessary. They can even book meetings for you.
For your current customers, HubSpot Bot and others bots add value even after leads become customers. They keep existing customers engaged with push notifications related to your brand and products - anything from alerting users to a system update, a new product, or even a scheduled system maintenance. Notifications are sent only to appropriate persons, so the opportunity to cross and upsell is high with bots.
HubSpot Bot answers simple customer questions, so customer success teams can focus on deeper issues a client may be facing. Solutions arise quicker when bots are in place. They also don't get frustrated like humans, answering the most routine questions repeatedly if necessary. However, the same personalized experienced offered with HubSpot Bot lead nurturing campaigns also extends to current customers, helping them to meet their expectations while boosting your brand.
Live Chat
If you're looking for an even more personalized approach, consider HubSpot's Live Chat feature. With live chat, you and your team respond to website visitors in real time, almost as if you were using Google Hangouts to speak with a colleague. Take notes, send marketing emails, create support tickets, and more tasks all within the live chat inbox.
Just like HubSpot Bot, HubSpot Live Chat requires no coding. You can easily customize your chat widget to match your company's brand standards. Each page of your website can have its unique welcome message with live chat. You can segment audiences within a web page to even further the personalized message they receive. The better the experience, the quicker your team can discover if that visitor is a qualified lead to pass to a sales or account executive.
For smaller teams, you can set "office" hours, so users know when and when you're not available. However, if you want to provide 24/7 access, HubSpot Live Chat integrates with Slack and HubSpot's mobile app. These offer notifications should you step away from your workstation, allowing you can to answer questions on the go. If the inquiry requires further discussion, you can let people know when they can expect a fuller, more in-depth answer.
Similarly, Live Chat wins at maintaining current customer relationships. Live Chat is convenient for your current clients. They can connect instantly with you to ask simple questions and resolve easy problems - all while potential multi-tasking. That's also good for you because you can offer quick solutions to consumers. Without Live Chat, someone may wait days for an answer. It also prevents you from needing to pull in developers and interrupt their time. Your help desk will also thank you as their time will free up.
The instantness of Live Chat moves the purchase process along, too. You can answer your customer's purchase-related question while they're in the middle of deals. Customer retention rates sore with Live Chat (and HubSpot Bot, too). The top reason consumers don't renew product licenses is due to poor customer support. Happy customers pay more and buy more products. They're also your brand's greatest ambassadors.
And just like HubSpot Bot, HubSpot Live Chat integrates with HubSpot's CRM. Every conversation is stored in your live chat inbox and passed into that contact's record in your CRM. If you need to reference a past discussion, you can find It quickly and easily. This is helpful for the sales and post-sales process.
For marketing and sales team, bots and live chat extend your communication efforts in ways not previously seen as more consumers want their information as soon as possible. Excellent customer service is a never-ending process, and the more tools you utilize to provide the best service, the better. That's why it's worth considering onboarding HubSpot Bot or Live Chat to your stack. Learn more about these services by scheduling a consultation with LyntonWeb today.