At LyntonWeb, we help businesses grow through our highly effective inbound strategy. We constantly work to develop products and services that not only meet our clients' needs but that also help them take their businesses to the next level. Our passionate team of 40 skillful advertisers, developers, marketers, and designers have the experience necessary to achieve exceptional results. We provide services in web design, conversion optimization, and pay per click. Our hard work and ability to deliver has allowed us to be selected as one of the best digital marketing agencies in Houston by Clutch.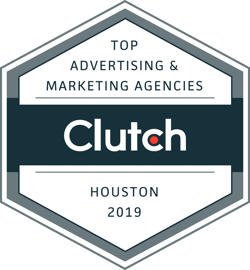 Clutch is a B2B ratings and reviews firm in Washington D.C., that connects businesses with the service providers they need in order to help them find solutions to their business problems.
In order to guarantee accuracy in their results, Clutch interviews former clients and conducts extensive industry data analysis. Based on their findings, we have obtained a five star rating. The selectiveness with which they evaluate companies makes us very proud of our accomplishment.
We are thrilled with our recent review found on Clutch's profile. Check it out:
---

"They completely changed the way we do marketing. When I came on board, we had a website and a newsletter, but we needed to work on our mobile presence, SEO, and analytics. They gave a structure to everything we were doing and became a part of our team, helping us find other vendors when we needed them." — Director of Marketing, Chicagoland Skydiving Center
Our dedication to providing our clients with the services they need has also allowed us to be featured on Clutch's sister website, The Manifest, where we are highlighted as one of the top inbound marketing agencies. We have also gained a presence on their Visual Objects page as one of the best digital marketing companies.
---

"Going above and beyond the call of the regular marketing project manager's duty is something that's ingrained within everyone at LyntonWeb. It's not something we do for praise but rather something we do because we truly believe in helping others meet their inbound marketing goals. That being said, we are honored to be acknowledged by Clutch! It's great to be recognized among the best agencies and see our hard work paying off." - Roman Kniahynyckyj
We are immensely grateful for those at Clutch for honoring us with this award and to our clients for their support. We look forward to continuing our success and to helping businesses achieve their goals!