It doesn't take Sherlock Holmes to find your competitors on social media, but it can become a tedious task for any marketer to sift through several feeds. Yet, it's not a task that should fall by the waste side. Not only does it give you an opportunity to see how they interact with their prospects and customers, it gives you a chance to see what content they are sharing is most popular. You can gain real insight on what's working and not working for them, picking up some of their good social media habits for your own strategy.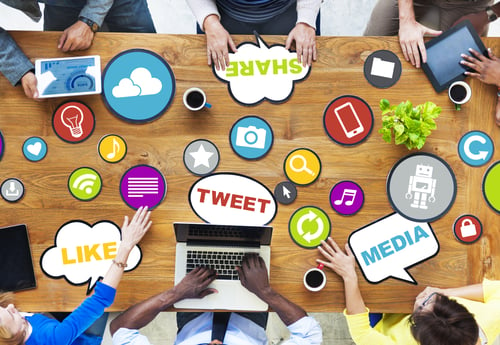 Previously, monitoring your competition was a manual process, spending hours scrolling through their social media feeds. Now, with HubSpot's release of their integration with Rival IQ, a social media analytics software, you can skip the hours of sorting through competitors.
For HubSpot Marketing Hub Enterprise customers, this integration means you can track up to three competitors right within HubSpot. How can you do that? By monitoring your competition with HubSpot's social media competitor stream. Let's show you how!
How to Set It Up
Head into your social media tool in HubSpot, clicking on the Monitoring tab
Scroll down to the lower left to find: Competitor Streams
Enter your competitor's URL
Head back to Competitor Streams to review a list of all your competitor's posts
How it Works
The tool allows you to add up to three competitors at a time, which gives you a streamlined way to compare and contrast their social media posts with each other as well as your own.
You can see which posts are getting engagements, both by the total number of engagements and overall engagement rate. The overall rate is calculated by dividing the number of interactions by the number of total followers for that particular account.
This HubSpot social media tool is also able to gauge when a competitor's post has been boosted. This will be indicated within the post with a "$ Likely boosted" notation.
If you want to dive even deeper into details, you can click on the post for more interaction information and the option of clicking to visit the native post on the competitor's social network.
See Also: How to Expand Social Media Reach Using Paid Social
Benefits
Keeping an eye on what your competitors are doing on social can help you shape your own social media marketing strategy.
Stay one step ahead of competitors
If you see your competitors are posting tons of info that generates tons of engagement, one of two things may be happening. Your competitors either have amazingly compelling content, or the audience is hungry for the info they're providing. Figure out what your own audience is hungry for, and adjust your own posting frequency and subject matter accordingly.
You'll also see where competitors are spending their budgets to boost posts to break through the noise. You can use this information to compete with them for similar positions, or establish a social media marketing strategy that combines organic with paid to win a coveted slot.
Learn from your competitors' mistakes
See a social post that totally bombed, or other posts that are being ignored? Now you know what not to do when posting on social.
Learning from your competitors' success
See a post that went viral, or other posts that are being shared, clicked and otherwise going crazy with attention? Now you know the type of material that can work well for your industry when posting on social.
See Also: How to Conduct a Competitive Analysis
Generate new content ideas
Perhaps you notice a certain type of content gets loads of attention, or you notice a gap of information your competitors aren't providing. Either scenario can kick off ideas for new content of your own to include in your social media marketing lineup.
Enjoy easy overview of all activity
Rather than manually visiting each social media stream of each of your competitors, the HubSpot social media tool makes it easy for you to review all your competitors at once.
Once you have insights on what your competitors are doing, you can create a social media marketing strategy that is stronger, more effective, and produces more interactive engagements. Want to learn more about putting HubSpot to work for you? Contact LyntonWeb today.