Using HubSpot's Social Media Tool to Reach Strangers, Prospects, and Customers
---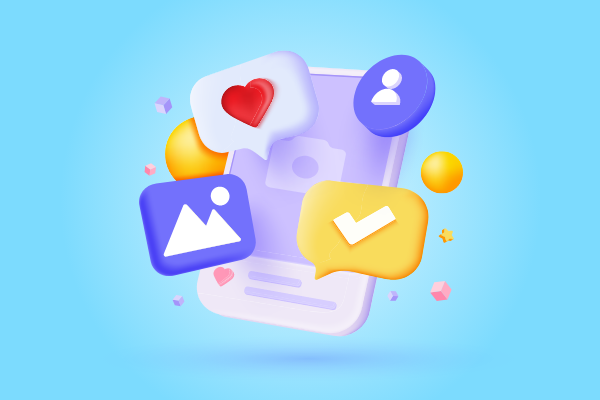 Social media can be a great way to connect with and engage your audience, but getting a handle on all your accounts, replying to messages and opportunities, monitoring your competitors, and otherwise managing a streamlined social marketing strategy can quickly become a time-consuming task.
As a busy marketer, it can become difficult to juggle social media between content marketing, lead nurturing, and other inbound marketing efforts. That's where HubSpot's social media software can help.
8 Reasons We Love HubSpot's Social Media Tool
You can publish from every account in one place.
You can monitor all your social media channels in one place.
You can search for new prospects on Twitter.
You can create custom Twitter streams.
You can schedule future posts on every channel.
You can easily see what posts are already scheduled.
Your analytics and growth are easily visible.
You can now search previous posts by typing in keywords.
Ways to Use HubSpot's Social Media Tool
Besides scheduling and sending posts, here are a few ways to use HubSpot's social media tool./p>
Meet and Engage Strangers
One of the best places to meet and engage strangers is in the thriving world of social media, and the HubSpot social media tools help you achieve it easily. Rather than hopping around your various social media accounts and sifting through batches of conversations, this social media software lets you monitor conversations, connect with fans and publish posts right from the HubSpot platform.
Connect Accounts to HubSpot
Your first order of business is to connect your social media accounts to HubSpot. To get there, in Marketing Hub, click the Marketing dropdown > Social. Options for connecting social platforms can be found by clicking the Settings gear in the top navigation bar.
Read on: Connect your social media accounts to HubSpot
Write Engaging Social Content
HubSpot gives you numerous ways to add extra oomph to your social content to increase engagement. You can:
Add emojis for a quick burst of personality
Mention or tag someone, which automatically stirs up a person's interest
Attach a link, blog post, or landing page to the post, providing more information for visitors to explore
Insert an image or video, with visuals serving as a powerful tool for attracting attention
Choose a specific time to publish posts based on when your audience is most likely to be online
Associate the post with a campaign, which can strengthen and extend its reach
See Also: [Free Guide] Social Media Community Manager Playbook
Seek Out and Nurture Prospects
Social media marketing can be highly effective for seeking out and nurturing prospects, and HubSpot gives you a strategic way to do that, too. One way to attract more visitors to your site is by creating content based on what people discuss on social media. You'll know what they're discussing when you monitor conversations in your hand-picked streams.
By creating different streams based on industry terms or competitor accounts, you can quickly review conversations for content relevant to your needs.
Some benefits of this feature include:
Keep an eye out for certain topics by including keywords or hashtags to look for
Enable notifications that tell you when mentions of your keywords or hashtags appear
Interact with tweets in your streams the same way you'd interact through your account
Build streams based on your current prospects and opportunities lists
Create streams for your competitors to monitor what's hot on their feed
Compare and contrast engagements and content across all competitors, or filter by specific competitors
Monitor Your Competitors
Speaking of competitors, it's important to keep an eye on them to see how they interact with prospects and what content resonates on their timelines.
The benefits of monitoring your competitors on social media include:
1. Staying one step ahead of competitors
If your competitors post tons of info that generates tons of engagement, one of two things may be happening. Your competitors either have amazingly compelling content, or the audience is hungry for the information they provide. Figure out what your audience is hungry for, and adjust your posting frequency and subject matter accordingly.
You'll also see where competitors are spending their budgets to boost posts to break through the noise. You can use this information to compete with them for similar positions or establish a social media marketing strategy that combines organic with paid to win a coveted slot.
2. Learning from your competitors' mistakes
See a social post that totally bombed or other posts that are being ignored? Now you know what not to do when posting on social.
3. Learning from your competitors' success
See a post that went viral or other posts that are being shared, clicked, and otherwise going crazy with attention? Now you know the type of material that can work well for your industry when posting on social.
4. Generating new content ideas
Perhaps you notice a certain type of content gets loads of attention, or you notice an information gap your competitors aren't providing. Either scenario can kick off ideas for new content to include in your social media marketing lineup.
Delight Customers through Service and Continued Improvements
Now that you've used the power of social media software to engage strangers and nurture prospects, your final move is to use it to delight customers. HubSpot gives you an efficient way to review and manage your social media engagements in a single place, making it easy to provide customer service and continued improvements.
Manage Social Inbox
Another key feature of the HubSpot social media tool is the inbox dashboard, which provides a rundown of all social media engagements. Having all your social media engagements in a single, convenient location allows you to:
Easily manage social engagements from a centralized location
Filter by account to pinpoint the specific information you want
Filter by data that matters to you
React and respond to service requests in real time from the convenience of the HubSpot platform
Identify content that generates interactions
Learn more about your audience by reviewing their likes, comments, reactions, and responses
Analyze Results
Dig even deeper and gain even more value from your social posts by viewing and analyzing reports that give you a rundown on the performance of your social media efforts. HubSpot social media software lets you:
Filter reports based on time periods, accounts, or campaign
View website sessions and contacts that originated from social media
Review statistics on the number of clicks and followers in your social accounts
Identify top posts, based on the number of clicks and interactions
Get Started with HubSpot's Social Media Tool Today
Whether you're meeting strangers, nurturing prospects, or delighting customers, HubSpot social media marketing tools let you do it with efficiency, ease, and results. If you need help setting up or managing your social media in HubSpot, Lynton can help. Reach out today.