A combination of two things can be particularly dangerous for inbound content marketers. One is a content publication deadline that's approaching faster than your most impressive page-loading speed. The other is a blank white screen.
The flashing cursor seems to glow brighter and brighter each second, mocking your total lack of content for the upcoming deadline. Instead of falling prey to the madness, or trying to hide beneath your desk, bust free of a content rut with one of these five easy techniques.
Create Videos
Instead of spending hours researching and writing a blog post, spend about five minutes recording a video. Videos are ideal for sharing a batch of how-tos and explanations. They're also great for SEO.
You can transform an unused office or old conference room into a ready made video studio that's at your service at the drop of a hat. Just add a backdrop, sound dampening panels and a few well-placed studio lights and you're done. Leave the studio setup set up for creating quick videos going forward.
Don't sweat the details in recording your video. It's about crystallizing a concept. Gary Vee is a master at this.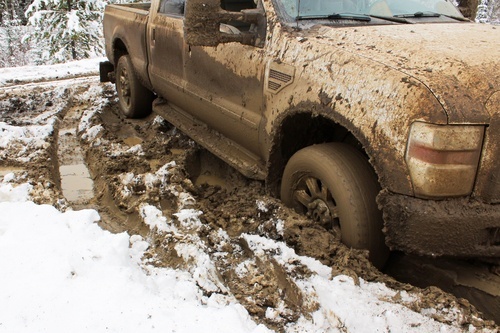 Make Lists
Fast, easy and potentially tons of fun, lists make for quick writing as well as reading. Online audiences continue to love them for their breezy appeal. So will you. Simply select a topic, pick your list items, and then fill in the blanks. The list gives you a handy outline to follow, cutting down writing time immensely.
Lists can be used for suggestions and tips, like five techniques to use for breaking out of a content rut. Or you can have a wild time with intriguing or humorous lists, like best inspirational quotes or six reasons dogs should be allowed in the office.
I like to make lists of 3,5 or 7 items. They are long enough to engage readers but not long enough to deter them from reading the entire post.
Make Lists with Images
Once you have a compelling list in hand, you can either sit down to write about each item – or head to your image sources to fill in the blanks with photos, illustrations or even video GIFs. A prime example of the latter is 6 Signs You're Not an Inbound Marketer, a list GIF post that still gets us hits nearly four years later.
Images work. Just ask Instagram.
Compile a Digest
Compiling a digest basically involves choosing between three and 10 articles on a related topic or published during a set time frame you'd like to share, and then sharing them. You write an introduction and conclusion, but can pull excerpts from the articles themselves to form the body of the article. Include links to the full articles so your readers can plunge into additional details if desired.
If your company creates a steady stream of daily content, you can provide a weekly summary of your own stuff. If not, compile a digest based on industry blog posts and news.
A weekly or monthly ICYMI (In Case You Missed It) email is a perfect way to highlight a digest.
Related: Stalled out for Blog Content? Follow the Buyer's Journey
Feature an Interview Transcription
Interview transcriptions can be especially helpful if your company's products or services are complex or technical. Set up an interview with an expert on your chosen product, service or topic, and you get an article that writes itself. Send your expert a slate of questions in advance so answers come easily.
Record the interview and either transcribe it yourself or send it to a speedy transcription service. Add an intro, conclusion, an image, a few internal links, and a closing call-to-action. Then smile as you submit yet another piece of content that breaks you out of your rut.
Keeping these five tips in mind can keep a healthy flow of content coming. Not only will you be able to stop hiding beneath your desk when content deadlines come rolling around, but you'll be able to sit up tall, with total confidence, in the face of a blank white screen.