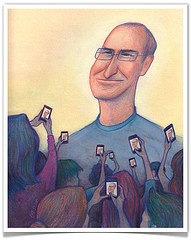 It's probably the most common question we hear. How can I prove it? How can I show value? How can I assure budget for next year? Is my inbound marketing investment working?
If you can commit to tracking a few standard metrics you'll be able to prove the value of your inbound program.
Since your success is ours too, we've created a simple template you can use in a discussion with your CEO.
Here's a quick tour of our Inbound ROI template:
Step 1: Identify a sales target for your inbound efforts. Be conservative. Inbound marketing is cumulative, results take time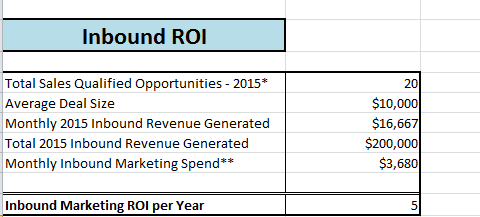 Step 2: Identify your average deal size. This should be a well known metric on your sales team.
Step 3: Once you know how many sales you would like inbound to generate and your average sale size you can begin to understand the potential revenue that could be generated with your inbound spend.
In the example above, a $3680 monthly inbound spend would generate a 5X return.
Admittedly, this a very high level approach with many assumptions. In the conversations I've had with CEOs and decision makers I can tell you this straight forward approach got us to the "Aha" moment. It's the moment where the person I'm speaking with clearly understands how inbound can impact the bottom line. And frankly, with the ability to tie inbound spend to sales results through HubSpot, many other questions are raised:
Q: "What is your total marketing spend"
A: "I'm not sure"
Q: "What is the current ROI of your existing outbound marketing efforts?
A: "I don't know."
Q: "How many marketing folks do you have now."
A: "1"
Q: "Doing what?"
A: "Blogging and social media in WordPress."
Q: "Making how much?"
A: "About 50K (USD)."
Then the conversation shifts a little around monthly inbound investment and how it can be comparable to having an extra resource (a digital agency) with a broad skill set available to them.
Many times we also discuss current website traffic and whether their website traffic can generate the leads they need or how we would go about increasing their traffic to generate more leads.
There are many angles to discuss. If you start with profitability rather than comparing inbound to outbound marketing, I've found that decision makers tend to pay attention earlier.
Take a gander at this template and if you would like a more detailed conversation well, let's make sure we do that.



Photo Credit: Photo Giddy via Compfight cc