According to CNBC's September Fed survey of economists, fund managers, and strategists, experts believe there's a 52% chance the U.S. could fall into a recession over the next 12 months. Multiple sources agree.
As a business owner, you may feel hopeless hearing this news. An economic slowdown doesn't have to leave you discouraged, though. You can utilize some of HubSpot's new tools introduced this year to equip yourself to weather a potential recession.
Disclaimer: The Lynton team cannot provide financial advice or strategies. The following are intended to be suggestions. Looking for Marketing strategies...that we can do.
HubSpot Payments
Have you ever purchased something from a B2B company and endured a clunky buying process? If so, do you want your customers to have a similar experience? Most likely not — especially when you want to bolster your revenue in the face of uncertainty.
HubSpot Payments eliminates the multiple hoops needed to purchase a B2B service or software and streamlines it. Instead of meeting with a sales representative and going back and forth with documents across different platforms, HubSpot Payments allows you to collect payment immediately with a quick link or form in your HubSpot CRM. You can also:
Collect recurring payments from customers
Manage your customers' subscriptions for recurring payments
Provide quick refunds
Send upcoming payment notifications and receipts
Review transaction history
Download reports on payment and payout or create custom revenue reports
Trigger workflows to thank, cross-sell, or upsell customers
How does all this help recession-proof your company? Here are some examples and explanations:
Easy one-time and recurring payments give your customers a better experience, making retaining them easier
Workflows, such as a thank you or follow-up after someone purchases something, shows you're invested in them, strengthening your relationship
Different payment reports give you a firm grasp on important KPIs, which is vital when navigating a potential recession
Multiple distribution channels (you can share payment links directly with a customer, add them to your website or forms, or insert it into an email) make it simple to diversify payment methods
An all-around better buying experience and increased revenue with little effort? Sounds like a win-win to us. All you have to do is set up the payments tool in your portal! Note: HubSpot Payments is available to U.S.-based customers using any HubSpot Starter, Professional, or Enterprise accounts.
Read More - HubSpot Payments for B2B Businesses
Data Quality Command Center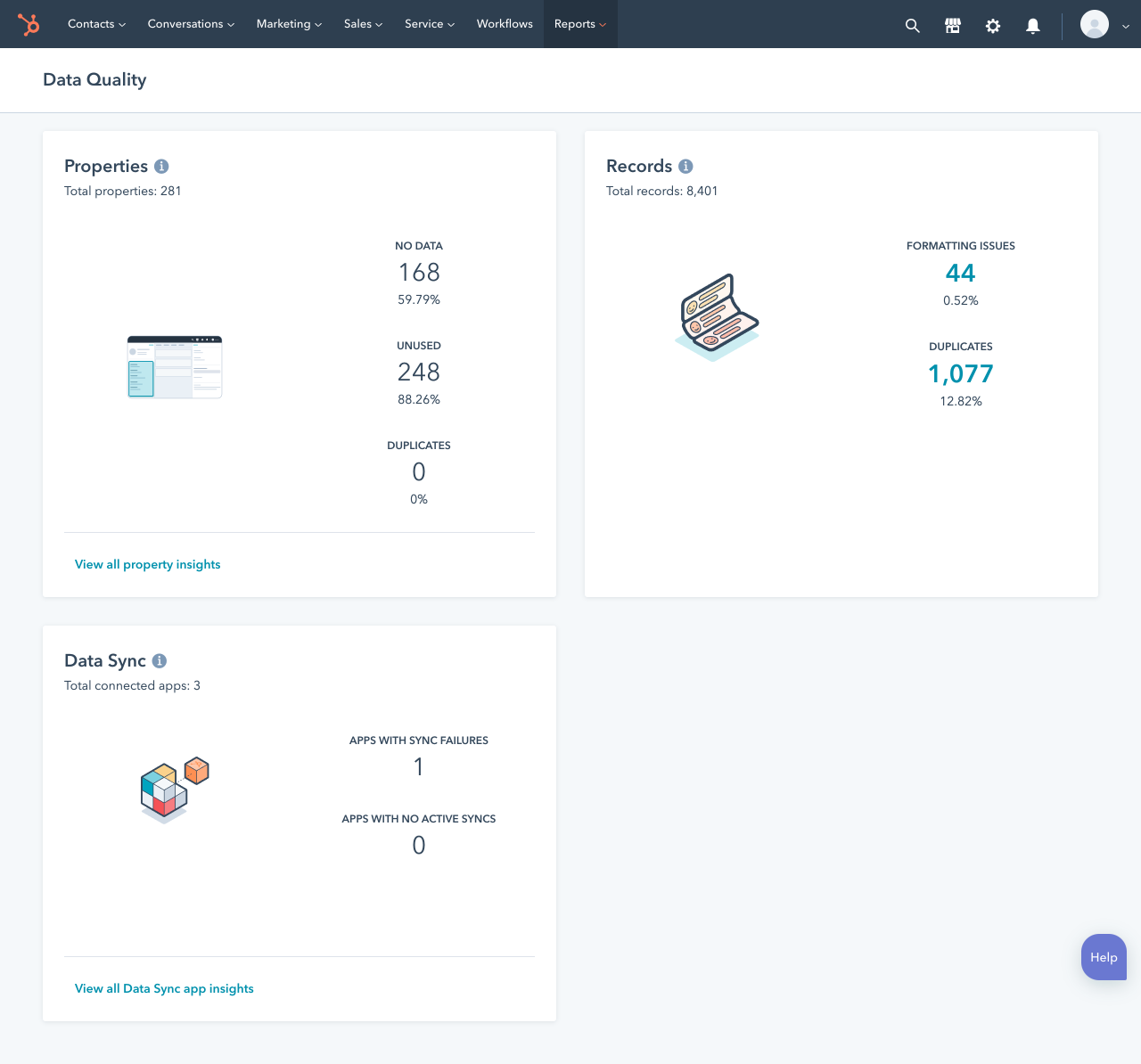 Having missing or unusable marketing, sales, or customer data in your HubSpot portal can lead to a massive slew of issues, from inaccurate workflows to missed opportunities.
For example, say a contact is missing its lifecycle stage, and your sales department doesn't know that person is ready for a demo. Or you have duplicates of the same contact who received emails in a workflow twice, leading them to unsubscribe. Neither of these situations is favorable when you're trying to maintain or increase revenue. Fortunately, HubSpot's Data Quality Command Center can help.
The tool gives you at-a-glance insights into the health of all of your HubSpot data. It evaluates all possible issues, such as unused or missing properties, data sync bottlenecks, formatting issues, duplicate records, and more. Using the tool, you can:
Discover the total number of contact and company properties in your account, as well as a trend report for any property issues, giving you a better sense of how often incorrect or missing properties appear in your HubSpot account
See which apps have sync failures or no active syncs because they've been paused, disconnected, or not activated — critical if you have an app associated with payment
Fix problems directly in the tool with a simple click of a button, allowing you to rectify bad data quickly
How does this tool recession-proof your business? According to a report by Validity, 44% of CRM users say poor data quality means lost revenue. That same study shows that these respondents believe bad data led to an over 10% annual revenue loss.
The Data Quality Command Center's purpose is to give you the information needed to improve the quality of your data. Then, you can utilize it more efficiently across your business, whether it's marketing warming up a lead, sales landing a deal, leadership carefully forecasting the next month, or customer success keeping relationships strong. Note: This is available for customers using Operations Hub Professional or Enterprise.
Customer Journey Reporting
Where would your business be without your leads and customers? You wouldn't exist. Harsh, we know, but cultivating a steady stream of leads and having a core collection of happy customers is vitally important to thriving during good and bad times.
Understanding how you acquired your leads and customers can help. With HubSpot's Customer Journey Report — currently in beta — you can see your customer's end-to-end journey with a report that views the impact of every interaction a contact has with your business. With a report like this, you can:
Determine which touchpoints work best across the buyer's journey (attracting, converting, and delighting)
Use data to optimize the most interactions that increase conversions
Segment customers and contacts based on specific inflection points in their journey
Personalize content and other experiences with current and future customers
Uncover any gaps in your marketing or sales process
See where contacts drop off and plug those holes with relevant content and interactions
As noted, this tool is still in beta, but shows great potential for helping any business worried about a looming recession. How? It assists you in creating deeper connections with current and future customers.
Gaining what you can and losing as little as possible makes riding out any recession more successful. That begins with developing and maintaining strong customer relationships — the end game of the Customer Journey Report tool.
Bolster Your Business with Tips From Certified HubSpot Consultants
The word "recession" naturally makes people feel anxious, but the trouble it may bring doesn't have to completely kneecap your organization. With the right tools and strategies in place, you'll be in a good position to keep your operations running smoothly.
Want to learn more about any of these tools or something else in HubSpot? Reach out to discuss your HubSpot account with one of our certified HubSpot trainers below.