Today's sales and marketing teams use multiple tools in their daily jobs. While using numerous technology platforms may seem like an advantage, in some cases, it can slow down your processes and seemingly bottleneck your progress.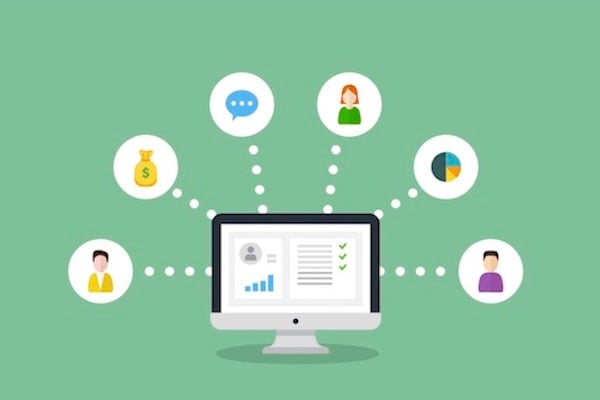 Generally, the issue isn't the number of tools you have in your growth stack, but rather, how they all work together. At LyntonWeb, we know a HubSpot integration with your CRM or other business application can resolve a lot of this disconnect. But with HubSpot's CRM Extensions, you can take it a step further, ensuring your systems work together and share data – without you having to log in and out of multiple interfaces to see results.
You can use any third-party software tool inside of your HubSpot CRM, as long as they have an integration. Here's everything you need to know to set up a successful CRM integration.
What is a HubSpot CRM Extension?
A HubSpot CRM Extension provides a view of external data in a HubSpot contact, company, or deal record. The extension allows you to access, create, and edit information hosted outside of your HubSpot CRM while giving your developers complete control over the user experience. For example, let's revisit the use of third-party software tools. Many sales executives use some platform, like PandaDoc, in their process to send contracts to their prospective customers. With a CRM extension, that information embeds into your HubSpot portal. Then, you can launch and use PandaDoc in the same browser as HubSpot. No multiple systems and no multiple logins!
Likewise, HubSpot integrations using these extensions can surface their own data in a card in your CRM sidebar for fields like contacts or deals. Once a deal or contact loads, HubSpot requests the integrator to retrieve the information associated with that record. Then it displays it on a card in the sidebar. From there, the users can launch a modal window from the card, giving users access to all the features inside the integrator software. While a lot is going on in the backend, the experience feels like the other software is seamlessly built into the CRM.
What Can a HubSpot CRM Extension Do For Me?
A HubSpot CRM Extension lets you customize the CRM experience for your team – whether they're in a sales, service, or support role. Currently, these extensions are commonly used in third-party applications like OrgChartHub, PandaDoc, Jira, and Zendesk. Our team has noticed opportunities such as:
Associating a deal with multiple service providers.
Granting contracts or companies access to specific content in their HubSpot membership portal.
Creating custom forms for CRM users to submit associated data about a contact, customer, or deal.
Completing custom quoting worksheets to generate price quotes for deals.
Displaying external data in HubSpot CRM without synchronizing.
Custom reporting and data visualization.
Interacting with protected data from on-premises systems like an internal database or ERP system.
Custom user interface and application integration, like building your own user interface in HubSpot for your business users.
Connecting business users to other corporate applications.
Building custom forms and data views that extend your CRM's data like sales expenses associated with a deal.
Real World Scenario
A HubSpot CRM customer sells training and consulting services which can be delivered by one or more outside consultants hoped to find a better way to view and manage consultants associated with an opportunity in their CRM (or a HubSpot deal).
A custom CRM Extension App can display the desired data fields and actions on the relevant CRM record – company, contact, or deal. HubSpot CRM now presents links and menu items to their users so they can interact with the data. This includes elements like adding new records, editing existing records, clicking on related contacts, and more.
Now, users can see relevant information about a deal's related consultants, including name, service start and end date, topic, location, project rate, trainer rate, and materials charged.
To Sum It Up
HubSpot is designed and intended to be simple for user adoption and ease of use. CRM Extensions help customize when necessary to serve your business's needs further. Through it, you can gain agility with your HubSpot CRM without sacrificing access to data or processes that you may already have in your existing system.
And at LyntonWeb, HubSpot CRM integrations and related services are our bread and butter. Contact us today to learn how we can help you experience higher productivity, faster sales cycles, and revenue through a CRM extension.