Did you know that the average mid-sized company uses anywhere from 80 to 150 applications to run their business? That can include HubSpot for their CRM, Zendesk for support, and MailChimp for email marketing.
And if a mid-sized company is using around 80, imagine how many tech solutions an enterprise company utilizes! With so much data filing in and out of different places, information can become siloed, and bottlenecks can emerge. When that happens, how can a company get an accurate, holistic view of leads, customers, and revenue?
With Data Sync in Operations Hub, of course!
So, What is Data Sync?
Data Sync is the evolution of PieSync + HubSpot. Data Sync is a two-way data sync that unifies all your contact and company data from 25 of HubSpot's most used and most requested integrations. Need to sync MailChimp information into HubSpot and vice versa? Done. How about Zendesk? Considered it synced!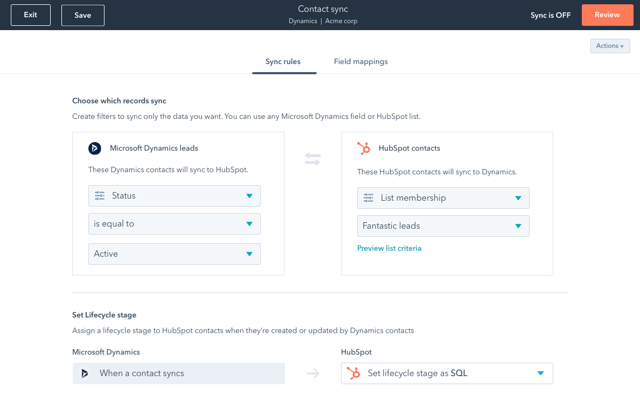 Data Sync was created to make it easy to connect all your marketing and customer data (including vital historical data) into your HubSpot portal, bridging them all together in a single spot so you'll never miss a beat again. You'll also never have to toggle between two, three, or four different platforms. Say goodbye to friction and hello to system alignment!
Why Are We Announcing Data Sync?
HubSpot acquired PieSync a while ago, making this type of two-way data sync possible. This may have you curious exactly why Data Sync is such a big deal. Other than its rebranded name, it's more powerful and comes native to HubSpot's newest solution, Operations Hub.
As a part of Operations Hub, Data Sync will help business operations teams move data to and from their various business applications and HubSpot. Then, they can tap into other business intelligence and data visualization tools to make the most out of that information. In simple terms, Data Sync will help companies grow by allowing them to make more informed, strategic decisions.
Why Else Might Someone Use Data Sync?
If strategic-decision making isn't your thing (which we doubt), there are many other valuable benefits to using Data Sync. Some include:
Instant and secure transfer of data
Bi-directional sync, which means what happens in HubSpot will occur in all your other platform connections and vice versa
Easy to use out of box field mappings (so you know the correct data is flowing in and out of your systems, like Salesforce Contacts to HubSpot Contacts)
Filters so you can find your information quickly and without worry
No manual processes like importing or exporting, preventing data duplication, or overwritten data
Pulls all historical data
Customizable to fit your needs
Marketing teams can offer better personalization and segmentation options based on their synced data
Sales teams can save time by eliminating manual tasks
Simple to download - just look for Data Sync's category in the HubSpot Marketplace
Most importantly, though, Data Sync gives you the time to focus on what matters most – your leads and customers. When you know more about your buyers, the better you can serve them and scale your business.
What Else?
As noted, Data Sync and Operations Hub are closely connected. To read more about Operations Hub, check out this blog. If you'd like to discuss Data Sync more, we'd love to chat. We understand the importance of having all your platforms connected in one secure place. Our team can also help take your Data Sync integrations up to the next level through customization. Let us know by reaching out!