Where a HubSpot User Can Benefit From Moz
---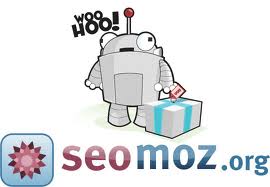 As a HubSpot Gold Partner and Inbound Marketing Agency, it probably goes without saying that we use HubSpot's software with each of our marketing clients. We use it for emails, blogs, landing pages, CTAs, you name it. Even though we love HubSpot, we are continually looking to provide additional reporting and SEO suggestions for our current (and future) clients - and Moz is a key tool we thought we should tell you about.
About 8 months ago I started to explore what Moz (formerly SEOmoz) had to offer. My experience since then has lead me to believe it is the most natural extension of HubSpot tools (and at a significantly smaller investment of $99 per month).
So for all of you HubSpot users, here are some benefits of using Moz, too:
The Community
Like any good digital marketing software company, Moz provides a ton of free educational tools ranging from blogs to videos to ebooks. Moz is from SEO roots and their community leans heavier on the technical side than HubSpot's community. If you start to feel that HubSpot's blog is a little too 101 for you, it might be time to take a peek at Moz's blog. There is a whole world of digital marketing knowledge for you to explore. A good starting point, if you are considering making the jump, is their Whiteboard Friday. This is about a 7 minute video every Friday that is both entertaining and full of actionable knowledge.
The Tools
What has surprised me about Moz is the number of tools they have available - both for free and for paying customers. I have learned something new and cool I can do within my subscription almost every month. A full list of tools can be found here.
Using the Moz tools has benefited us (and our clients) in some of the following areas:
SEO Improvement
Moz's crawl test and page grader give an actionable, easy-to-understand overview of how your site's SEO foundation is doing.
When I am starting to analyze a site, this is one of the first things I look at. Much of this data can be found in HubSpot or other tools, but Moz offers a very user friendly experience with this data. For example, the crawl test tool points out high priority items versus low priority (as you can see in the screenshot below) and the page grader highlights an easy fix versus what might be a little more difficult.
Competitive Analysis
Understanding what your competitors are doing that is currently working (or not working) gives you a significant advantage when planning your own strategy. Moz's tool, Opensiteexplorer.com, lets you see where your competitors are getting inbound links in virtually real time. This can help build a better strategy to increase your own relevant inbound links in order to expand your brand's reach, build relationships, and help your SEO.
Twitter Community
Followerwonk is fantastic. It allows you to have outstanding vision into your followers habits, your industry's Twitter community and your progress in building a Twitter community over time. I wish there was a similar tool available for both Google+ and Facebook. In my last article for Social Media Examiner, I took a deep dive into the process I use with Twitter.
Local Search
If local search is important to your business, Moz is a great community to get your questions answered. Their primary local search tool, Getlisted.org, allows you to see your current citations and gives you a handy to-do list to tackle.
There is also a breakdown of local citations by category that can help you prioritize your to-do list. In addition to these tools, a Local Moz is rumored to be in the works. I'm looking forward to the possibilities.
Adding Moz to my marketing mix has changed the way I do marketing. There is some overlap between Moz and HubSpot, but together both tools can be used to build an even more powerful inbound marketing machine.