The average visitor spends 59 seconds on your site, bouncing in less than a minute unless they immediately find what they need. Visitors have also come to expect instant responses to their questions, concerns or requests for info – without the hassle and delay of making a phone call or filling out a form.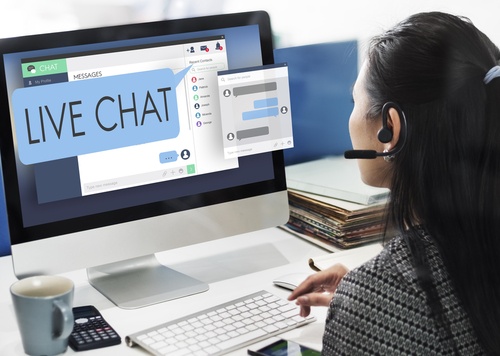 They want attention. They want it now. And live chat software can give it to them. Chat software is a growing trend that's transforming the future. A total of 56 percent of people in the 18 to 34 age range prefer live chat over the phone, compared to the 27 percent in the group aged 35 and up.
Websites without live chat software may be soon left in the dust in favor of competitors who can give visitors the instant answers and attention they require.
What Chatbots Can do for You
When used for customer service support, live chat has the highest satisfaction level out of all the customer support channels. Live chat weighs in with a 73 percent satisfaction rate, compared to email's 61 percent and phone's 44 percent.
Marketers have likewise discovered the power of chat software, using it to strengthen relationships, time conversions, and close sales.
Live chat software can help your company:
Gain more visitors: Review chat transcripts to create content based on frequent frustrations and problems people consistently discuss. When people search for those solutions, your website can be what they find.
Get more leads: Serving visitors at the exact moment they have a need results in more leads. People can instantly request a quote or more information, and you can instantly provide it.
Close more sales: Include the chat software transcript with each lead you add to your customer relationship management (CRM) platform, providing instant insight for your sales team. You can also create a custom workflow that triggers based on live chats, such as an automated follow-up email sent to visitors who start a chat on your pricing page.
Improve e-commerce: A notable 83 percent of customers end up needing some type of live support when making an online transaction. Give it to them, pronto, and you're more likely to get the sale.
Add a personal marketing touch: Adjust the text inside the chat box to align with users' behavior or source that sent them to your site. Visitors who came from a free trial link, for instance, can receive automated message concerning the free trail.
Save money: Companies that use live chat save an average of 50 percent on support costs. In addition to being easy to set up and launch, live chat software decreases response time and lets you create prewritten responses to increase efficiency.
See Also: 9 Tips to Best Handle Negative Online Customer Feedback
Using HubSpot Messages
Companies considering or already using HubSpot Sales Pro can take advantage of HubSpot Messages. This live chat tool doubles as all-in-on sales software, letting sales reps connect directly with visitors when they're most engaged in the buying process.
Additional features include call queuing and recording within your CRM, sales automation options and predictive lead scoring. You also get email templates, sequencing, scheduling and tracking, along with a setup that takes mere minutes.
Other Live Chat Software Providers
A number of other live chat software providers serve up options suitable for small to medium businesses. Live chat features are part of the deal with all of them, while each also has its own set of notable features.
Drift
Drift is busy replacing lead forms with chatbots to streamline the marketing process. Drift LeadBots qualify site visitors, identify the appropriate sales representative for further communication, and then book a meeting. It integrates with HubSpot.
SnapEngage
SnapEngage, which also integrates with HubSpot, combines live chat with social discovery. Once a visitor provides an email address, SnapEngage can search for profile connections in more than 20 social networks.
ZenDesk Chat
One of the top perks of ZenDesk Chat is the ability to switch among chats, emails, phone calls or social media messages to keep communication seamless on a variety of channels. It also features hearty analytics for measuring performance and success.
BoldChat
Fast setup and easy customization are two major benefits of BoldChat, which comes in Pro, Premier and Enterprise options. The Enterprise package contains the most advanced features, although many of those features are standard with other chat software.
ClickDesk
ClickDesk serves up an all-in-one software solution, featuring chat, videoconferencing and helpdesk functionalities. While it goes far beyond standard chat software with functions, it lacks real-time analytics.
LiveHelpNow
LiveHelpNow comes with a suite of customer service options that include call management, a knowledgebase and ticket-based support. It's also easy to set up, with features ready to go right out of the box.
Velaro
Versatile and competitively priced, Velaro offers an all-in-one solution particularly suited for e-commerce. The chat software is available in three pricing tiers, with features like customization, real-time monitoring, and file transfer as standard across the board.
Investing in live chat software can not only provide a high ROI, but it doubles as a means of investing in the future. As attention spans dip and the need for immediate attention rises, chat software helps ensure you're on the spot providing the help your visitors desire.