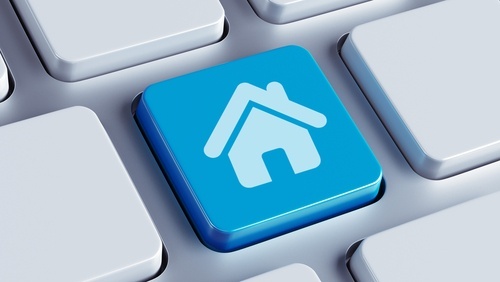 Did you know that it only takes 10 seconds for website visitors to decide if they are interested in the content on a website? Researchers from Microsoft came to this conclusion after recording the browsing data from over 2 billion page hits. 10 seconds is not a lot of time, so it is very important to make a great first impression to your website visitors. We recently discussed questions to ask before redesigning your home builder website. Once your website design is complete, what type of content should you include on your home builder website? Additionally, what other sites can you draw inspiration from and what are some best practices for writing website content?
Content to Include on a Home Builder Website
Customers who want to build their home look for specific types of content on a home builder website. These include:
Floorplans: Home buyers are searching for a certain style of home. Having a floorplan allows these customers to visualize their belongings in the rooms and allows them to see if the floorplans fit with their lifestyles. Use images to help sell your properties along with the floorplans. For example, Surge Homes

builds many cluster, condominium and town home communities in the Houston area. They have the floorplans for their homes conveniently placed on the individual community pages with photos and description of the homes.

Builder Information:

A builder's name and reputation is tied to the types of neighborhoods the builder has constructed. Having background information on the builder, their history, and previous awards offers valuable social proof for a potential buyer.

Communities: Home buyers will look for

communities that fit their lifestyle and their home buying needs. Is the community a close commute to their job? Is it near good schools? Is shopping easily accessible? If the community is right for them, they'll then begin to look a floorplans and price ranges.

Lifestyle:

This goes hand-in-hand with the type of community offered by the home builder. Potential customers are looking for areas that will match their way of life and which stage of life they are in. Younger families will be seeking information on schools, parks, pools and dog parks. Buyers who are over 55 are looking for communities close to health care facilities that offer group activities like golf outings, wine tastings and fitness classes.

Your Differentiator:

How is the community you are building different from those around it? This is a good place to include customer testimonials, awards, occupancy rates, and energy efficiency designations. Your current customers are an important selling tool and can help you stand out in the crowd.

Home Buying Guide:

A home buying guide is especially useful for home buyers. It can provide useful information on mortgages, financing, home inspections and moving and packing tips.

Amenities and Design Information

: Every home community offers amenities for its residents.

Home buyers can be attracted by a variety of different amenities. Amenities like pools, clubhouses, fitness centers should be pictured and described.

Contact Information

: Make it easy for potential buyers to contact you. This could be via an online chat feature or forms on your website. It is important to remember the flow of your website and what you want your visitor to do. If you want them to call you to set up an appointment, then your phone number should be listed on every page of the website. If you want to direct them to a form to have a salesperson call, then there should be calls to action that lead to a contact page with a form.
Best Practices for Website Content
How do you make the content on your home builder's website engaging and relevant so your visitor will stay on the site longer than the typical 10 seconds?
Know What Your Visitors Are Searching For:

Basic SEO research will determine what keywords your leads are searching for. Be sure to include internal links to pages to help the visitor along their buying journey. Remember your ultimate goal of converting a first time visitor to a home buyer.

Schedule Interviews:

Schedule interviews with current residents, prospects and other home builders to better understand the content that should be included on your website.

Quality Over Quantity:

Write engaging content that focuses on solving your prospects problems or pain points. Content should be natural and easily readable by your visitors. Connect with your audience by writing in a conversational tone without using industry jargon.

Use the Inverted Pyramid Method:

People often scan content instead of reading it word for word. We recommend putting your most important information first as most visitors rarely tend to make it to the bottom of a site page. Include a bullet point or a number system to make it easier for your reader to skim through the information. Break up the information by including internal headers on each page.

Site Navigation is Key: Are customers easily able to navigate around the site and find the information that they need? Make important content easy to be found by adding an internal search tool to your website.
Keep It Real
Having the right content on your home building website will differentiate your business from the competition. Use images and relevant information to keep the visitor engaged with your website by including floorplans, amenities, community and lifestyle information and contact information. Provide useful and relevant content that will turn a first time visitor into a new home buyer who you can then use for future testimonial interviews.