You hear about local companies struggling to stand up to large corporations all the time. And sadly, "shop local" bumper stickers don't seem to be solving the issue. Cypress Creek, a pest control company in Houston, Texas, was feeling the heat from larger corporations and knew they needed an inbound strategy to compete. While they had all the tools they needed for superior pest control, they lacked the tools to act on a full inbound strategy—which is where LyntonWeb stepped in.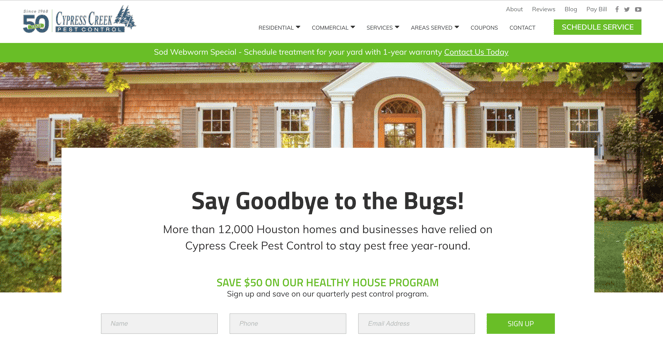 The Client
Cypress Creek Pest Control is a family-owned and operated pest control company serving the Houston area. Since 1968, they've provided quality and dependable pest control services to homes, agencies, schools, and other local businesses. They protect the health and property of over 12,000 homes and businesses in the state of Texas. And as of 2016, they are a QualityPro certified pest management service.
The Challenge
As a small, local business, Cypress Creek's primary challenge is competing with national brands like Orkin and Terminix. Because of their hyperlocal focus, much of their sales come seasonally, particularly from spring to late fall, despite pests being a potential year-round issue.
Beyond their size and location challenges, Cypress Creek lacks an internal marketing team, making even the most basic marketing actions difficult. Elements like PPC, blogging, and email marketing fell to the wayside – making their opportunities for gaining leads through inbound strategies very minimal. However, that doesn't mean the team at Cypress Creek lacked ideas in the past – just an outlet to act on those ideas. So, they reached out to a local agency to help grow their website traffic. But that agency only assisted with PPC, and Cypress Creek wanted a more robust inbound marketing strategy.
That's where LyntonWeb came in four years ago, to help tackle specific challenges such as:
Underperforming PPC started by a separate agency

No initiatives, content, or offers to grow organic traffic

Retaining their current clients, while increasing their base

Lack of a marketing department to implement marketing ideas
LyntonWeb's Solutions
Before zeroing in on specific campaigns and ideas, we knew Cypress Creek needed a user-friendly CMS and marketing automation platform to see success. Therefore, our first step was to implement HubSpot and its marketing tools to carry out our inbound strategies. After that, we were able to put specific strategies into action to grow their inbound leads.
PPC
Cypress Creek had seen some success with a pay-per-click (PPC) campaign but wanted to see even further results. After carefully doing keyword research and approving everything with the Cypress Creek team, we implemented Google AdWords, running different campaigns throughout the year, starting in April 2018 and ending in December 2018.
Their overall cost per conversion of $26.44 was well below the industry standard for professional services of $49.74. Other impressive metrics from their AdWord campaigns:
151,960 total impressions
4,234 total clicks
$2.01 CPC (below the industry standard of professional services $2.56)
1,559 total conversions (with the aforementioned $26.44 cost per conversion)
Blogging
Before working with us, Cypress Creek's website didn't have a blog. Because blogging is an excellent tool for traffic, engagement, knowledge, and conversions, we knew right away we had to begin publishing articles on their site. We started with sporadic scheduling, but by last year, were able to write three high-quality blogs with relevant CTAs a month successfully.
The top three blogs of 2018 collected great views for this tiny-market company:
How a Mice Infestation Can Affect Your Health – 3,340 (with a 3.71% CTR on its CTA, 3,011 new entrances, 5 contacts, and an average 4 minutes on the page)
Why Do I Have Ants in My Bathroom? – 2,812 (with 2,726 new entrances, and an average 3 minutes on the page)
Identifying Asian vs. German Cockroaches in Your Home – 2,101 (with 1,940 new entrances, 2 new contacts, and an average 3 minutes on the page)
While working with Cypress Creek, we've been able to amass an average of 290-296 blog views per month for their top five blogs.
Landing Pages
Cypress Creek hadn't used landing pages as a resource for converting contacts before their HubSpot implementation. HubSpot's landing page tools made it easy for us to create several landing pages for the company. Through A/B testing of their copy, CTAs, images, and forms, Cypress Creek was able to succeed. For their top three landing pages of 2018:
Schedule Service (the most direct way for them to receive business)

1,794 views, 364 submissions
20.29% view to submission rate

Coupon Savings

2,106 views, 395 submissions
18.76% view to submission rate

$50 Offer

1,045 views, 27 submissions
12.15% view to submission rate
Research done by Unbounce shows a 12% submission rate is good across ten popular consumer industries – making Cypress Creek's above average.
Emails
Another tool we began utilizing after introducing Cypress Creek to HubSpot was the platform's email marketing capabilities. Before our relationship, Cypress Creek wasn't able to segment users into different email lists, making their email campaigns less effective, due to the fact Cypress Creek targets two very different audiences: residents and commercial companies.
Now, after taking the time to determine their various segments, they use HubSpot to send information to the right people at the correct time. For example, they now have regular lists such as:
Residential Leads
Residential Customers
Commercial Leads
Commercial Customers
These users get monthly newsletters, along with specific email campaigns based on the season or ongoings in the company. They perform exceptionally well for their industry, as well. The industry average for professional services such as pest control are:
Cypress Creek's overall average email metrics are:
Thanks to HubSpot's segmenting capabilities, we were able to show Cypress Creek how to send hyper-focused emails to specific lists. In doing so, they see average metrics such as:
50-67% OPR (with a recent email achieving a 100% OPR)
12-16.67% CTR
The Results
Cypress Creek surpassed every goal they set in 2018 – including meeting their revenue goals for the year. Here are the specific goals they accomplished:
Total HubSpot Sessions
Goal: 24,094
Actual Amount: 36,242
Total Organic Blog Views
Goal: 11,070
Total: 20,775
They also set out to have well-diversified traffic, which they also achieved.
And most importantly, their combined inbound tactics helped them generate quality leads, smashing their previous year's work by up to 280%.
Lasting Impact
While the numbers speak for themselves, the real lasting impact of Cypress Creek's inbound growth with HubSpot and LyntonWeb comes from the strong relationship and trust built and fortified between the two companies. The CEO, Zach Ivey, sums it up:
"As a small family organization who services a local community, we found ourselves struggling to compete with national and regional brands. Not only did LyntonWeb help us overcome that, but they also created an inbound strategy that helped us exceed our revenue goals last year. And throughout our four-year partnership with LyntonWeb, we've routinely been pleased, which prompts us to keep working with them to see what else we can do to grow our website traffic, leads, and customers."