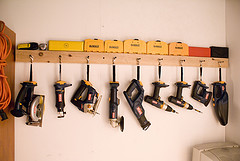 One of the aspects I like about being an inbound marketer is the opportunity it gives me to blog. Unfortunately, blogging for LyntonWeb can take a backseat to client work. The cobbler's children have no shoes - yes? To speed things up and stay efficient, I use three power tools when I blog. These tools help me create more valuable, readable, and shareable content on a regular basis:
1. HubSpot
HubSpot is a huge power tool here. I love all the checks on metadata and SEO checklist that the blog module offers. It's not just about writing relevant content. It's also being sure your content has attributes that will get it noticed by Google. After posting a blog, I pop over to HubSpot's Social Inbox and share it across a variety of social channels.
2. Hemingway
The Hemingway App assures the content that you write is not too complicated or confusing for your readers. It gives you the grade level of your content and highlights sentences that are hard to read. You'll also find that the effectiveness of your writing will increase with regular use of Hemingway.
3. Compfight
Every post can use an impactful graphic or picture. Compfight has millions of free pictures. You can search on a particular keyword or phrase for the best pictures available. There is HTML code for proper attribution of each picture and different sizes are available for download. If you don't want to worry about attribution, you can use a site like Thinkstock which has a variety of image download packages.

Give the tools above a try and I think you'll find that your content creation process will improve and you'll also become a better writer! Do you have any other blogging tools you just can't live without?
Photo Credit: bradjustinen via Compfight cc