4 Great Houston Marketing Meetups
---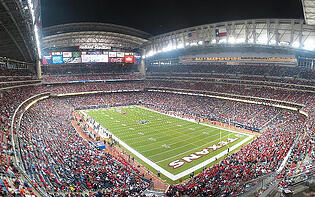 The Houston Rodeo. Great restaurants. Diversity. A booming energy industry and the country's number one job creator.
NASA. The University of Houston. Beyonce. Oh yes, and the Houston Texans ( Don't argue with me). These are just a few of the 1,000,000 reasons that Houston is the greatest city. In the world. And I'm not just saying that because I'm a native Houstonian. I'm saying it because it is a statistical true fact (according to myself).
Besides the fact that our office here at LyntonWeb is based in the heart of Houston, we also have some great places for inbound marketers to get together and discuss blogging, websites, and conversion rates. Oh my!
So whether you're a Houstonian and looking for people to discuss your unhealthy obsession with inbound marketing with, or you're visiting (and you've decide you love it and want to move here), here are 4 great Houston marketing meetups you can join:
1. Houston Interactive Marketing Association:
Check out HiMA for luncheons, workshops, webinars, and social networking events based around digital marketing topics. They even host marketing career fairs and interactive strategy conferences. You can join HiMA with a small membership fee (which differs between students, businesses, corporations, and non-profit organizations).
For more information visit the Houston Interactive Marketing Accociation site.
2. AMA Houston:
The Houston Chapter of the American Marketing Association provides a broader variety of topics for marketing professionals with over 30 events each year, networking opportunities and job referrals. You can join AMA Houston as an individual member or as a part of a group. Membership even includes discounts and special offers to places and events around Houston!
For more information visit the American Marketing Association's Houston chapter site.
3. Houston HubSpot User Group:
This is a online marketing group that strives to bring "Houston online marketers together to learn, network, inspire, and have fun." Not only is this is a free group to join, it is also led by yours truly, and LyntonWeb's Marketing Manager Virginia. While many of the members are HubSpot users, the only requirement is that you have a passion for online marketing!
For more information visit the Houston HubSpot User Group website.
4. Social Media Breakfast Houston:
If you're a morning person and you love social media, check out this event on the 2nd Friday each month from 8:30-10:00 am. With relevant and timely topics focused around social media, and no admission, this is a great place to get together and network and learn about how you can apply social media to your business.
For more information visit the Houston Social Media Facebook page.
So, there's 4 more reasons that Houston is better than your city. Which event will you be going to next? Let me know!