Creating great content is a crucial component of any solid inbound marketing strategy plan. It helps educate and entertain your leads, grabbing their attention and moving them along the buyers' journey until they're ready to become paying customers. However, that can only happen when you distribute said content.
So, naturally, a content distribution plan needs to go hand-in-hand with your content marketing plan. But, if all you can think of when you hear "content distribution" is tweeting a link to your blog, don't worry. There are many ways to promote your content – some old-fashioned and some you may have never considered. Here are some of our favorite ways to distribute content.
Medium
A great way to distribute – and extend the shelf life – of any of your content is through a content publishing or republishing platform like Medium. Syndicating your content to Medium is free, and straightforward.
One of the best ways to begin using the service is to republish an article from your blog one to two weeks after its original publication date. At Lynton, we publish the first few paragraphs of our blogs then link back to our website, helping to establish a backlink presence to increase our content's SEO.
Another great benefit of Medium is its highly-trafficked front page. If your content receives enough views or recommendations, you can be featured on it.
Social Media (The Less Obvious Tips)
While sharing your content on social media platforms like Twitter, Facebook, LinkedIn, and more is generally an obvious move, there are ways to go deeper than just only posting your content's links to these mediums. For starters, you could install "social sharing" button across your blogs to get your online visitors to do some of the work for you.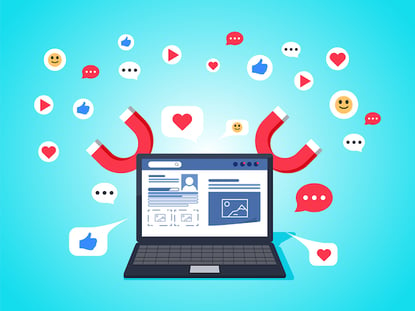 But when it comes to your team distributing content on social media, you create a unique message tailored to each of your company's social platforms. For example, Twitter has the least amount of characters allowed in a post, so you may need to get creative with abbreviations. Twitter's news feed also moves faster than any other social media channel so you may need to employ different eye-catching strategies like, "In case you missed it" or related phrases and hashtags. LinkedIn is considered more serious and used in a more professional setting, so being overly friendly here may come off as ingenious. And with Facebook or Pinterest, for example, you can rely more heavily on informal tones and images or even use a "meme" to distribute your content.
Another way to dive deeper in distributing your content on social media is to search for relevant groups on Facebook and LinkedIn and post your content there, reaching a highly-targeted audience rather than blasting it to your general group of followers. Be careful not to post too frequently to these groups and steer clear from sounding too much like you're doing a sales pitch; you don't want to come off as "spammy" when distributing your content!
LinkedIn Publishing
You might be saying, "I thought we talked about LinkedIn?" While we have mentioned it, LinkedIn Publishing is a separate entity from posting your LinkedIn business page. Similar to Medium, LinkedIn Publishing is a way for users to self-publish, syndicate, and distribute content.
This platform is excellent for your leadership to create their mini-blogs, or for individual members of your marketing team to re-publish their work from your company blog to their personal LinkedIn account. Similar to Medium, at LyntonWeb we publish the first few paragraphs on a blog on LinkedIn, then re-direct viewers to our blog's original link on our website.
What's valuable about distributing content on LinkedIn Publishing is your connections will receive notifications when you publish something new that includes your blog's title. This up-front approach helps drives views and clicks to your content.
Email Signatures
An often-overlooked method of sharing your content is utilizing your company's email signatures. You can add it to your signature or have your entire sales, marketing, and customer service teams provide links that send your email recipients to your blog or landing pages. The more signatures, the more opportunities to direct people to your content!
If you're worried your signatures may not look uniform across your multiple teams, tools like Google Business or your internal graphic design team can ensure a consistent, branded look.
Public Relations
One of the original ways to get your content out there relies on good old-fashioned public relations.
Whether or not you have a dedicated public relations specialist – or someone willing to take on the task – you should consistently pitch your best content to industry publications or journalists. Having your brand or company on an industry website or news outlet is only beneficial to your business's credibility and website traffic. But journalists receive hundreds of emails a day, so you need to do something to stand out, like a thought-provoking subject line or headline for your press release.
If you don't have the bandwidth to reach out to journalists on your own, there are tools you can use to help distribute your content. Resources like Cision allow you to post your press releases to their newswire – enabling journalists who write about your industry to pull quotes from it or republish it to their outlets. If you want to get a quote or other information in a news article or industry magazine, you can use the resource Help-A-Reporter-Out (HARO) to find opportunities to speak to a journalist about your company or service.
Content Distribution Networks
A content distribution network or discovery platform offers paid and free opportunities for you to spread your latest posts. Services like Outbrain and Taboola aim to get your content listed on the bottom of blogs from high-profile sites like CNN, Time, or ESPN.
Flipboard, a news aggregator, allows you to create your magazine. You can select what stories or content you want to feature, publish it, then share the link through your social media channels or email campaigns. Like Medium, they have a front page that promotes the most engaging content.
Guest Blogging
Guest blogging may not be a direct way to distribute your content – but it is an avenue to highlight and promote your writing on relevant sites that interest your audience. It also helps boost your credibility and increases your SEO. And if you're lucky, you could establish a strong relationship with a like-minded brand!
To use it as a vehicle of content distribution, you could backlink to your blog within your guest post or add links to the latest piece of content in your guest author bio.
To Wrap Up
We hope that when you're ready to promote your next blog or landing page, you don't settle at just using social media at its face value. In fact, by utilizing some or all of these content distribution methods, you should see increased success spreading your offers to your audience and beyond. If you'd like more ideas or help setting up a plan, reach out today.