How does 67 percent sound? That's the increase in leads you could see if your healthcare organization incorporated blogging into your B2B healthcare marketing plan. But you don't want to just start blogging with no game plan in mind.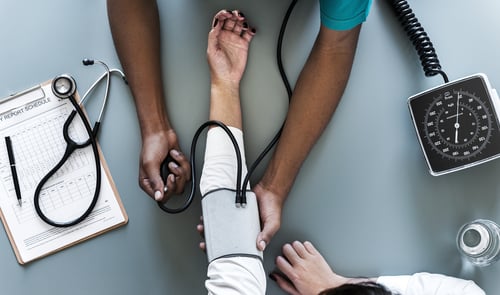 Organizations with the top B2B healthcare blogs all share the same goals:
They listen to their clients' questions and concerns.
They communicate in a manner that clients understand.
They teach the audience, which provides value and builds trust.
They help clients solve their problems.
To give you a good idea of what those elements look like when put into blog format, we rounded up five B2B healthcare blogs that can serve as inspiration for your own blogging efforts.
Kareo
The Company: In 2004, company founder Don Rodrigues set out to change the world of independent medical practices. The result was Kareo, a company that provides software as a service to thousands of medical providers. Clients can choose from software designed to streamline medical billing, patient engagement, marketing and more.
The Blog: The Kareo blog makes the list of top B2B healthcare blogs for its resources library alone. The library features an extensive lineup of articles designed to help individual practitioners deepen their knowledge and better their business. Topics range from privacy to compliance, from patient care to reputation management. The format makes it easy to search, browse and find articles that align with specific interests and needs.
CareCloud
The Company: Since 2009, CareCloud has been on a mission to provide the healthcare industry with tools that are as well-designed and easy-to-use as those found elsewhere throughout our daily lives. The result is cloud-based practice management software that helps practices run more efficiently and smoothly.
The Blog: The CareCloud blog hits the B2B marketing target by delivering blogs geared around their software solution. You'll find articles as well as case studies that showcase success stories from a wide range of practices. You'll also find press releases and webinars that provide a variety of different content types, proving that effective blogging can go beyond articles and the written word.
Cerner
The Company: With a client base that extends to more than 27,000 facilities across more than 35 countries, Cerner provides worldwide technology solutions for medical providers. Those solutions help with operational, clinical and financial needs of organizations of all sizes.
The Blog: Highlights of the Cerner blog again include a variety of different content types. Podcasts and news releases are published side-by-side with current events and compliance news. You'll find a variety of B2B healthcare topics designed to educate and bring value to the audience, with subjects that touch on everything from medical innovations to regulatory updates.
KanTime
The Company: Founded in 2007, KanTime provides software designed specifically for agencies in the home healthcare and hospice industries. Its cloud-based platform can increase the efficiency of everything from billing to appointment scheduling, from payroll computation to human resource management.
The Blog: While the company may focus its products on the home healthcare sector, the KanTime blog extends the company's reach by covering topics relevant to all types of healthcare providers. The blog smartly focuses on issues shaping the entire industry, a savvy move for B2B healthcare marketing by positioning the company as an authority and leader in the field.
Athena Health
The Company: Athena Health provides cloud-based solutions that include electronic health records (EHR), patient engagement and practice management services. Its services extend to healthcare organizations of all sizes, from single-person practices to hospitals and health systems.
The Blog: With categories that range from practice management to interoperability with all things EHR in between, the Athena CloudView blog is stocked with valuable information and insights. The blog scores high B2B healthcare marketing points for its overall goal of helping physicians, medical groups and health systems remain informed and profitable in the challenging industry environment.
Now that you have a solid overview of what effective healthcare blogs look like, you can more easily craft a game plan for launching or enhancing your own. Want help with your blog or otherwise boosting the power of your B2B healthcare marketing? Contact LyntonWeb today.