Starting a blog is a commitment that should be taken seriously. While you may be eager to get started writing and publishing blog content, there's a list of things you should do first to set your business blog up for long-term success.
If you already have a blog but it isn't performing as well as you want it to, the exercises and tactics in this article will help you audit your blogging strategy and come up with a fresh approach.
To start, define your blog's purpose.
Before you decide what to write about, you need to figure out "why?". Why is this content important? Why should people listen to you? There are millions of pieces of content being published every minute online. If you really want your content to stand out, then you need to determine your blog's "why?". Ultimately, you'll want this to align with your business's purpose.
For example, Ahrefs, a data-driven marketing toolset powered by a huge index of backlinks, keywords, and content, offers a blog that's purpose is to "help you get better at SEO and marketing: detailed tutorials, case studies and opinion pieces from marketing practitioners and industry experts alike."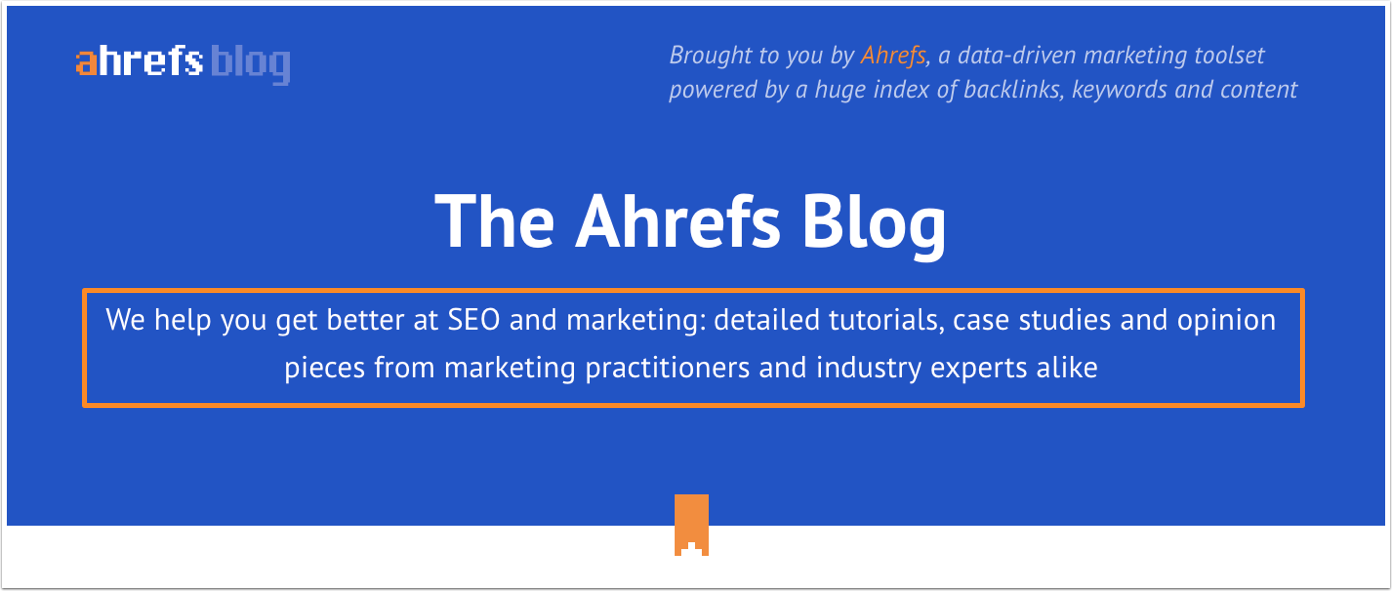 Not only does Ahrefs tell you their purpose, but they offer the types of pieces you can expect like detailed tutorials and case studies.
Once you define your purpose, identify your audience.
This starts with understanding your business's buyer personas.
Buyer personas are semi-fictional representations of your ideal customer based on real data and some select educated speculation about customer demographics, behavior patterns, motivations, and goals.
If your business doesn't have a buyer persona identified, then make it a priority. You can create your personas for free using HubSpot's Make My Persona tool.
Next, set clear, measurable goals.
Before we jump into creating specific goals, let's talk about how they should be structured. Consider creating S.M.A.R.T. goals. A S.M.A.R.T. goal is defined as one that's:
Specific
Measurable
Attainable
Relevant
Timely
Here are four goals to consider making a priority:
Let's start with organic traffic.
Organic traffic, which is non-paid traffic coming from search engines, is the most common goal for business blogs, especially in the early stages of your blog when you're focusing on building your readership. The more relevant people you're able to attract to your blog, the better. Let your content start a relationship with them, which can grow into them becoming a lead, a customer, and then, hopefully, a promoter of your brand.
If you're looking for a place to get started with a goal for traffic, consider increasing organic search engine traffic to your blog by at least 6% per month. Why 6%? Because a consistent 6% increase month over month for a year equals a 100% total increase.
Next is email opt-in rate.
Again, traffic to your blog is important. There are many helpful ways to increase your blog's traffic: search engines, social media, and so on. Another one is increasing the size of your email list. If you make email opt-ins a priority on your blog from day one, then it'll pay off later in ongoing traffic to your posts.
If you're looking for a place to start, consider striving to convert 20% of your incoming traffic to subscribe to your email newsletter. A conversion like this won't happen overnight, but it can happen over time if you hold yourself accountable for creating quality, consistent content.
Which brings us to the next point, content creation.
If you want to increase your traffic month over month and have a healthy stream of people signing up for your email newsletter, then you need content — high-quality content — and you need to create it often.
If you're looking for a place to start and depending on your bandwidth, consider creating one new blog post every other week. If you have more bandwidth for content creation, then make your goal one blog post per week. But when it comes to setting a blogging quota, focus on quality, not quantity. One quality blog post per month is going to provide more value than four mediocre blog posts.
There are 52 weeks in a year. Let's say you blogged every other week. That's 26 blog posts in just one year — there's so much potential here to think bigger than just your blog. For instance, think about how to recycle your blog content into other strategic initiatives like a guide or a checklist.
Here's a pro tip: Think of each blog post as a puzzle piece towards a larger picture. For example, if you want to create a new offer on your website every three months, then consider using some of your blog posts as a way to help you build that content.
That's exactly what I did with a step-by-step guide that I offer on my website, wildwewander.com.
I outlined an offer I wanted to create;
I identified eight blog posts I could write to help me get there and wrote them over the course of eight weeks;
I repurposed and expanded that content into a comprehensive how-to guide;
And I used the content from the guide to create an educational site page.
And how's the content performing? The educational site page received over 16,500 visits from search engines over the past 12 months.
For context, that's a 574% year-over-year increase in traffic. Put the time in early, and it'll pay off in the long run.
And lastly, make connections with industry influencers.
Working with influencers should be a big part of your business's overall inbound marketing strategy. Who are the thought leaders in your space? Who shows up often when you Google your topics? If you can find a way to collaborate with them, then you can form a symbiotic relationship.
If you're looking for a place to start, consider building a relationship with one new influencer each month. You can do this easily by reaching out and letting them know about a piece of content you're working on and getting a quote from them.
If you include others in your content, then they'll most likely be willing to share it once it's published.
Next, do research online.
There's no use in starting from scratch. More likely than not, people have already written about what you want to write about.
Google a topic and see what's already ranking well.
Researching the topics you want to write about on Google is always helpful. Doing so gives you insight into what content already exists and where you might be able to provide even more value than what's being offered. The last thing you want to do is say something that's already been said before. That would just be creating noise, and noise isn't helpful.
Here's a pro tip: When doing research for a target keyword, build a spreadsheet and dig in and analyze the first page's top 10 search results. Your spreadsheet should have the following columns that can be filled out for each search result listing:
Rank
Page title
URL
A list of notes on what you like about the content and how it could be improved. It's important to determine how you'd provide new value or meaning, as this will help you identify opportunities to create additional value.
Next, allocate resources to staff your blog.
If your goal is to create quality blog content often, which it should be, then you need to staff your blog properly. Consider starting with someone who splits their time as a writer and a strategist. Here are a few things this person will own:
Define what your blog's purpose is, and what strategy is going to deliver on that purpose.
Identify performance metrics (views, comments, etc.).
Create a set of blog guidelines (this will be handed on to other people as you grow your blog).
As your blog grows, and you want to produce more content, you can make additional hires. And as you bring more people on, that first hire can move into more of a Managing Editor position that oversees the blog.
If you're looking for a place to start with hiring writers for your blog, consider hiring a freelancer that works remotely. This is an effective way to grow your team while keeping costs low because you don't have to form a long-term commitment with a new employee. I recommend starting with Indeed.com and LinkedIn when posting positions for freelancers.
And lastly, use your blog to fuel a topic-driven content strategy.
Blogging is just one facet to your overall content strategy. If you want to have your website show up organically on search engines, then you should strongly consider implementing the topic cluster model. This model uses a more deliberate site architecture to organize and link URLs together to help more pages on your site rank in search engines – and to help searchers find information more easily.
This architecture consists of three components. Let's review each in depth.
One, pillar pages, which cover a broad topic in depth and are linked to a cluster of related content. These pages are seen as the north star educational resource on your site on a specific topic, and your intention is to have them rank for more difficult, higher volume keywords on search engines.
Two, subtopic content, which is a series of content assets that form a cluster of relevant content around your pillar pages. This type of content includes blog posts that focus on more detailed, longer-tail keywords in support of the topics you want to rank for.
And three, hyperlinks that connect the cluster of related content together. At a minimum, it's important to link all your subtopic content assets to your pillar page. Again, this helps pass more authority to the page which can help boost its search engine visibility while at the same time, providing a helpful next step for the reader.
For example, I wrote a guest blog post for Airstream on how to live and work from the road. This post, along with many others, is a subtopic content asset which links to this pillar page on my website for how to become a digital nomad.
A primary goal of this pillar page is to encourage people to download a copy of our practical transformation guide.
How's this page doing? Well, because I've been busy continuously writing guest blog posts as subtopic content assets with inbound links that point back to the educational site page, in less than eight months the page is hovering around the middle of the first page of Google.
You may be asking yourself, "what is an inbound link, and why are they important?" An inbound link is a link coming from another site to your own website. Inbound links help increase domain authority. Domain authority is a prediction of how well your website will rank on search engines. The higher your domain authority, the more credible your content will appear to search engines. And if search engines think your content is credible, then it's likely you'll see an increase in rankings.
If I want to claim that coveted first position on Google, then I need to keep building authority to the educational site page — which I most definitely will!
And that's it. Six things you should consider doing before starting your blog. Taking your time with this part of the process will set you and your business's blog up for long-term success.