Blog This Much To Increase Traffic 3X - Inbound Marketing Highlights
---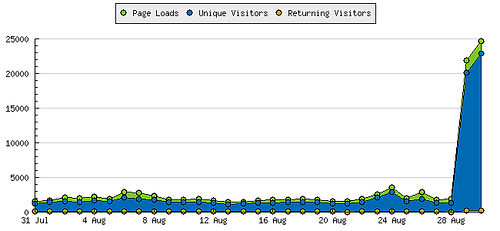 Hi, I'm Roman; and this is Mike. How was your inbound marketing week?
This week's inbound highlights hand-crafted just for you, straight from the HubSpot oven.
Is CRM enough? - How much is enough? How many yachts can you water ski behind? Wait. Sorry, please forgive the 80's reference. And CRM isn't enough. A CRM system typically kicks in when a visitor becomes a lead. Think of all the brand interactions and website visits that occur before a lead is created. A CRM doesn't address that portion of the buyer journey. A marketing automation system does. CRMs and marketing automation systems should be used in conjunction with one another.
Content Marketing Tips: 5 Cues Every Cool Content Marketer Should Take From Rap Music - Does your content have swagger? Sounds a bit like a computer virus. One thing valuable here is the notion of image. You only have a few seconds to capture someone's attention. You might have the best content in the world but a less than professional graphic or a misaligned page could be the trigger that sends a visitor off to your competitor's website.
How Often Should Companies Blog? [New Benchmark Data] - Generally, the more blog posts the better, with the tipping point to increase traffic significantly is about 400 blog posts. I've always liked the notion of blogs as everlasting content. Once a blog is published it can generate leads and traffic in perpetuity. Unlike a paid ad that will eventually go away a blog is yours to keep forever. Any resources or funds used in the creation of a blog will continue to have a return on investment.
Email Marketers: How to Increase Email Open Rates - Best practices will always be changing. Whatever best practice you may have been using may not be a best practice anymore. Be sure to do the research and test emails. Increasing email open rates is a constantly iterative process and involves consistent testing.
The Anatomy of an Optimized Web Page [Infographic] - A good reference for you. One nugget and something folks tend to forget is filenames for graphics. Google will use filenames as a signal in search. Name any graphical or advanced content files with search relevancy in mind.
Hey you, it's Spring! Go have yourself a wonderful day!