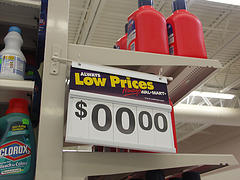 Well, Walmart finally went and did it. After carefully studying our own LyntonWeb blog, Walmart decided to follow our lead and launch its own blog. You can thank us later guys!
Ok, we are kidding!
Well, we aren't kidding about Walmart's new blog.
It will be interesting to see how Walmart's blog will help evolve America's retailer when it comes to Walmart's transparency as well as its authenticity. This is a huge opportunity for Walmart to showcase its customer commitment through content marketing.
The mission for their new blog:
---

"Our goal with this blog is to tell real stories that you might not have heard, and our hope is that we can bring you a renewed perspective about our company."
You may not be a giant corporation like Walmart, but launching a blog is an easy way to create relevant content and increase traffic to your website. Optimized blogs are also a great way increase your organic search results and improve SEO. If you think it's going to take too much time to write a blog for your company, think again. You an easily write a quality blog article in 60 minutes or less.
If you're still debating whether content marketing really does work, data proves that blogging trumps traditional advertising in ROI.
And, as far as we know, no Mom and Pop blogs have shut down as a result of Walmart's new blog. There is plenty of space on the Internet for everyone. Even the people of Walmart (like rocker Henry Rollins). If Walmart thinks blogs are important, then shouldn't you?
Just do it. Start small. Maybe blog once a week, and then amplify your content. You can always increase the amount of content from there. You won't regret it.
Photo Credit: Lordcolus via Compfight cc