Many of our clients express the desire to show thought leadership in their industry. The first question we typically ask is if they actually are thought leaders in their industry - you just can't fake it till you make it with any kind of thought leadership. If they are indeed leaders in their industry then we recommend a variety of content to highlight that leadership. Here's how we helped one of our clients show their industry leadership on their blog.
EBI, a background screening provider, offers a number of employment screening services to large and mid-size companies. Their CEO, Rick Kurland, wanted to continue to position EBI as leaders in the background screening space. LyntonWeb recommended consistent, timely content with a journalistic edge. Background screening is regularly affected by new litigation and compliance requirements. We felt EBI should regularly comment on and analyze any new employment laws that would affect employment screening.
Because of their need to produce regular high-level content on their blog and website, EBI built an in-house video production studio. This enabled EBI to film and produce video on their own without needing to hire a video production firm every time they needed to create new content. EBI also hired a professional broadcast journalist to report and analyze the latest background screening litigation and events. Having the ability to create in-house video content with a professional newsroom feel was a very important component to nurturing an industry leading image.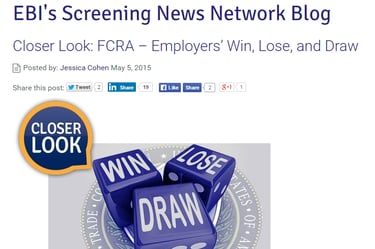 With an in-house production studio and a broadcast journalist on staff, EBI could consistently produce high quality content. From their Closer Look Series to their Legislative Alerts to their Screening News Network videos, EBI's commitment to high quality content got them noticed enough to become the official interviewer at this summer's Society for Human Resource Management (SHRM) conference in Las Vegas. Here's an example of the types of interviews EBI was doing.
We worked hand-in-hand with EBI to identify, optimize, publish and share the content that was created. We also monitored the success of and interest in the content that was created and recommended follow-up articles on trending topics. Using HubSpot, we were able to identify specific topics that website visitors were interested in and ones that provided high conversion rates.
Interested in seeing how we can help you highlight your thought leadership? Let's chat.