This is weird.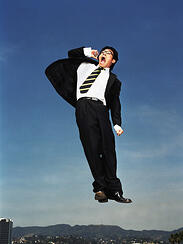 Really weird.
Through the Looking-Glass weird.
At this very moment I'm writing a blog that is describing what will happen after I write the blog. About how this blog's title will grasp readers by their primary visual cortex and then recruit their Broca's area, Wernicke's area and angular gyrus to fully receive and digest the amazing content I'm offering.
Once readers become infatuated and energized by this blog, they will share it. They will share it like the ocean shares water - sending the waves of this blog crashing up on the digital beaches of LinkedIn, Forbes and Inc. and letting the salty water of this blog envelope content island ecosystems (what does that even mean?) like Mashable and HuffPost and Verge. Influencers like Arianna Huffington and Pete Cashmore will frolic in seaside getaways partaking in the view of my vast blog ocean.
But...
Before all that happens - I have to write the blog and not write about what will happen after I write the blog.
This blog is really the result of a conversation I had with a divorce lawyer. Yes. Not any divorce lawyer, mind you - a Manhattan divorce lawyer who contacted me on LinkedIn after reading a LyntonWeb blog on crappy content. He was curious about my experience with writing services.
We exchanged emails on content creation and then I decided to take a peek at his HubSpot website. He was producing regular, valuable content and I noticed a few easy fixes that could help his conversion rate and in turn help extend the reach of his content:
There was no easy way to contact him on his home page. Visitors had to click at least once on the home page to get to a contact form. I suggested making it as easy as possible for potential leads to get a hold of him - especially if they were ready to begin the divorce process. Even if you're not a divorce lawyer - make it easy for people to reach you. Don't discourage a bottom of the funnel lead who may be coming to your site ready to buy or ready to engage you by making them look for a contact number or online contact form.
His landing page was barren. I felt like I was wandering in a desert looking for a form. The form was on the left with nothing else on the page. To invoke Def Leppard - pour some sugar on me. With 'me' being the landing page. Give me a picture and a taste of the sweet, sweet content you'll offer converting leads.
Finally, I recommended a stronger Google+ presence. I know, everyone says no one is on G+ - blah, blah, blah. Cold hard fact 1: Google owns Internet search. Cold hard fact 2: G+ is part of the Google network. Reality - G+ presence matters for your search results and people seeing and sharing your content.
And after I made these recommendations, something amazing happened. Not as amazing as what is going to happen after I complete this blog, though. But it was still mildly amazing. The sort of amazing thing that happened was that my divorce lawyer friend made the changes I suggested. I was happy about that.
Now it's time for the truly amazing thing to happen. Let's share this blog so that it will be read thousands upon thousands of times and so I can write a second blog post about the amazing experience of writing this blog and then seeing the amazing things that happened after I wrote the first blog. OK?