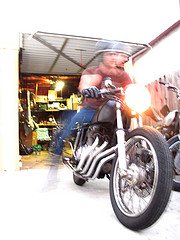 Whenever we talk to prospects about inbound marketing and the length of time it takes for the inbound approach to truly work, they always say they "get it," and they understand that it takes about six months to truly produce results. When these prospects become clients we remind them again that inbound marketing takes time and there are a lot of things needed to ramp up and plan for effective inbound marketing. And they assure us again, that they definitely "get it."
After a few months of working with the client we've built up a cache of content, we may have a good start on a website redesign and we may be publishing regular blogs, infographics,and advanced content. For all intents and purposes, our inbound machine is up and humming along. Many times, the same gung-ho client that "totally got" inbound marketing and totally believed in it will call us frantically asking about results.
"I don't see any change. Are we doing something wrong? I need to show results to my executives. This is my job on the line here."
It's a completely understandable response in today's quarterly driven, short-term results oriented business world. The inconvenient truth, however, is that inbound marketing does take time. Creating content takes time. Designing websites specific to generating leads takes time. So, unless a client truly believes this and fights internally in their organization to get the time needed for inbound (an uphill slog), you may want to consider augmenting your inbound approach with paid media,
Here some useful options to consider:
Paid Content Distribution
Content distribution tools like Outbrain serve up your content to highly trafficked sites nested after articles relevant to the type of content you're providing. Your content will be seen by a much larger audience more quickly than it would be through an inbound only approach.
Paid Banner Ads
Ads on industry leading websites can drive relevant traffic your content offers and landing pages. We ran a banner ad on Harvard Business Review's blog for a client that offered executive coaching and leadership services based on the demographics of the readers of the HBR blog. We were able to capture well qualified leads at the right level in organizations from the traffic generated from the HBR blog ad.
Email List Access
Note this is different than purchasing a spammy list. Here's an example. A client of ours, specializing in training, purchased access to an email list from the American Society of Training and Development and exclusively offered a full length ebook to the members of this list. We built the email and the landing page for this cleint and through this targeted content offering we were able to increase leads 1000% over the previous month. That's powerful stuff right there.
Digital PR
Not dissimilar from traditional PR, this is about getting content placed on highly trafficked premium websites like Forbes or Inc.as legitimate articles highlighting your industry expertise. This has more to do with the relationships your agency has with these websites. It's a bit old school, but getting an article with a link to one of your landing pages on these sites is golden.
Of course, a paid media effort to kickstart inbound takes additional time and money. But if results in a very short time frame are what you need to deliver, it's definitely something to consider.
Photo Credit: tonx via Compfight cc