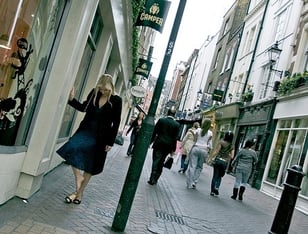 The saying goes, "if the shoe fits, wear it". But what if the shoe almost fits, so you cram your foot into the shoe and go to a party and spend the evening in ill-fitting shoes? Things start off pretty good, walking gingerly and already knowing that you really wish you picked the larger shoes. By the end of the party you have a blister despite your best intentions.
Sometimes being an inbound marketing sales person can feel like putting on shoes that are a size too small: you know what your team brings to the table (the foot) but you aren't entirely sure of the client (the shoe). You may be able to make your company fit with most leads, but should you?
Every opportunity to talk to a lead is valuable. Every chance to spread the word about your organization and test the fit with a potential client could mean a sale. But how could you be improving your approach so that every shoe you try on is a perfect fit? Not only does it make the outfit look great, but you can be confident that at the end of the evening your feet will be intact and blister free.
Enter the buyer persona- the key to successful prospecting and inbound sales.
Not only are buyer personas vital for the success of your marketing program, they are also integral to sales success. They are at the very core of "smarketing" and the alliance between your marketing and sales team.
As a sales person, knowing and agreeing upon buyer personas will save both time on the prospecting end and also give you traction in your sales calls. Not all leads are qualified leads, and knowing exactly who your marketing team is targeting, how the buyer persona relates to your organization, and where your company can help them is going to create the framework for a great relationship between your sales team and their leads.
Whether your sales team makes cold calls (you are still making cold calls? We can talk about this later) or are prospecting on LinkedIn, Twitter, or Facebook, you don't want to approach every single lead out there; you'll be burning time on potentially disinterested or ill fitting leads.
Knowing your company's buyer personas will give your sales team the upper hand, making sure they are talking to the right audience and going directly after prospects that are an ideal fit. For example, your buyer persona research might reveal that you should be prospecting to c-suite executives rather than management level employees. And by knowing that information you are able to differentiate quickly between an ideal client who can be a perfect sale and a poorly fitting prospect who may not ever close or be a client you can truly support. Knowing who is a good fit and who is not will save you from spending valuable time on sales calls that you shouldn't be.
Equipping your sales team with your organization's buyer persona research will allow your team to refocus themselves on qualified leads that will go from prospect, to sale, to a valued repeat customer.
So keep in mind, not all leads are created equal. In focusing on your company's buyer persona you will focus your energy on a lead that will have a higher likelihood of being a shoe that fits rather than one that leaves you at the end of the night with bad blisters and wishing you hadn't forced your feet into the wrong shoes.
Photo Credit: Frederic Poirot via Compfight cc