The Customer
Plancorp is a financial services firm specializing in retirement planning for individuals and families. The company's primary goal is to bring their clients peace of mind to be sure that today's decisions support their vision for the future.
They employ a team of advisors with diversified experience to look at clients' total financial picture. By doing so, they help clients make tax-smart decisions about every aspect of life with a dollar sign so they can plan and prioritize accordingly. They strive to be more than just a helpful resource, but a financial life advocate.
Plancorp's Opportunities Leading to Lynton
Having worked with an agency before, Plancorp knew what they needed and didn't as they searched for a new partner. Ultimately, they discovered our team at Lynton and started working with us in January 2019. We initially launched with fundamental strategy, content marketing, and design. To get the job done, we deployed an internal team of strategists, writers, and designers, led by Lynton's Director of Strategy, Jenny Traster.
After seeing success in 2019, Plancorp wanted to boost their efforts in 2020 to increase their lead and client count and generate more revenue. We dug into their data to create realistic benchmarks and then used our reverse funnel calculator to take the guesswork out of how many website visitors and other KPIs we needed to reach their targets. From there, we made a list of pragmatic goals such as increasing website traffic, marketing-qualified leads, and more. With these in mind, we worked on bigger-picture items and other tactics to get them there.
We specifically decided to:
Define their lifecycle stages so we could make updates to their website, content, and other efforts accordingly
Create content to generate, qualify, and move leads down their funnel
Create brand cohesion for leads and customers to convey brand authority (items included: a brand book, master PowerPoint template, and email signature)
Our team's primary focus landed on content marketing and driving users to said content. As we worked on these items, we were sure to keep their lifecycle stages and branding top of mind. We strategized on several pieces of content and design, but three stood out to generate and engage with leads.
The Solution
Solution #1 - Financial Assessment
Together, our teams created a financial assessment that has been invaluable to the Plancorp team. The assessment is a simple, nine-question quiz that helps leads identify the areas they need to focus on financially. When they're finished, they receive immediate results. Later, they're enrolled in nurturing campaigns that give them personalized suggestions based on their responses. There are five individual lead nurtures a user can be placed in: tax planning, financial planning, investment planning, retirement savings, and emergency savings.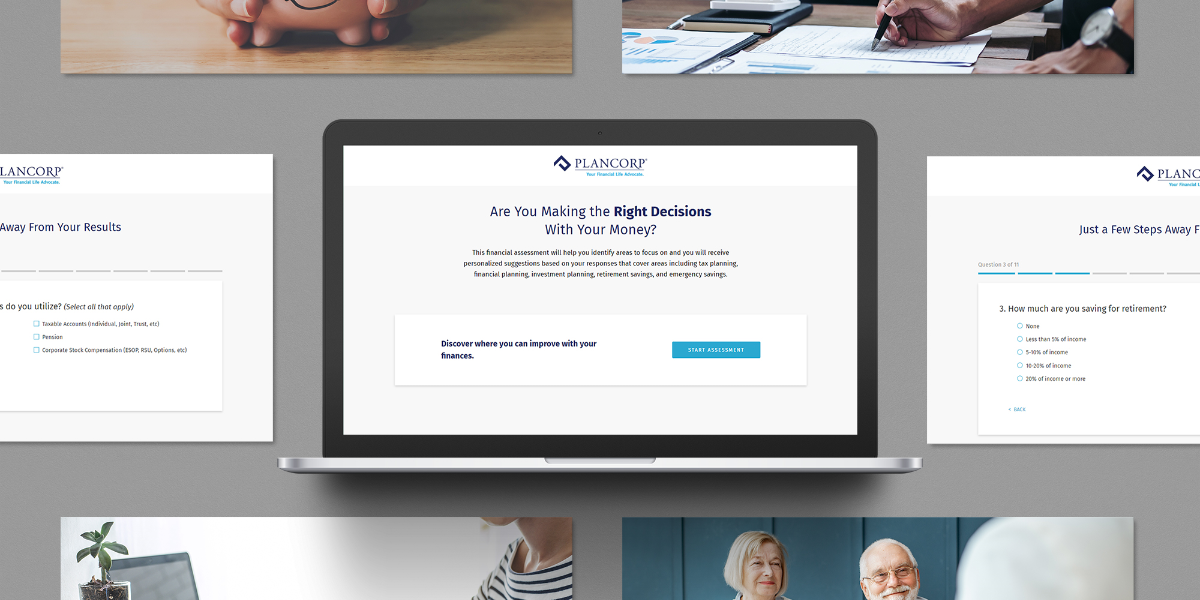 Plancorp's Chief Investment Officer Peter Lazaroff worked on the questions and results, with copy-editing assistance from our team. We developed the assessment itself and wrote copy for the subsequent drip campaigns (with editing help from Lazaroff). Since its inception, the financial assessment has been wildly successful:
31.41% OPR and 3.34% CTR for emails
28% conversion rate for people who visit the assessment's landing page then take the quiz
206 qualified leads from assessment
Solution #2 - Social Advertising / Paid Media
Another solution our teams worked on was social media advertising. We dipped our toes into the water by kicking off with general Facebook lead generation ads. These were highly-targeted (think: age, gender, job, zip code) and drove users to learn more about Plancorp. With strong results from the first set of advertisements, we decided to try retargeting ads. These were based on the initial ads, but instead of sending users to Plancorp's site, we sent them to the financial assessment. More and more people began taking the assessment, which meant Plancorp received even more leads to nurture. The ads ultimately:
Had 1,512 total conversions
Garnered a lead to session rate of 6.03% (for the website)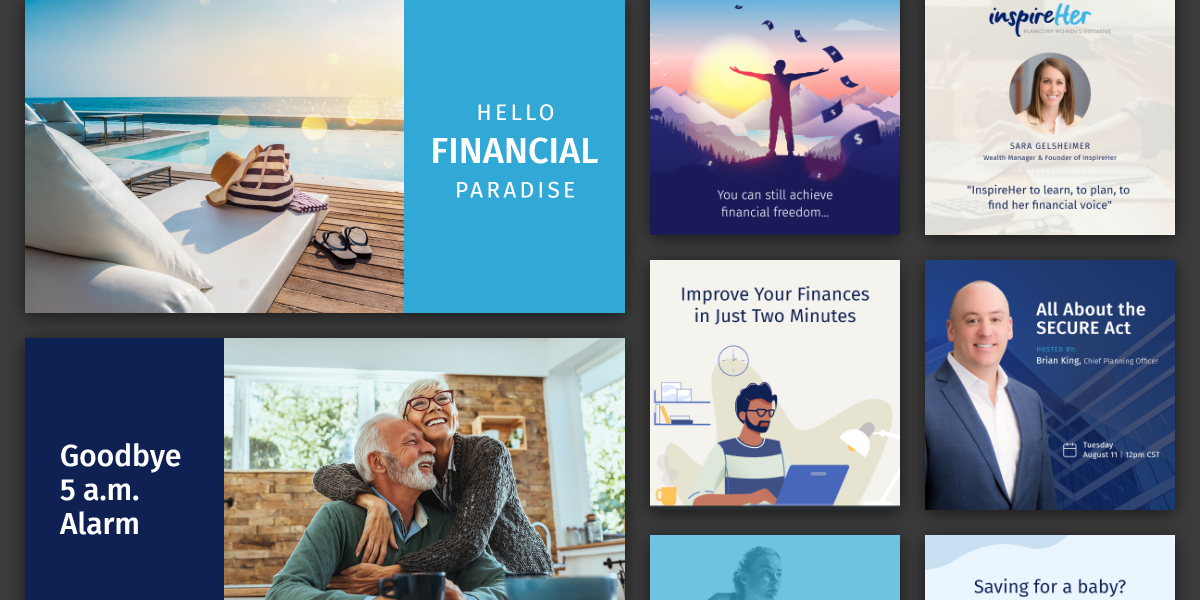 Plancorp's Facebook advertising results embodied the team, but they recognized that their audience here was generally older. Their success inspired the team to create an Instagram account to connect with a younger audience and test advertising there. While a new initiative, their Instagram account is off to a solid start.
Solution #3 - Responding to COVID
When 2020 began, neither our team nor Plancorp could anticipate the impact of COVID-19 on business and everyday life. Fortunately, Plancorp was able to navigate the economic consequences of the epidemic and determined they were in a unique position to help their leads and customers. They knew they could help answer people's questions about the stimulus bill, their retirement savings, downturns in the economy, and so much more.
Our team helped them compose a well-rounded COVID-19 response by:
Helping them move their in-person events to webinars and other virtual versions
Creating "virtual office" hours where people could sign up to talk about everything from money decisions to when they could visit Plancorp's offices again
Crafting landing pages, lead nurturing campaigns, and social media posts related to their virtual office hours and webinars
Other Solutions
When we think about Plancorp and 2020, these three tactics stand out the most by far. Yet, they're a small portion of what we do for them. Our team plays a role in almost every part of their inbound marketing. Other notable initiatives we worked on in 2020 include:
Incorporating smart content into their homepage
Monthly social media posts and graphics
Helping with their premium content through landing and thank you pages
Continuing to monitor their financial assessment and continually drive users to take it
The Results
The individual outcomes of each solution helped Plancorp with their larger goals. By the end of the year, they accumulated several new clients - all with wealth ranging from $1 - $5 million. As it's Plancorp's mission to be their financial life advocate, we suspect these clients will continue to work with their team for years to come.
When it comes to website and lead generation goals, the comparison between 2019 and 2020 is almost unbelievable. We helped Plancorp:
Increase their site conversion by 2%
Go from 198 new contacts in 2019 to 2,019 new contacts in 2020 - an increase of 149%
Accumulate 86,292 new sessions, crushing their planned goal of 54,000
Increase their MQLs to 215, beating the original goal of 81
Reach a contact to MQL rate of 10.6%